Kubra Khademi was surrounded by a mainly male crowd, which threw insults and stones during her walk. Photograph: Twitter
---
This article titled "Afghan artist dons armour to counter men's street harassment" was written by Emma Graham-Harrison in Kabul, for The Guardian on Thursday 12th March 2015 15.05 UTC
It took a month for Kubra Khademi to get the armour made exactly to her design; hours spent with a quiet, patient metalworker who usually made stoves.
The performance artist was an unusual customer on a street of dusty workshops in Kabul, where she chose her craftsman for his lack of curiosity about the outrageous steel plates she sketched out.
In a deeply conservative country where women are expected to shroud their figure and almost every inch of bare skin beyond hands, face and feet, she wanted steel armour that slipped over and emphasised her breasts, belly, crotch and bottom.
"He was a quiet man," she recalls. "He didn't question me at first, maybe because of my attitude. Then he asked: 'What the hell is it?', because other people were asking him."
It was in fact part of a vanishing occurrence in the Afghan capital: a piece of performance art, planned by 27-year-old Khademi. The armour would be both protection and a defiant rebuke to the men whose groping hands and leering remarks make Kabul's streets uncomfortable for almost any woman who walks them unchaperoned.
It was also an almost unimaginable provocation in a city where pornography may be avidly consumed in private, but women's appearance is fiercely policed in public. Her performance lasted less than 10 minutes, but pictures soon ricocheted around social media, drawing anger and death threats – genuine worries in a country where women have been murdered for working as news anchors, actors and singers.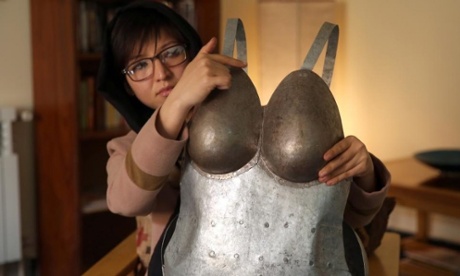 Like many artists, Khademi sees provocation as part of her work, though she is keen to underline that she is not making direct political statements.
"It was a performance. I'm not an activist, I'm an artist," she says. "My concerns in my work derive from my life, from my personal experience … but I don't use words, I use my body and my space in time."
Past performances have explored her life as a refugee, shifting from Iran where she was born to refugee parents, to Pakistan where she won a scholarship for a fine art course.
In Lahore she set up home in the middle of the road, reading, listening to music, surrounded by possessions in her makeshift home until police came and removed her. For another piece, she shut herself inside a suitcase for several hours, and in a third suspended herself from a high ceiling over her audience.
When she graduated, she was drawn back to Kabul despite her parents' opposition. "I had to come back here – I belong here, I must live among my own people. I think my art needs it," she says.
But after several years studying and working in Pakistan she had perhaps underestimated quite how shockable her home country was. Afghanistan is a country where you can still risk your life for art; thrilling, perhaps, from a distance – but terrifying up close.
The armoured walk was a simple stroll down a main road in her neighbourhood, Koti Sangi. She had invited almost no media, and aimed it at the people who were harassing her and other women every day.
"I wanted these people to be my audience," she said. "I did it in Koti Sangi because it is a real place, to say what happened to me many times there, and the rest of Kabul as well."
Her audience, almost entirely male, threw insults and stones, and quickly gathered into crowds. Most seem to have missed her point, leering at her throughout, with some trying to grope her from behind around the armour. "I didn't feel anything, so it worked," she points out wryly.
When she jumped into a friend's waiting car to end the walk, men started attacking it, even jumping on top of it. Pictures and footage were online within minutes, as the audience had been a sea of mobile phones, and death threats followed soon after, warning Khademi that she was "a feminist activist who will be killed soon".
She has also received dozens of obscene messages, and doctored pornographic pictures. It all underlined Khademi's point about the terrible imbalance in Afghan society, but offered little comfort in the face of terrifying threats.
However, she would do it all again if she had a choice. "I don't have any regrets. One thing I'm happy about is everyone has a chance to tell me what they think of my work."
Despite her rejection of the "activist" tag, Khademi says her performance was rooted in painful personal experiences, and when asked about her artistic influences she cites political artists such as China's Ai Weiwei as well as legendary performance artist Marina Abramovi?.
When she first moved to Kabul in 2008, used to more liberal countries, she screamed at a man who tried to grab her bottom. She was shocked by the response from other men nearby, who shouted obscenities back at her for daring to raise her voice.
It brought back memories of being groped as a child of four or five. "The only thing I thought to myself then was 'I wish I had steel underwear'. I never forgot that as I grew older, and thought about it until I made it real," she said.
She spent several days preparing for her eight-minute performance, but was taken aback by the ensuing furore.
"I knew there would be this kind of reaction, but I didn't realise it would be so extreme," she says. "I can't even go to my house. I wonder how long it will be before I can go back there, and it makes me sad."
She has already narrowly escaped an attack by three men, and is living like a fugitive, but has no plans to scale back her art or ambitions. "I would never be stopped … artists can't be stopped. For now, I'm just waiting for this to die down."
guardian.co.uk © Guardian News & Media Limited 2010
Published via the Guardian News Feed plugin for WordPress.
Categories
Tags