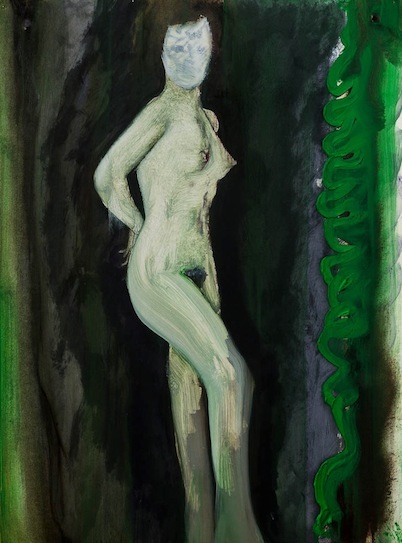 Image:(untitled), 2014 oil on paper mounted on canvas 42 x 59.4 cm
Just announced Peter Doig is to stage his first solo exhibition of new work at Fondazione Bevilacqua La Masa situated at the the Palazzetto Tito, Venice, curated by Milovan Farronato and Angela Vettese. Scheduled to coincide with the opening of this year's Venice Biennale, the exhibition is the artist's first solo presentation in Italy.
For the exhibition at Fondazione Bevilacqua La Masa, installed in the beautiful historic roomswill present large paintings and several intimately scaled works, all of them new and being shown for the first time. The imagery in the new works is diverse, drawing on private and found visual sources. He works in an intuitive non-prescribed manner, allowing works to naturally evolve and surprise. Although the concept of motif weaves in and out of his work, artworks are never conceived of in series or as projects. Doig's willingness to embrace his personal visual history as well as the broader canon of painting contributes to the mysterious beauty and quiet intensity of his oeuvre.
Through more than thirty years of painting, Peter Doig has earned a reputation as one of the most gifted artists of his generation. He is a sophisticated visual thinker with an uncanny sensitivity to the material possibilities and evocative qualities of paint. His pictures are among the most resonant images in contemporary art.
About The Artist
Peter Doig was born in Edinburgh in 1959 and raised in Trinidad and Canada before settling in London in 1979 to study painting. He has continued his somewhat peripatetic lifestyle, dividing his time between London, New York, Trinidad and Düsseldorf, where he maintains a professorship at Kunstakademie Düsseldorf. Doig was nominated for the Turner Prize in 1994, served as a Trustee of the Tate from 1995 to 2000, and in 2008 was awarded the Wolfgang Hahn Prize of the Society for Modern Art, Museum Ludwig, Cologne. Doig has been the subject of important museum exhibitions worldwide, including a major mid-career survey organized by Tate Britain in 2008. In 2013 the Scottish National Gallery, Edinburgh, organized No Foreign Lands; the critically lauded exhibition focused on recurrent motifs
5 May – 4 October 2015 Fondazione Bevilacqua La Masa
Palazzetto Tito, Venice www.bevilacqualamasa.it
Categories
Tags