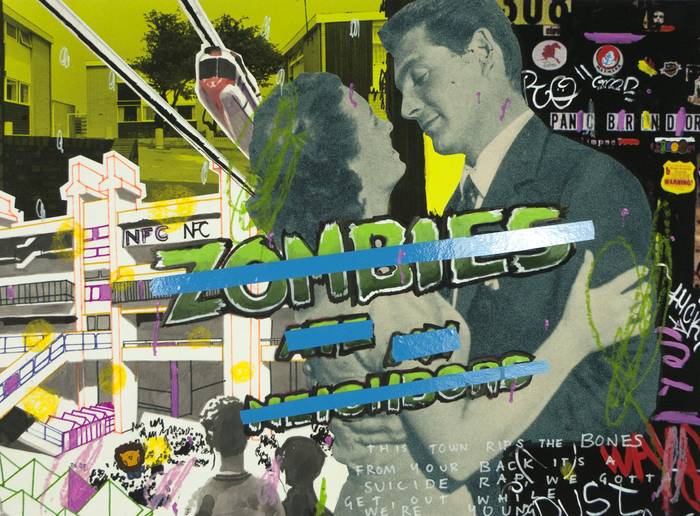 STUART SEMPLE Panic Bar 2015 Digital print, marker pen, paint marker, watercolour, Kandahar Ink, vinyl and acrylic on Hahnemuhle German Etching paper | 56 x 76 cm
Ghosts examines the social effects of urban regeneration in cities around the UK, and particularly in London. This is obviously a timely issue as more and more historic buildings and areas are razed to the ground to make way for new developments. The artists in this exhibition react to urban regeneration in different ways, some use humour whilst others take a more poignant approach to their work. 
Juliette Losq savours the spaces between spaces, and locates the hidden and unexpected beauty of the city. Losq presents a work first shown at the John Moores Painting Prize 2014, where the artist won the Visitors' Choice award.
Macarena Yañez (Macay), a street artist from Chile, delights in highlighting decay and ruin.  Yañez often interacts with derelict structures, and she presents a record of her intervention in a soon to-bedemolished council estate in East London, which has since made way for luxury apartments.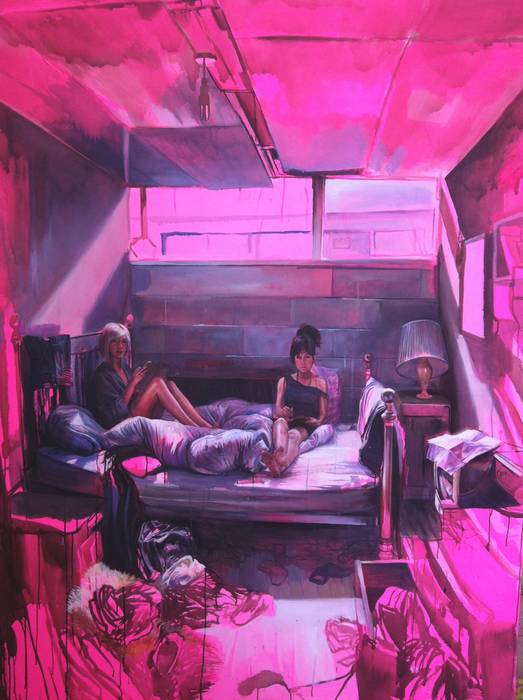 LAURA OLDFIELD FORD TQ3382: Tweed House – Teviot Street
2012 Acrylic and oil on canvas | 200 x 150 x 5 cm
Laura Oldfield Ford is interested in the way urban architecture and resources are misused or unused, and the ways that communities can coalesce and form in the ruins. The exhibition presents new poster works, as well as paintings first shown at Tate Britain's 2014 exhibition Ruin Lust, a large survey exhibition on the subject of ruins in art, from the seventeenth century to the present day.
Through a playfulness with context and materials, Thomas J Price presents the everyday heroes of contemporary life, with eloquent references to classical Fine Arts.  For this show, the man in the street is cast in bronze as a monument to modern living.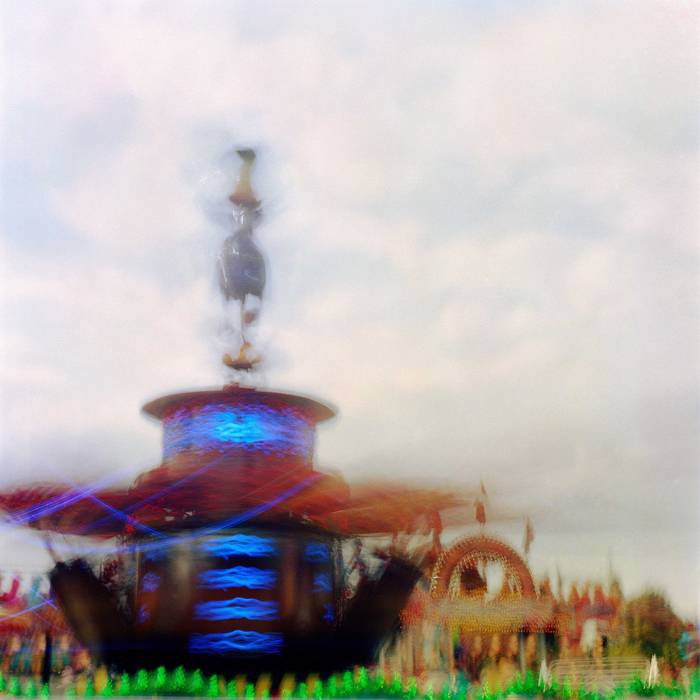 SIMON TERRILL Victoria Park 2015 C-type print | 90 x 90 cm
Through large-format photography, London artist, Simon Terrill establishes a dialogue between a location and its inhabitants. He captures the vibrancy of urban spaces, and recognises that communities and their surroundings form a symbiotic relationship.
Stuart Semple is considered one of the most provocative post-YBA artists and social commentators of his generation. His work draws heavily on pop culture references including film and music and is driven by the ways in which urban music contributes to, and represents, culture. Here he presents a major new painting based around the failure of social housing projects in South London.
Stuart Semple  will also display an installation of the original door of the historic 

12 Bar Club

 in Soho. The bar, situated on 'Tin Pan Alley' (Denmark Street) was a legendary destination for musicians, playing host to such musicians as Jeff Buckley, Adele, The Libertines, Rolling Stones and the Black Sabbath. The story was reported nationally a few weeks ago when riot police had a violent encounter with squatters in the venue. Semple, was able to obtain the door, thanks to one of the squatters, the 159 bus and a Tesco trolley. He has managed to retain the readymade artwork in order to narrate the story of the venue but more widely the homogenisation of Soho and our cities who have fallen prey to relentless regeneration projects. 
The story is a topical example of the themes of the exhibition at The Fine Art Society, and the gallery, (the oldest commercial gallery in London still situated in its original location) is an apt venue to discuss this issue and display the piece, being itself at risk of encroaching developers alongside other commercial galleries within Mayfair.
The Fine Art Society's new head of Contemporary, Lee Cavaliere, commenting on the decision to stage this exhibition, said the following: 
"The subject of regeneration is particularly prescient; some of London's treasured cultural markers are under threat from an apparently exponential building project. The recent 'destruction' of the Paolozzi mosaics at Tottenham Court Road and closure of Soho's cultural centres are examples that have raised debate around the threat of homogenisation, which London has always resisted.  These artists react to the phenomenon of the city with particular insight and erudition; it is only fitting that this conversation is carried out at the Fine Art Society, a long-time resident at London's cultural heart."

GHOSTS "How we live in the future" 4th March – 10th April 2015 Fine Art Society Contemporary 148 New Bond Street London W1S 2JT www.faslondon.com

Categories

Tags
Related Posts
A radical new participatory exhibition arrives in London's Soho this September. D.A.B.A. (Destroy All Bad Art) is a complex installation and live art project by Stuart Semple
Trending Articles