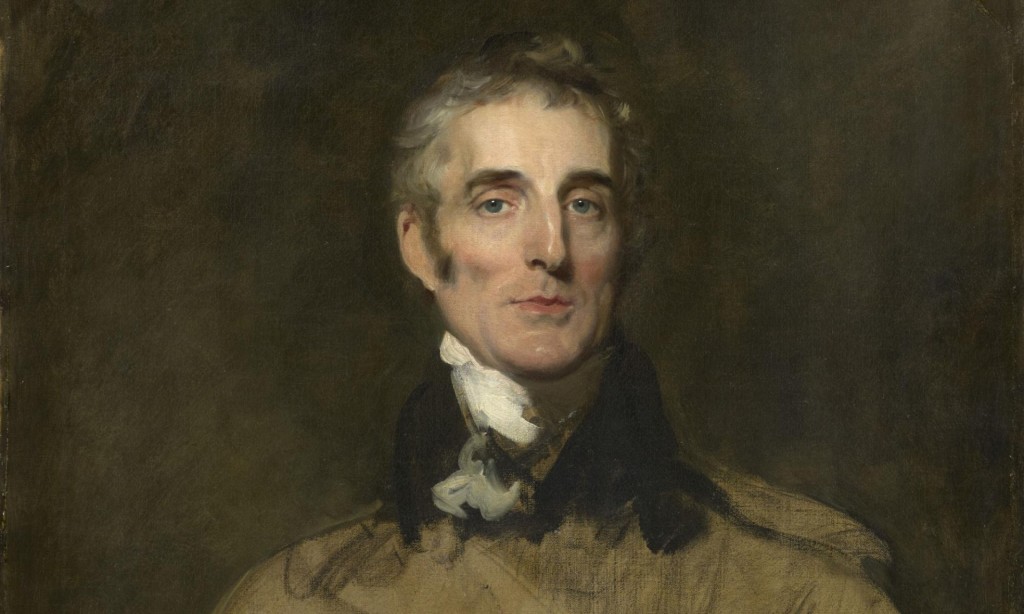 The portrait has never before been publicly displayed in the UK. Photograph: National Portrait Gallery/PA Wire
---
This article titled "Rarely seen painting of Wellington set for National Portrait Gallery exhibition" was written by Maev Kennedy, for The Guardian on Thursday 26th February 2015 17.00 UTC
A grave portrait of the Duke of Wellington, left unfinished when the artist Sir Thomas Lawrence died, will go on public display for the first time in the UK in an exhibition at the National Portrait Gallery marking the bicentenary of the Battle of Waterloo.
The painting, which is owned by private collectors in the US, has scarcely been displayed publicly anywhere since it was commissioned in 1829 by Lady Jersey, a society hostess who had been an ardent Whig and became an equally ardent Tory under Wellington's spell. When Lawrence died, with only Wellington's face finished, she refused to have it completed by his studio assistants.
Wellington's high-cheekboned, hawk-eyed face fascinated artists, including Goya, and Lawrence painted him several times, including a portrait in a splendid crimson-and-gold uniform made just before Waterloo.
The present generation of the family is also loaning Lawrence's drawing of Wellington's wife, Kitty.
Lawrence's final portrait was made when Wellington was 60 and serving as prime minister – when he initially refused to move into No 10 Downing Street because it was so small and cramped compared with his own magnificent home, Apsley House, known as No 1 London. In January 1830, Lawrence died before the canvas was completed.
Lawrence was infamous for the length of time he took to finish portraits, and most of the canvas had been only roughly sketched when he died. In November 1830, Wellington's government fell when he lost a no-confidence vote in the furore over the Reform Act, which Wellington passionately opposed; his nickname, the Iron Duke, came not from his military prowess but from the shutters he had to install at Apsley House to protect the windows from the stone-throwing mob. Lady Jersey burst into tears in public when she heard the news of his fall from power.
Paul Cox, a curator at the portrait gallery, said of the painting: "While it is unfinished, the artist has captured in Wellington's face a feeling of sensitivity appropriate in a portrait made for one of Wellington's most devoted friends."
The exhibition, Wellington: Triumphs, Politics and Passions, which opens to the public on 12 March, will include other rare images of the duke, including a daguerreotype photograph taken on his 75th birthday in 1844 and some of the souvenirs sold across Europe after his victory at Waterloo.
guardian.co.uk © Guardian News & Media Limited 2010
Published via the Guardian News Feed plugin for WordPress.
Categories
Tags