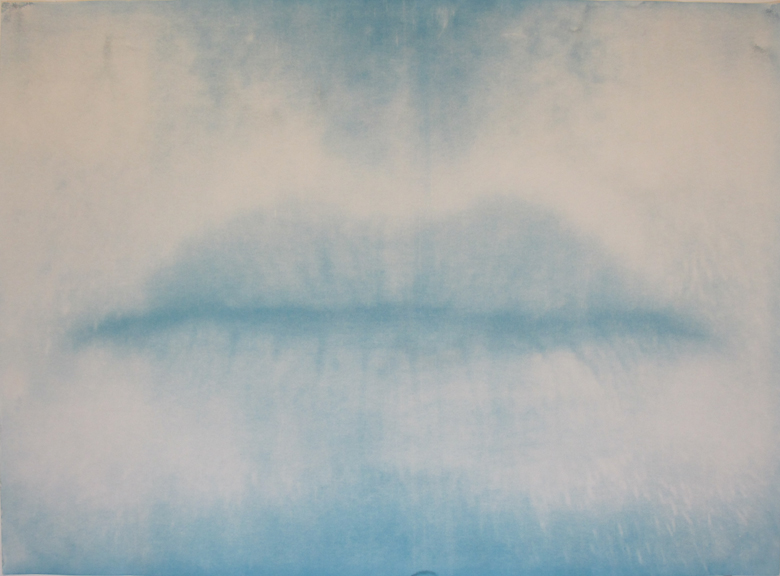 The National Trust is hosting its first 'Queer Season' event – a yearly celebration of the lesbian, gay, bisexual and transsexual communities – with a major exhibition by Nick Fox.
Called Bad Seed, the show revisits key themes from Fox's celebrated 'Nightsong' and 'Phantasieblume' series, and will be shown simultaneously with Nightsong (7th February – 7 March 2015), Fox's International touring exhibition of recent work at Angus Hughes Gallery, which, as with Sutton House, is Located in Hackney.
The mainstay of Fox's practice is his enduring fascination with social and symbolic codes of courtship, identity, culture, art history, myth and narrative. Quietly seditious, he explores these interests through a combination of painting, drawing, installation, sculpture, moving image, sound, live art and intricately laboured objet d'art. Through each of these mediums the artist finds contemporary currency, personal symbol and cultural meaning of longing, seduction, desire and romance, while also revealing a highly personal vision, fusing and transforming sentiment, wisdom and emotional experience into visual-art forms. Referencing a range of historical and contemporary codes and double meanings including floriography, the Victorian cultural phenomenon that used flowers as tokens to communicate hidden or forbidden pleasures, Fox developed the 'Phantasieblume' body of work (2008-11), a series of intricately hand cut decorative objects resembling the preciousness of handcrafted Victorian lace sited within a series of cabinets. Upon closer inspection, their fragile tendrils conceal an erotic charge – delicately observed erotic figurative drawings, creating tantalising, elusive narratives of desire and courtship. Placed alongside, Fox has produced a new painting made in response to Sutton House.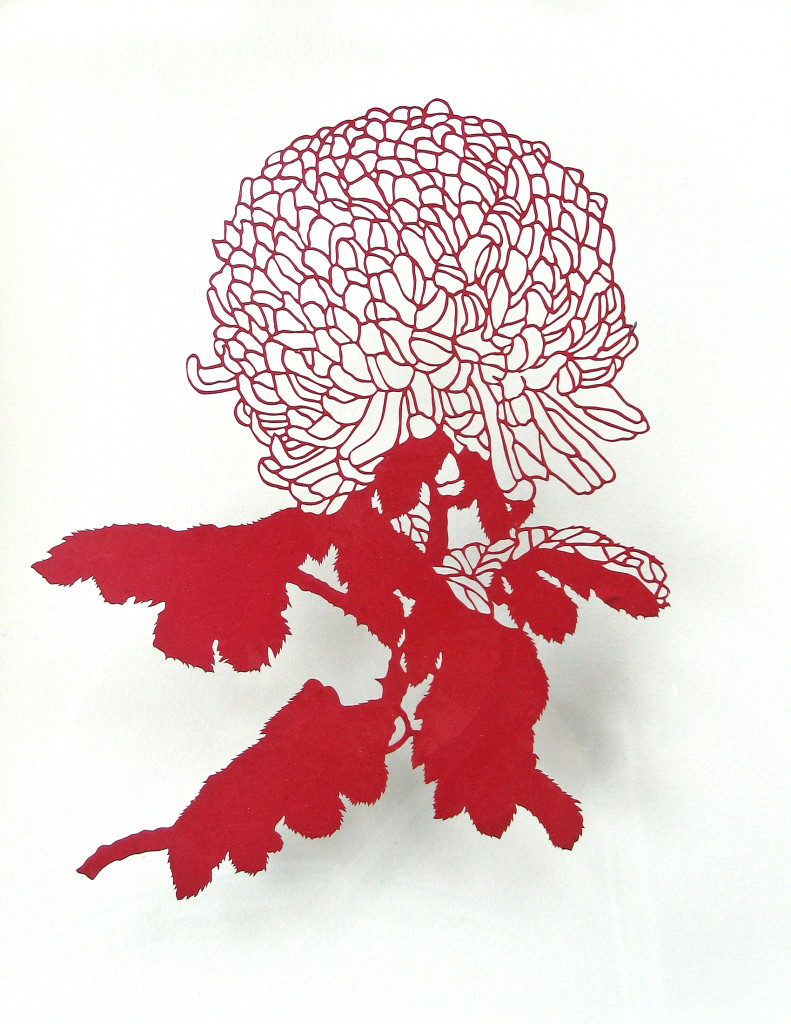 His Dreamcatcher Series (2008-10), a grouping of Chrysanthemum flowers intricately cut from acrylic paint directly references Kate Greenaway's 1884 Dictionary of Flower codes ."The Language of Flowers". Fox playfully exploits and reconfigures this sentimental language, to construct double meanings and unsustainable utopias expressing a highly personal and symbolic pictorial language. Rather than merely resurrecting this forgotten language of the Fin de Siècle, Fox has found his own way of inverting the coded articulation of desire, playfully and subtly expressing a highly personal and symbolic pictorial language of concealment. Floral references abound, and discreetly placed amongst Sutton House's historic Tudor rooms are other symbolic floral references, including the work Sanctuary (after van Aelst), a drawing cut form acrylic paint and contained within a fire-screen.
Bella Donna (2010), a leathery skin of acrylic paint resembling a piece of cloth containing an array of drawn and painted elements and housed horizontally within a cabinet, acts as a segue between the symbolic and the personal. Belladonna, also known as deadly nightshade is a poisonous plant that was historically and unwittingly used through application to the lips to beautify by dilating the pupils and indicate arousal. Also known as Deadly Nightshade, this amongst other botanical elements, symbols and body parts literally fuses a symbolic role to his botanical imagery and transforms the object into an exotic hybrid.
The installation, Echo (2011), named after the speech-deprived nymph of Greek mythology, cursed so that her only utterances are to repeat of the words spoken by others. Thirty varying-sized glass discs are printed with delicate drawings of the artist's body, representing the hunter Narcissus, the object of Echo's unrequited love. The installation is filled with echoing sound, reflecting and magnifying the ambient sound within the space – the almost inaudible echoes of longing and desire.
The video, The Holy Island of Lindisfarne, Northumberland 2009, has been made as a response to Fox's repeat visits to Holy Island on the coast of Northumberland. The film follows the elusive play of shimmering light across a black meniscus of water. Shot at night within the sanctuary of the harbour, the manmade haven of the breakwater offers a space for contemplation, the audience seemingly observes a ritual act: Foxes crying for revelation in a magic mirror.
The theme and process of self evaluation and analysis continues through his series of large scale cyanotypes All of me, Some of me (2014). Close up images of the artists body are here presented in a large- scale configuration of work, a simultaneous abstract and intimate portrait of the artist.
A version of Walter Dana and Bernard Jansen's song, Longing for you, (2012) popularised in 1951 in a Vic Damone recording, and here re-configured as a repeating purely vocal track, drifts mournfully through the gallery, connecting elements of this exhibition to the Nightsong exhibition at Angus Hughes gallery, a mere 150 meters away.
Referencing Sutton House's recent history as a music and social centre – In the Garden, Fox's Longing Disco project which brings together individuals to share music and personal stories that chronicle their blissful courtship, tragic romance, unrequited love, loss, hopes and dreams takes the form of a "treasure hunt" of audio recordings connected to popular music requests and in this outing are secreted amongst the plants. Exhibition goers are invited to locate all 118 confessional audio recordings in order to form the full impression of this mixtape of seduction.
In the greenhouse, Fox's participatory Seedbank project (2014) draws upon a dialectic range of sentimental and the sexual symbolic floriographic meanings from different cultural timeframes where that flowers were employed to communicate hidden or forbidden pleasures.
Participants are invited to reference the dictionary of sexual or sentimental meanings and construct their own "love letter" of floral meaning by selecting a seed/range of seeds to give as a token of their emotive feelings to another person. The range of seeds selected is unique to each participant and dependent on the complexity or range of their private communication, Love, hope, rejection, elopement, pleasure etc. The resulting flowers produce a physical and secret token of their feelings known only to the participants, but anonymously shared with Sutton House through the project documentation.
SUTTON HOUSE National trust 2 and 4 Homerton High Street, Hackney, London, E9 6JQ Nick Fox Bad Seed 5th February – 31st March 2015
About The Artist
Nick Fox was born in Durban, South Africa in 1972 and lives in Newcastle upon Tyne and London. He attended John Moores University, Liverpool (1992-95) and Royal Academy Schools, London (1998-2001). Fox was a prize winner in the John Moores Painting Prize, Walker Art Gallery, Liverpool in 2010. Recent group exhibitions include 'A Union of Voices': HORATIO JUNIOR, London 'Sex Shop': Folkestone Fringe, Folkestone, 'In and out of windows': Vane, Newcastle upon tyne, 'Eulogy': Vane, Newcastle upon Tyne, Between fact and fiction: Vane, Newcastle upon Tyne (2014), 'Winter Show', September, Berlin, Germany, 'Gifted': Chart, London, 'Luminous Language': Launch F18 (2013), New York, USA 'The Dorian Project', SecondGuest, New York, touring to Ana Cristea Gallery, New York, 'Anschlüssel: London/Berlin', C4RD Centre for Recent Drawing, London (2012), 'THE FUTURE CAN WAIT presents: Polemically Small', Torrance Art Museum, Torrance, California, touring to CHARLIE SMITH london, London, 'Mail Please', Blyth Gallery, London, (2011), 'MurmurART: an introduction', MurmurART, London (2010), 'One Spirit Showcase', Hines Urban Gallery, London, '40 Artists 80 Drawings', The Drawing Gallery, London (2009), '00 Nature Part 1', Contemporary Art Projects, London, 'Baltic Square', Arena Gallery, Liverpool Biennial (2008), and 'Jerwood Contemporary Painters', Jerwood Space, London (2007). Solo exhibitions include Nightsong, Vane, Newcastle Upon Tyne (2013) 'Phantasieblume Nåchtlied', Ha gamle prestegard, Håvegen, Norway (2011), and 'Phantasieblume', Vane, Newcastle upon Tyne (2010) and C4RD Centre for Recent Drawing, London (2009) and Unveiled (with Francis Picabia), MOCA London (2006).
Fox has Work in numerous private and public Collections including the collections of the Walker Art Gallery, Jean Pigozi, Dave Roberts Foundation and Norman Rosenthal.
About Mark Westall