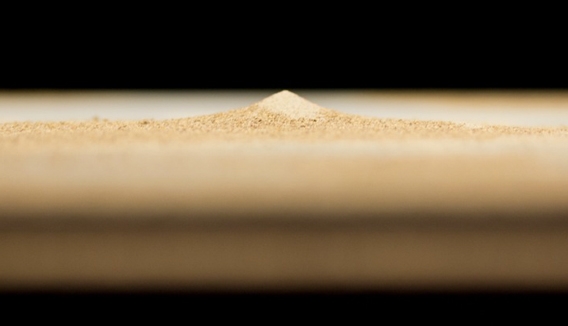 Image – Oscar Santillan: The Intruder, Stollen earth, stone and pedestal
Oscar Santillan, who has been in the UK for less than one month on residency at the prestigious Delfina Foundation, will locate and steal the highest point in England in order to create the aptly named work The Intruder.
This poignant gesture requires the artist to scale the 3028ft Scafell Pike in the Lake District and carefully remove whatever material makes up the highest centimetre.
The exhibition titled: 'To break a silence into smaller silences' will open to the public on 26th March 2015 at Copperfield, London and run until 9th May 2015.
Self-taught in Ecuador with meagre resources, Santillan developed his own approach to creating strong conceptual and multimedia works in something of a vacuum. Before being able to travel to the US, the Netherlands and now the UK on residencies, he recalls that he was first taught how to use a camera with only a dated power point presentation 'since there were no cameras'.

Whilst only recently introduced to Europe, his work is already recognised in important collections such as the Caldic (NL), by curators including José Roca (Tate & Flora) and by publications such as Frieze. He will also be presented as part of the Focus section of this year's Art Brussels.
Categories
Tags