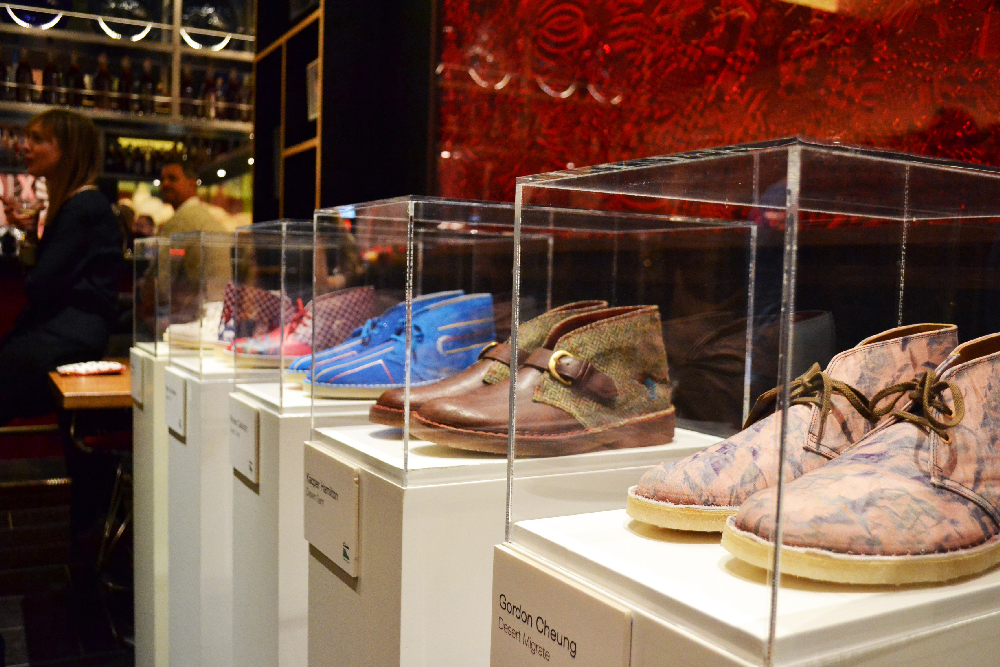 Clarks: Rebooted is a global artist initiative launched in London to celebrate the 65th Anniversary of the iconic Clarks Desert Boot in partnership with landmine removal charity The HALO Trust.
The global partnership sees Clarks pay 5% of the RRP of each pair of limited edition Desert Boots, which equates to £10 per pair, to The HALO Trust (registered charity number 1001813) and the profits from a special fundraising auction of artwork commissioned by Clarks will be donated for the benefit of The HALO Trust. 'Clarks: Rebooted' is the HALO Trust's first corporate partnership.

Bob and Roberta Smith Clarks Desert Boot
Earlier this year, each participating artist and designer was given a shoe box as an inspirational steer, the contents of which included a pair of Desert Boots, materials swatches, pattern layout and background on the story of Clarks, the unique history of the Desert Boot and the affiliation with the important work The HALO Trust does around the world to be incorporated into their work. Curator Filippo Tattoni- Marcozzi and Clarks' creative team worked with each artist and designer to finalise a design concept for the limited edition shoes and the unique one-off pieces which will be auctioned in Autumn 2015.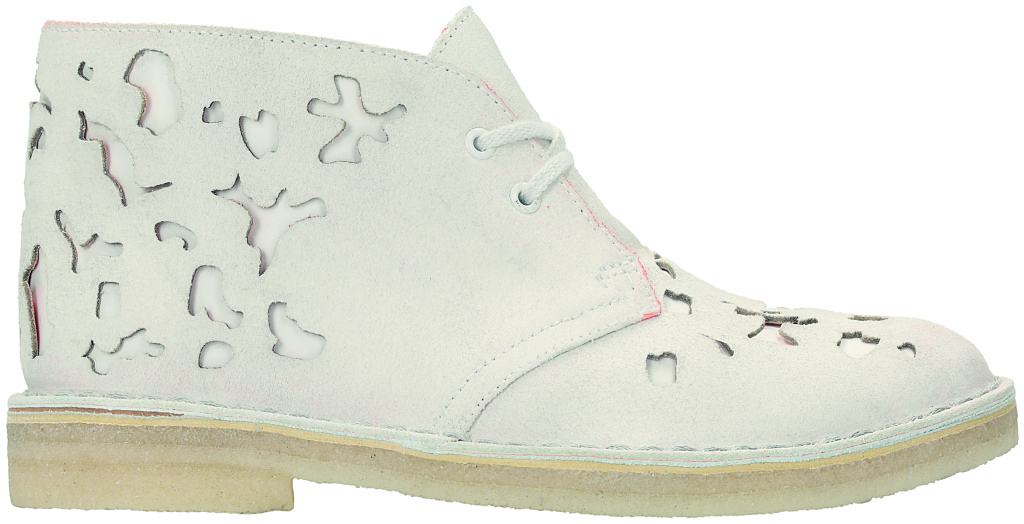 Adam Ball Desert Boot for Clarks
14 Artists participated in the initiative the full roster of British and UK-based artists and designers include: Adam Ball, Adam Dant, Alexandra Llewellyn, Amy Stephens, Bob and Roberta Smith, Frank Bowling, Gordon Cheung, Kacper Hamilton, Lee Broom, Marc Quinn, Rene Gonzalez, Richard Caldicott, Thomas J. Price, TOOGOOD.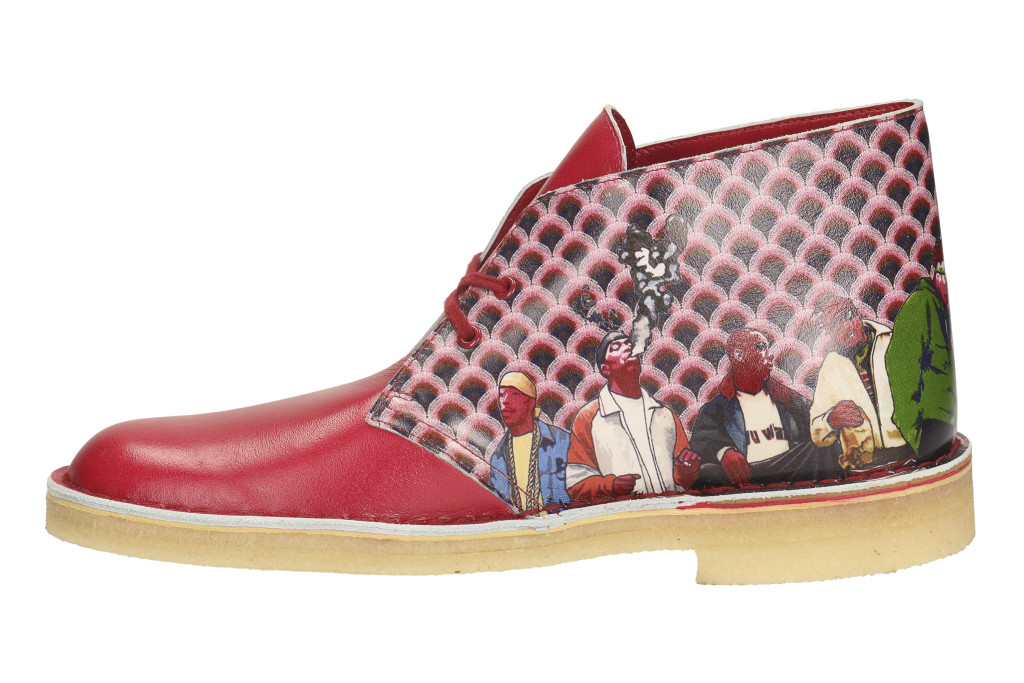 Rene Gonzalez Clarks Desert Boot
Melissa Potter, Clarks CEO :
"We are proud to be working with such a prestigious charity as The HALO Trust, to help us celebrate the Desert Boot's 65th anniversary. As a brand we have a long standing history of giving back to charitable causes and we look forward to our relationship with The HALO Trust evolving as this exciting artist collaboration unfolds."
In addition to the limited edition style Desert Boot, each artist has created a unique work of art using the Clarks Desert Boot and the work of The HALO Trust as inspiration. A travelling installation featuring each prototype Desert Boot and unique art work will be unveiled at Design Shanghai (March 2015).
It will then tour key art and design events around the globe including Salone del Mobile in Milan (April 2015) and Frieze New York (May 2015). CitizenM will play host to the final stage of the exhibition when it returns to the UK during London's cultural period this autumn (London Fashion Week, London Design Festival and Frieze) after the international tour.
Clarks: Rebooted will culminate with the auction of the 14 unique pieces of art at a special event in London with proceeds being donated to benefit The HALO Trust.
www.clarksrebooted.com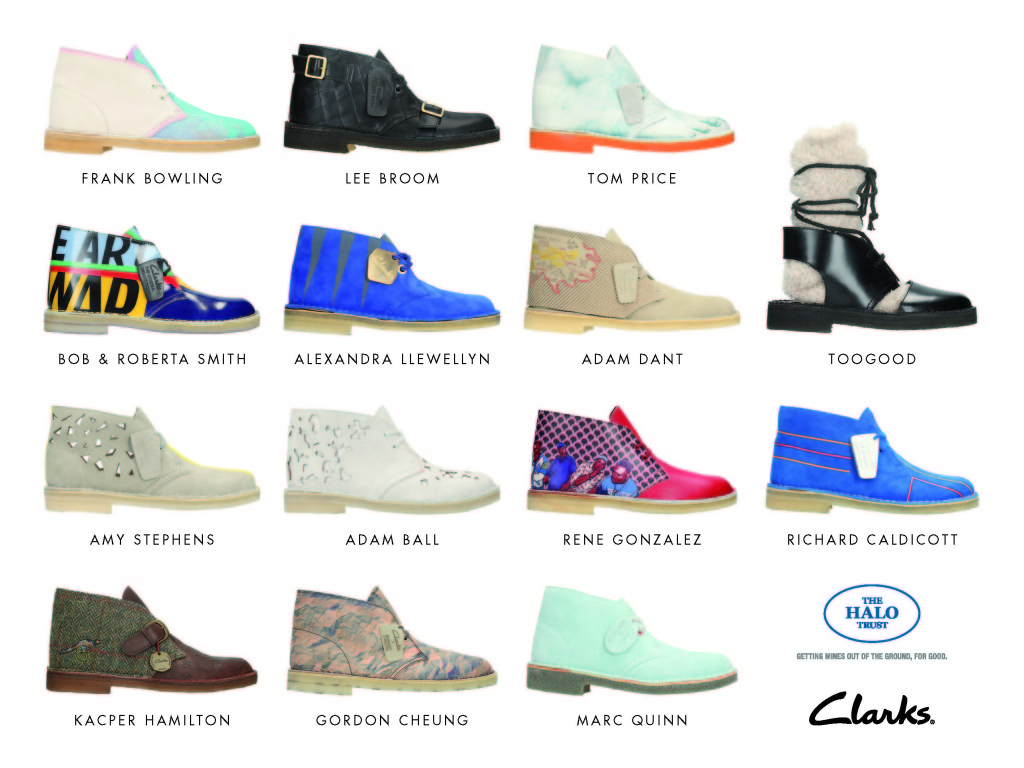 About The HALO Trust
The HALO Trust is a charity that specializes in the removal of the deadly debris of war. We clear landmines, cluster bombs and other explosives from war-torn countries so that some of the world's most vulnerable people can return home, plant their crops and raise their families in safety. Founded in Afghanistan in 1988, we are the world's oldest and largest humanitarian mine-clearance organization currently employing over 7,500 national staff in 17 countries and territories around the world. We have a simple mission, 'getting mines off the ground, for good,' and as leaders in the mine action community we have found and destroyed over 12.5 million landmines and other explosive remnants of war. HALO is at the forefront of development, as our work not only saves lives but is often prerequisite to any post- conflict reconstruction. We invest in local leadership, keeping the mine-affected communities integral to the process and providing employment in areas where there are few opportunities.
www.halotrust.org
Categories
Tags