---
This article titled "Where the internet lives: the artist who snooped on Google's data farm" was written by Jonathan Jones, for The Guardian on Wednesday 4th February 2015 18.09 UTC
Well, they started it. Google Street View allows people to crawl virtually along your street and look at your house. Google Earth offers global intrusion from above. The web giant has done its bit to abolish privacy. Now an artist has out-Googled Google, offering a sneak peek at its less than beautiful underbelly.
The joy of the internet is that it is always moving. We experience it as speed, mobility, freedom, flux – as an ethereal superhighway we visualise, if we do at all, as lines of light or pulses of pure energy. Irish digital artist John Gerrard brings this myth crashing down to earth in his new projected installation Farm. A camera very slowly pans around a vaguely sinister industrial complex in the middle of nowhere – well, Oklahoma. Cooling towers, pipes, blank walls, and a lonely basketball court are revealed in the silence and cruel sunlight. This is one of Google's eight vast data farms where your emails and searches are sorted and remembered. The information superhighway ends here.
The internet, says Gerrard, "doesn't not exist. It is physical. There is a great cable running under the Atlantic ocean from Ireland to America. There's a new set of infrastructures which are great information railways being put into place. I became interested in asking: what does the internet look like?"
Google did not want his answer to that question to be seen. When he enquired about picturing the outside of its Oklahoma "farm" the answer was polite but firm. "I wrote to Google and asked them if I could make a portrait of this place. They said, 'There is no way that is going to happen.'"
Like artists from Giorgio de Chirico to Hilla and Bernd Becher, Gerrard is fascinated by industrial architecture and its place in the landscape. In his show at Thomas Dane Gallery in London he also shows a dizzying satellite perspective on a vast solar energy array and a very Marcel Duchamp-like image of an oil pump penetrating the earth. He first became interested in Google's data farm after looking at pig farming in Oklahoma. The Google complex reminded him of a pork production plant.
Google does allow seductive images of the whizz-bang interiors of its data centres to circulate – all flashing lights and sci-fi wonder. "It's quite fantastical inside," says Gerrard. "I think we've had quite enough of that – the allure of technology." The dreary exterior was off limits, however.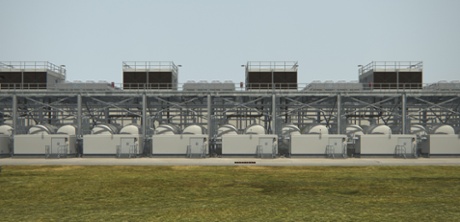 Gerrard did not give up. He asked the Oklahoma police what the legal situation really was and if Google could actually stop him "portraying" their plant. "The police said, 'All we can say is, the air is free.' So we hired a helicopter."
The first time you look at his Google art work, you are captivated by the slow, steady camera sweep that takes in detail after detail of the motionless building as it moves in an unblinking and shake-free 360-degree orbit. Then you realise: this is not real. The camera is "a virtual camera", explains the artist. "It has an absolutely seamless drift."
The image he has created is a hyperrealistic virtual portrait. It is a digital sculpture mapped out in three dimensions and shown in real time, so the sun moves across the sky and shadows change on the digital landscape at exactly the same time they do on the real data farm in Oklahoma.
Gerrard's unflattering image of our technological world is itself a miracle of technology. His helicopter took 2,500 photographs, which were sent to his workshop in Vienna. "We spent a year hand-building a digital model of the building in Vienna. We're not filming anything. We are representing reality within this medium."
The simulation he has created of Google's anonymous industrial "farm" is powered by a game engine that generates and erases images second by second. "We purchased a game engine which is designed for massive military simulations."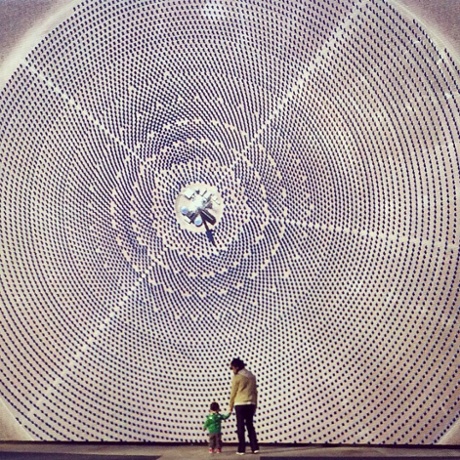 Eerily beautiful and intellectually disconcerting, this is a virtual representation of a real, solid place that holds and exchanges virtual information. Gerrard's monumental projection is a new kind of art. It is also an old kind of art – he calls his works "portraits" and was delighted with the simple pleasure passersby took in his solar energy plant when it was shown on a giant screen outside Lincoln Center in New York last year. He also loved peoples' surprise when they realised it was a digital simulation.
Digital art is obviously going to be a big part of the cultural future, but only a very few artists have so far done anything very impressive with it. John Gerrard is one. The reason his art can answer Google on its own terms and seriously address the strangeness of the new world we are making is, of course, that he actually understands computers and works at the digital cutting edge instead of just messing about with "GIF art" or other stuff that is parasitic on the surface of the internet.
Only if you understand the digital from the inside can you make art that examines the structure of our time. Farm inspects Google with the coolness of a 17th-century scientist looking at a bug through a microscope. Yet if there is an obvious biographical connection between Gerrard and his surveys of pig and data farms it is their rural setting. He grew up not in Silicon Valley but on "a small farm" in Tipperary. He comes from a village called Coolbawn, which sounds like it could be the title of a poem by Seamus Heaney.
All his adult life, Gerrard has been interested in technology. "I felt even when I was 20 that the computer was the most important artistic medium of the time. Artists always respond to their times. Take the great bourgeois explosion of the 19th century that the impressionists responded to."
Farm is a stately and hypnotic portrait of our time that gradually becomes more disturbing and melancholic as you watch. It is as if the internet has congealed into metal and concrete, our delusions of technological liberation brought, literally, to earth.
For Gerrard, all our beautiful gadgets create a "distractive dynamic". But distraction from what?
"Maybe it distracts us from just how dilapidated the natural world is becoming."
I look up from my screen. I get ready to send this story. To you … Via the farm. A farm, suggests Gerrard, "which is eating us as we eat it".
• John Gerrard: Farm is at Thomas Dane Gallery, London, from 7 February to 21 March
guardian.co.uk © Guardian News & Media Limited 2010
Published via the Guardian News Feed plugin for WordPress.
Categories
Tags