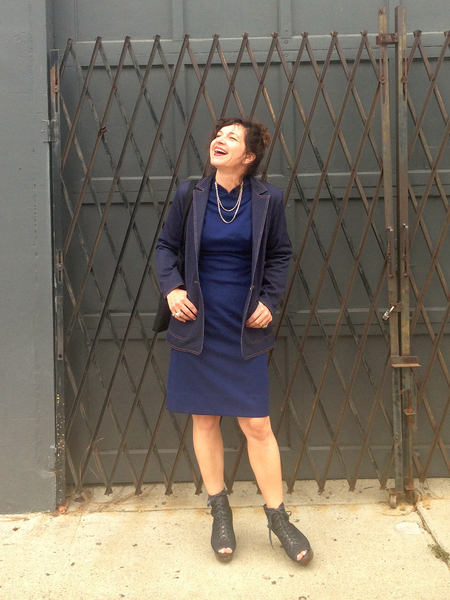 2015 Absolut Art Award www.absolut.com Image credit: Portrait of Frances Stark Photo courtesy the artist
Absolut has just announced the finalists for the 2015 Absolut Art Award. Led by Jury President Massimiliano Gioni, Artistic Director at the New Museum in New York and at the Fondazione Nicola Trussardi in Milan, the 2015 Jury has selected a shortlist of five artists and five art writers in the 'Art Work' and 'Art Writing' categories respectively.
Each of the finalists will prepare a proposal for a new art work, project or piece of art writing, unencumbered by commercial constraints, for deliberation by the highly distinguished international Jury. The winning artist and writer will be announced on 8th May during the Vernissage of La Biennale di Venezia – 56th International Art Exhibition, and an award ceremony to honour the two winners will take place in September 2015 in Stockholm, Sweden.
"Massimiliano, the Jury and Nominators have developed an extremely interesting and diverse selection of finalists, who are at the forefront of their artistic practices and theoretical research. We look forward with great anticipation to receiving the finalists' proposals for their dream project and to the announcement of the winners in Venice this May", says Saskia Neuman, Global Art Manager, Absolut.
2015 Absolut Art Award finalists:
Art Work
Trisha Donnelly USA  wiki/Trisha_Donnelly
Camille Henrot France / USA www.camillehenrot.fr 
Ragnar Kjartansson Iceland wiki/Ragnar_Kjartansson
Minouk Lim Korea  www.minouklim.com
Frances Stark USA www.francesstark.com
Art Writing
Julia Bryan-Wilson USA  berkeley.edu/julia-bryan-wilson
Mark Godfrey UK  www.linkedin.com/mark-godfrey
Sarah Lehrer-Graiwer USA mitpress.mit.edu/sarah-lehrer-graiwer
Helen Molesworth USA  wiki/Helen_Molesworth
About The Award
The Absolut Art Award was instituted in 2009 to mark 30 years of creative collaborations with artists. The biennial award offers an artist and an art writer a unique opportunity to realise their dream projects, demonstrating our continued commitment to collaborating on transformative artistic projects with the world's most creative talent. The winning artist will receive a cash prize of €20,000, complemented by a budget of €100,000 to produce and exhibit a new art work or project. The winning art writer will also be awarded a cash prize of €20,000, alongside a budget of €25,000 to be used towards the research and production of a new art publication.
In 2013 the Absolut Art Award for 'Art Work' was awarded to Renata Lucas and to Coco Fusco for 'Art Writing'. Lucas´s winning project, unveiled in September 2014, featured a series of site-specific architectural interventions and installations located throughout the Pier Mauá area of Rio de Janeiro, Brazil. Coco Fusco will launch her winning project in collaboration with Tate Publishing in October 2015 during Frieze London. Previous Absolut Art Award winners have included Anri Sala (2011), Rirkrit Tiravanija (2010) and Keren Cytter (2009).
Read about the Jury HERE  
Categories
Tags