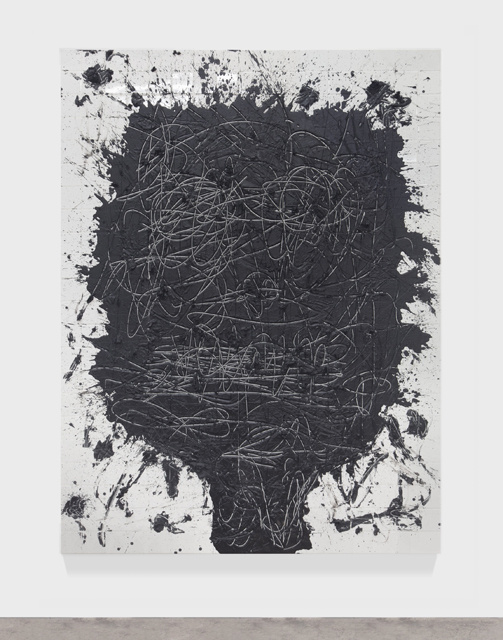 Untitled Anxious Man, 2014 White ceramic tile, black soap, wax, spray enamel
28th January – 7th March 2015, Hauser & Wirth 23 Savile Row London W1S 2ET www.hauserwirth.com
This is Rashid Johnson's first solo show with Hauser & Wirth in London and introduces several new bodies of work including new paintings and sculptures.
The exhibition's title, 'Smile', takes inspiration from a celebrated image by French-American photographer Elliott Erwitt; a young black boy grins broadly while holding a gun to his head. Hundreds of copies of this same image paper the walls of the main gallery, surrounding the viewer. The tension within Erwitt's image, which is at once joyful and inherently tragic, underpins this entire exhibition. Johnson has long been influenced by street photography, and Erwitt's work, along with that of Henri Cartier-Bresson and Robert Frank, has been a touchstone for Johnson since the beginning of his career.
Expect bronze wall panels punctuated with abstract splashes and gestures in Johnson's signature black soap and wax mixture, a large steel sculpture and finally a group of new quasi-figurative paintings on white ceramic tile.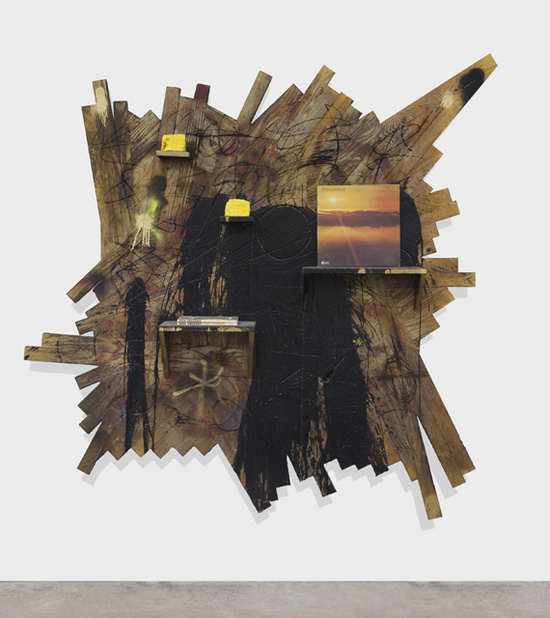 Sunshine, 2014 Burned red oak flooring, black soap, wax, shea butter, vinyl, book
About the Artist
Rashid Johnson was born in 1977 in Chicago IL. He received his BA in photography from Columbia College in Chicago and in 2005, Johnson studied for his MFA at the School of the Art Institute of Chicago. Recent solo exhibitions include: 'Three Rooms', Kunsthalle Winterthur, Winterthur, Switzerland (2015); 'Magic Numbers', George Economou Collection in Athens, Greece (2014); 'New Growth', Museum of Contemporary Art, Denver CO (2014); 'The Gathering', Hauser & Wirth Zurich (2013); 'New Growth', Ballroom Marfa, Marfa TX (2013); 'Shelter', South London Gallery, London, England (2012); 'Rumble', Hauser & Wirth New York NY (2012), and the major touring exhibition 'Message to Our Folks' which opened at the Museum of Contemporary Art, Chicago IL (2012) and travelled to Miami Art Museum, Miami FL (2012), High Museum of Art, Atlanta GA (2012) and Kemper Art Museum, St. Louis MO (2013). In Autumn 2015, Johnson will present a solo exhibition at The Drawing Center, New York NY.
wiki/Rashid_Johnson
About Staff