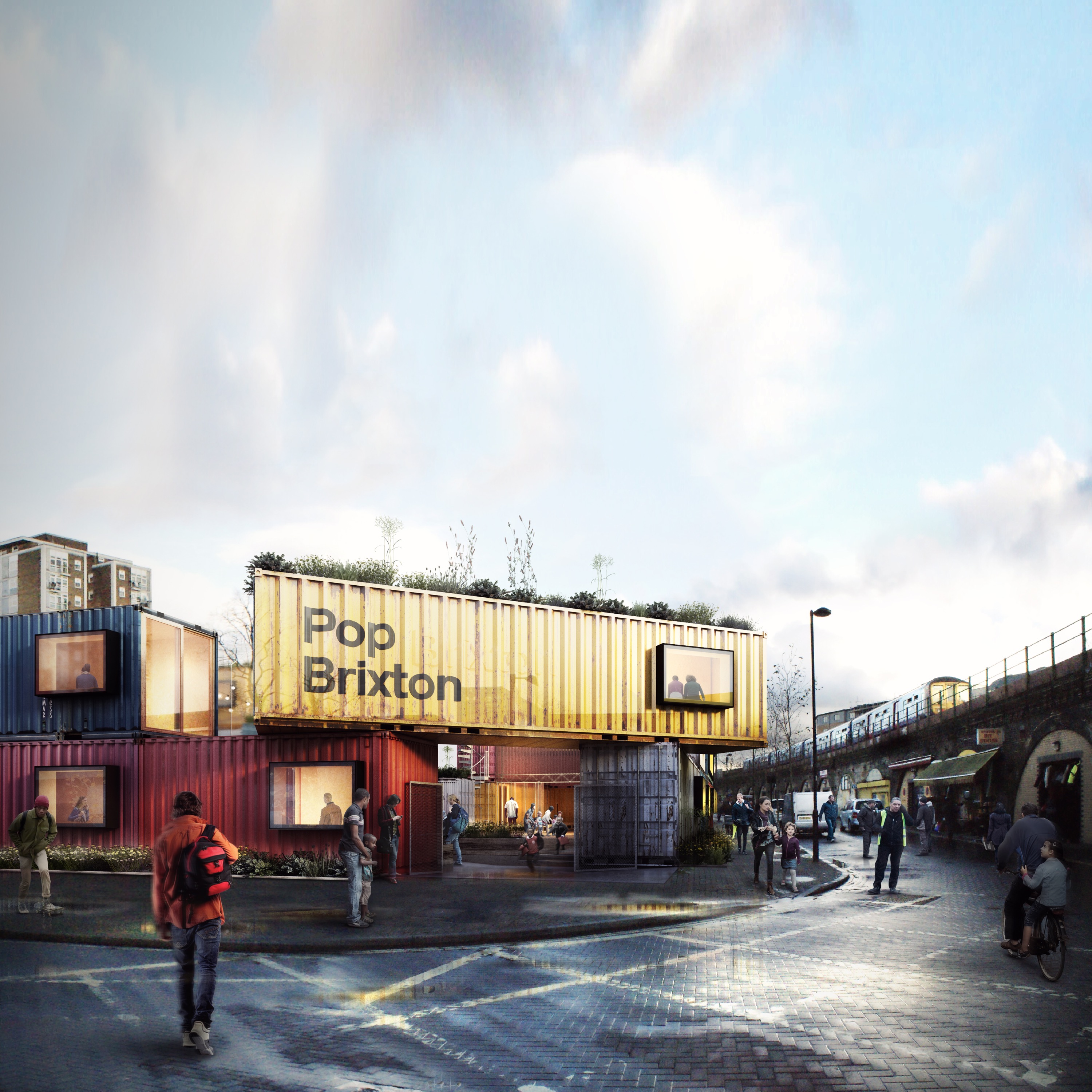 The Collective have partnered with Carl-Turner Architects to produce POP Brixton which will become London's first self-sufficient 'mini city'
The community-led project aims to support local businesses and start-ups in Brixton.
The environmentally friendly campus will be made up of 20ft and 40ft up-cycled shipping containers and will become a vibrant inner-city hub for enterprise, culture, learning and growing.
The 1,200 sq m site is located at 53 Brixton Station Road where the converted units will form a perimeter around a semi-public space and provide studio, workshop and retail space at affordable prices. An entertainment area will be used to host a series of events ranging from open air film screenings in the summer to music gigs and art exhibitions. It aims to be a self-sufficient 'mini city' where the vision is for tenants to give back to the community and support others, by exchanging skills, offering employment and training opportunities for locals, mentoring, or sharing their experiences in the form of free public talks.
Construction is due to complete in Spring 2015. For more information on the project please go to: www.popbrixton.org.
The Collective
The Collective is a progressive, lifestyle rental brand which aims to ease pressure on the London housing market, by pioneering a new form of high quality, shared living for young professionals, at affordable prices. The Collective aims to deliver a new way of life for time-pressed, dynamic and sociable 21 – 30 year olds working in London, by providing services comparable to those found in serviced apartments and with the amenities of a boutique hotel.
Since it was founded in 2010, The Collective has established an existing portfolio and development pipeline of 1,500 beds across zones 1-3, in areas including Notting Hill, Acton and Stratford. The Collective plans to deliver 5,000 beds over the next 3 years and to replicate the model overseas.
Carl Turner Architects
Carl Turner Architects was formed in 2006, and has established a reputation for high impact, low cost Architecture. At CTA we believe in place making. We see Architecture as a process as much as a product.
The practice was recently recognised as one of the best offices producing small projects (below £1m) finishing joint runner up in the AYA small project Architect of the year awards 2012. In 2013 it won the award in the 'One-off house' category. CTA' s Slip House won the Manser Medal and RIBA National Award 2013.
About Mark Westall