---
This article titled "Pivotal Tracey Emin art installation Exorcism goes on sale for £600,000" was written by Mark Brown, arts correspondent, for The Guardian on Wednesday 21st January 2015 16.33 UTC
If a rich art lover succeeds in buying nearly 100 paintings and drawings that a naked Tracey Emin made during a cathartic – and, for her career, pivotal – three-week period 19 years ago, they will also have to own some peripheral items. Not least her Right Said Fred CD.
With an estimate of £600,000 to £800,000, Christie's has announced it is selling an important and large Emin installation called Exorcism of the Last Painting I Ever Made.
It consists of 12 big acrylic-on-canvas paintings, seven body paintings and 79 works of varying sizes on paper. Then there is the bed she slept on while making them, as well as a radio, newspapers and magazines, and CDs that also include the Beach Boys, the Clash, Pulp, Van Morrison and Leftfield.
The flurry of work was made in a Stockholm gallery in 1996 as a way of exorcising the fear and anxiety she then felt about painting, a practice she gave up in 1990.
"It was kind of amazing and a real breakthrough for her," said Katharine Arnold, the head of the contemporary art evening sale where the work will be sold on 11 February. "She worked for three weeks flat out and thought she would then burn everything and have a pyre, leave everything in dust at the centre of the gallery.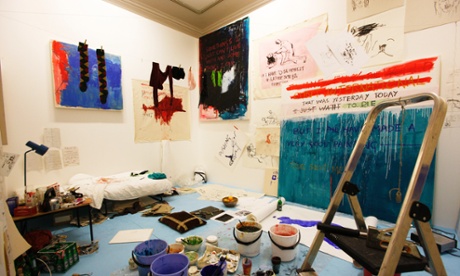 "By the time she'd got to the end of the three weeks, she loved everything that she'd made – she just had to keep it. It became a cherished part of her practice and her history."
The three weeks at the Andreas Brändström gallery were a performance. She worked naked, with visitors able to watch through fish-eye lenses in the gallery walls.
The work is being sold by the collector Charles Saatchi, a patron of the Young British Artists movement, who bought it in 2001 for £108,250. It follows his sale last year of Emin's seminal work My Bed, which sold for £2.5m to Count Christian Duerckheim, who then announced he would lend it to the Tate for 10 years.
Whether another knight in shining armour comes along remains to be seen. Arnold said that if it ended up in a public gallery Emin would want involvement in its installation. If a private buyer gets it, then they can hang the nearly 100 paintings and drawings as they please – although a very big house would clearly be an advantage.
Arnold said the work was a turning point for Emin, who literally could not stand the smell of oil paint in 1990 – a turbulent year for her in which she had an abortion and went on to suffer severe depression. "When you see the work that she is creating at the moment and the confidence of her painting now, you really see its genesis with this body of work."
In 1996 Emin was on the cusp of stardom. The Exorcism work was shown in 1997 at the South London Gallery along with her famous tent documenting Everyone I Have Ever Slept With 1963-1995. Later that year the tent appeared at the groundbreaking Sensation show at the Royal Academy and in 1998 she created My Bed, which led to a Turner Prize nomination.
Those were the days when Emin made headlines by turning up drunk on a live Channel 4 discussion programme. Today she is a respected professor of drawing at the RA and about to stage a major spring show at the Leopold in Vienna in which she will incorporate drawings by Egon Schiele alongside her own work.
The Exorcism paintings and drawings are full-on. In one she depicts herself masturbating along with the words 'I FELL IN LOVE WITH YOU AND YOUR DRAWINGS WHEN I WAS FOURTEEN AND YOU KNOW, I STILL LOVE THE WAY YOU DRAW.'
Ahead of the sale the works will be displayed by Christie's – not as an installation, but with the works framed and formally hung in a gallery-type way.
Emin said the title of the work referred to the last painting she made in 1990. "I felt at the time that, in doing the Exorcism, I was regaining my faith in painting and in art.
"Now looking back and unpacking everything, and seeing all the different elements, I can't believe what great paintings I made. Looking now, I can see my enthusiasm for art and everything creative. I am really excited to see the work shown for the first time, not as an installation, but individually framed, hanging together with dignity."
guardian.co.uk © Guardian News & Media Limited 2010
Published via the Guardian News Feed plugin for WordPress.
Categories
Tags