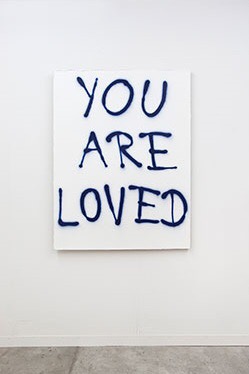 Jeremy Hutchison wins inaugural Art Projects Artist Award at London Art Fair 2015, furnished by Sotheby's Institute of Art
Last night London Art Fair announced that British artist Jeremy Hutchison, represented by Division of Labour (stand P13), has been awarded the inaugural £2,500 Art Projects Artist Award furnished by the Fair's education sponsor Sotheby's Institute of Art.
Having studied linguistics and written advertising for Coca-Cola, Hutchison received a distinction from the Slade School of Fine Art, London in 2011 and is currently a member of the Whitney Independent Study Program, in New York City, USA. His practice constructs situations that disrupt the flow of global capital through industrial production and consumer ideology.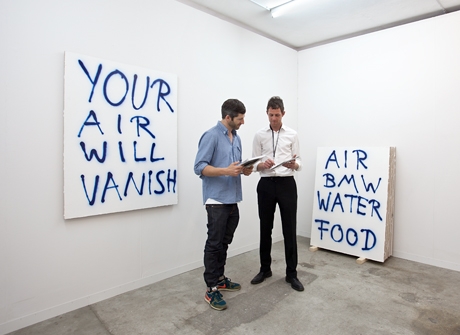 Demand and Supply (2013), the prize-winning artwork, is on show with Division of Labour in the Art Projects section of London Art Fair 2015 until Sunday 25 January. It was originally commissioned as a performance for Liste 18 Switzerland in conjuction with De Appel and the Gallerist programme in which he outsourced all creative authorship to an investment banker. The banker instructed him as follows:
1) Enlist an anti-capitalist protester
2) Give him 11 white boards, 3 cans of aerosol paint
3) The protester must write whatever he wants
4) The artist must act as gallerist
5) The work must take place in the booth
6) The profits must be split between artist, banker and protester
The judging panel for the Art Projects Artist Award was carefully selected to include key art world figures from the areas of collecting, journalism, curating and education. The panel selected the winning artist on the merit of their art practice and work on display at the Fair. They are:
Dr David Bellingham (Programme Director, MA Art Business, Sotheby's Institute of Art, London
Adrian George (Deputy Director and Senior Curator for the Government Art Collection)
Coline Milliard (European Market Editor for artnet News)
Stuart Evans (Collector)
The Art Projects section, now in its eleventh year, has established itself as an important international platform for galleries to present the most stimulating contemporary practice.
It features large-scale installations, solo shows and group displays, alongside an extensive film and performance programme.
Curated by Anna Colin, 'Dialogues' returns to Art Projects for a second year. With many of the invited galleries and artists working together for the first time, the section promises a unique exhibition of critical conversations around shared ideas or a common aesthetic. Anna is co-curator of the next British Art Show, associate curator at Fondation Galeries Lafayette in Paris and co-founder of Open School East.
The Art Projects Film Programme, curated by Pryle Behrman, runs throughout the Fair in a purpose-built screening room within Art Projects. For 2015, London Art Fair welcomes LIMA, Amsterdam, as a partner of the Programme, with LIMA presenting a selection of recent works from its collection revolving around the imagery of cinema and its relationship to media art.
Categories
Tags