Anish Kapoor's Blood Solid, part of the original Fig-1 exhibition in 2000. Photograph: PR
---
This article titled "fig-2: a new art exhibition every week for 2015" was written by Nicholas Wroe, for The Guardian on Friday 26th December 2014 08.00 UTC
Cast your mind back to the London art scene in early 2000. There was no Tate Modern and no Frieze art fair. But, difficult as it might be to imagine, despite these absences there was plenty of art. Mark Francis, now of Gagosian gallery, was then an independent curator who had been working abroad. He returned to London just before the millennium, "primarily because everyone was saying there was so much going on".
But when he arrived he found that much of the new activity was not readily available to see. "The museums were doing their four or five shows a year. And I understood the practical reasons why they couldn't do more. But the point was that more than four or five things were happening – that was the excitement of being in London. So I asked myself how could you make, say, 50 things happen in a year?"
The answer he came up with was, he says, "a series of exhibitions and events in a small space in the centre of the city, each lasting a week. Not accountable to any institution or to commercial pressures. Free of sales, storage, shipping, dinners, mailings, not for profit, no bureaucracy or infrastructure. Experimental, energetic, epic."
He wrote a list of requirements on the back of an envelope: a space, two assistants, and a small budget for materials or equipment for each show – and soon realised that when "you can't do any of the things associated with big shows, suddenly the system sort of falls away leaving the artist, and the curator, free to experiment".
The modest finances were raised, mostly from Bloomberg, and fig-1, as the project became known, began in January 2000 with a work in progress by Richard Hamilton, who promised to return for the last week of the series in December with the finished piece. "So that was two shows in the bag, and we were rolling," says Francis.
Over the course of the year, without giving more than a few days' notice of the upcoming show, established artists such as Howard Hodgkin and Bridget Riley alternated with then comparative unknowns – Jeremy Deller, Grayson Perry, Wolfgang Tillmans – as well as people active in other disciplines. Will Self wrote a set of stories, live on a big screen, about the people who came in to watch him write a live set of stories. There was a showing of a Patti Smith and Robert Mapplethorpe film; the milliner Philip Treacy – "his hat forms looked like Henry Moore sculptures" – was followed into the space by architect Caruso St John, and so on.
Not everything came to a succesful resolution within the week. "Anish Kapoor tried out some things he knew he couldn't show in a regular gallery," says Francis. "It wasn't until over a decade later that he developed some of those ideas into the huge inflatable pieces he exhibited at the Grand Palais in Paris a few years ago."
Since 2000, the pop-up space has become an integral part of the ecology of the art world, but the organisers have resisted repeating fig-1. Until now. "Bringing it back after a year or two would have been too soon," says Francis. "I think 15 years is a good cycle in that there's a new generation of artists who have emerged, and certainly a new generation of audience. And while there was a lot going on in 2000, now London has genuinely become an international centre for contemporary art. Symptomatic of that is the choice of our wonderful new young curator."
The fig-2 project starts in the first week of January under the auspices of London-based Turkish independent curator Fato? Üstek. She has just returned from the 10th Gwangju Biennale in South Korea, where she was the associate curator. She once curated an artist-run space in Istanbul that showed five artists each evening in 15-minute slots – a pace that makes fig-1 seem almost glacial in comparison.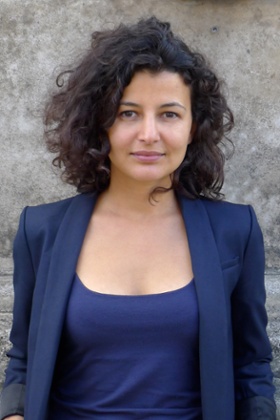 She has use of a new space in London – the original home of fig-1, the aptly named Fragile House in Soho, was recently demolished as part of the Crossrail project – in the form of the almost identically sized ICA Studio in the Mall. It is a space with a chequered history – it was once squatted and became the base for attacks on the ICA finance department; it housed an anarchist press, and Jean-Michel Basquiat used to get stoned there – although it may not be unique in that respect. It was also the venue for the first discussions about what would become Artangel, and has recently been crammed with parts of the ICA archive. "We found an invoice for renting a stuffed crocodile for five weeks," laughs Üstek, "But we have no idea why."
Francis speaks of fig-1 being philosophically connected to the ideas of theatre director Peter Brook who claimed: "I can take any empty space and call it a bare stage." Üstek is similarly keen to make flexible use of the studio. "I have a trans-disciplinary approach to art – I'm from a science background myself – and I'm interested in all aspects of knowledge production. Every project will be very different, and there will be dancers, designers, singers, poets and writers as well as artists. I hope that if you experience just one of the 50, or all of the 50, or part of the 50, you will have some experience of the whole, in that the year will be a massive exploration of the critical and aesthetic currency of our time."
One of the current trends she has identified is, unsurprisingly, a preoccupation with digital art and virtual spaces. She also sees increasing cross-disciplinary influences. "These often come from literature, but there is a noticeable trend towards performance. This already had some momentum in 2000, but a lot of the works I have been looking at have performative elements to them, and that presents a curatorial question: how you retain the resonance of a moment and an encounter across seven days? How can you make it possible to think about and talk about and feel a performance after its realisation? As part of an effort to answer such questions we'll also be having sessions about curating every month."
There are some differences to fig-1 in Üstek's version. "It will be mostly artists based in the UK, although not necessarily of British origin, but I also want to work with artists that are based abroad, so there will be more shipping than Mark used."
There will still be the same mix of big names and lesser-known artists, and she says she has been delighted at the response of the established stars she has approached. "I asked them about their innermost desires: what would they [like] to do, but haven't had the chance to, in terms of space or time, in their current set-up? And they've come back with many ideas.
"This is not an attempt to do things that are already being done in galleries, no matter how much I might like the artists. This is an attempt to bring new things to the London scene, and so when one of the artists I was thinking of working with announced his first solo show in March, we decided not to go ahead with the fig-2 show. I don't want anything that might be repetitious."
Speaking just before Christmas, Üstek says she has filled around 20 slots across the calendar, but will keep the others open for as long as possible so she can include work quickly if it catches her eye during the year. "I recently saw an artist's work for the first time, and that might go in in January. I'll also be making an open call for students to do a week."
As fig-1 was bookended by Richard Hamilton, fig-2 will begin and end with shows by Laura Eldret, the only artist so far announced, who makes immersive work that invites audience participation. "The first show will be an installation of ideas," Üstek says, "and the last will hopefully exhibit the finished work – although at this stage we, obviously, have no idea what that finished work will be."
Details of each week's exhibition will be announced on Wednesdays on the fig-2 website – fig-1 was groundbreaking in 2000 in announcing its following week's plans only via email – without issuing any press images, followed by an opening reception each Monday evening. The pub next to Fragile House became a regular Monday evening meeting place for artists and viewers during fig-1, and while there are few pubs on the Mall, Üstek points out that the ICA does have a bar.
"Of course, we want the old audience to come and see what we are doing, and also a new audience. A big part of my responsibility is to capture the times. I hope there is a fig-3 in 2030 and a fig-4 in 2045 and so on. 'Zeitgeist' is a very abused word, but it has a weight and importance, and it will be a major achievement if we can put together a set of work that successfully explores the ideas we are all cooking up at the moment."
fig-2 opens at the ICA Studio, the Mall, London SW1, every Monday, 6–8pm, and continues from Tuesday–Sunday. Programme details every Wednesday at fig2.co.uk.
guardian.co.uk © Guardian News & Media Limited 2010
Published via the Guardian News Feed plugin for WordPress.
Categories
Tags