The Guardian has pulled together the best art books of 2014. So if you have an art lover in your family have a read.
---
This article titled "The best art books of 2014" was written by Peter Conrad, for The Observer on Sunday 7th December 2014 10.30 UTC
Artists used to be makers but now they're more often performers, parading a carefully cultivated persona: Dalí with his moustache and Warhol with his silver wig, Tracey Emin with her maudlin confessions and Damien Hirst with his hellraising rampages.
Among contemporary "art stars", Jeff Koons – a former stockbroker who still dresses as if for a Wall Street office – is at least well behaved, except when he sculpts himself having acrobatic sex with the porn star La Cicciolina. In Jeff Koons: Conversations with Norman Rosenthal (Thames & Hudson £19.95), he turns out to be something of a moralist in his concern that art should contribute to the happiness of mankind, as his inflatable bunnies and gigantic flower-bedecked puppies apparently do. Rosenthal's "big questions" elicit guff and psychobabble, but Koons theorises lucidly about pop art when he says that there's no need any longer for invention: "Everything is already here. You just need to look at the world."
Grayson Perry discards his transvestite wardrobe to reveal a more thoughtful side of himself in Playing to the Gallery (Particular Books £14.99), which despite its title is an unpretentious aesthetic treatise, not another act of exhibitionism. Perry is politely wary of Hirst and Koons, who equate art with the manufacture of consumer goods; he admires what he calls the "Duchampian power" of Warhol to declare that a cardboard carton is a work of art (and Banksy's inverse power to declare that one of his murals is no longer a work of art if it's hacked off the wall and sent for auction). Wisdom, for Perry, emerges from the mouth of a child: a little girl, asked by a teacher what artists do, incontrovertibly replies: "They notice things".
First of the artist-dandies – before Koons in his white suits and Perry in his frocks – was Whistler, a bohemian libertine whose emblem was a butterfly with a barbed tail. His love affairs, his pugilistic tiffs and his lawsuits are chronicled in Daniel E Sutherland's Whistler: A Life for Art's Sake (Yale £25), along with his uniquely American talents for profiteering and publicity.
Sutherland calls this biography a saga, though it often reads like a farce. Thomas Carlyle described Whistler as "the most absurd creature on the face of the earth", but his serene urban nocturnes and elegiac portraits seem remote from his chaotic life. There was more to the man, after all, than an attitudinising ego.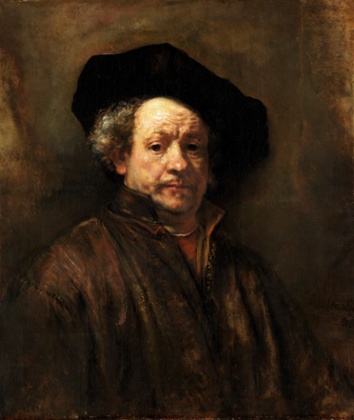 Narcissism is the subject of James Hall's superb The Self-Portrait: A Cultural History (Thames & Hudson £24.95), though the finest of Hall's self-portraitists view the self as a stranger. The greatest of them is Rembrandt, who performed for the mirror like Dalí or Warhol, dressing up and playing roles, but also stared at his ageing face with tragic candour. In Rembrandt's Universe (Thames & Hudson £35) Gary Schwartz provides a shrewd analysis of the man, who could be cruel and sneaky despite his reputation for compassion. As with Whistler, art atones for personal flaws: Schwartz concludes by almost sanctifying Rembrandt as "a Christian rhetorician of the brush".
Finally, two idiosyncratic works of art tourism. Sarah Thornton's 33 Artists in 3 Acts (Granta £20) rounds up the usual suspects – Koons, Hirst, Perry and co – in venues extending from Ilfracombe to Istanbul, Chile to China. While riding the gravy train of contemporary art as it tootles round the world, she collects some gloriously fatuous formulations: Tammy Rae Carland, who photographs her own tousled sheets, justifies the dreary result by opining that "beds are spaces of 'performativity'". Thornton mischievously encourages her interviewees to slag off colleagues on other continents, and she has an acute eye for their domestic surroundings. Hirst takes her to his "shed", once a railway signal box; she marvels at the Pampers box that Francis Alÿs uses as a coffee table; best of all is the Brooklyn living room of Martha Rosler, "a charity shop hit by a bomb".
In Rendez-Vous With Art (Thames & Hudson £19.95), Philippe de Montebello and Martin Gayford cover less ground, and carefully avoid squalid Bohemia: they confine their travels to European galleries and the Metropolitan Museum in New York, where Montebello was director. As they stroll, dally and refresh themselves in cafes, Gayford prompts Montebello to recall scenes from a curatorial life that began with a muddy baptism during the Florentine flood in 1966. Now elderly, with a bad back, Montebello hankers after the "unabashed luxury" of the 18th century, asserts that paintings should be "surrounded by very rich marbles, carpets, gilt and splendid columns", and snorts at the demotic mobs in the Louvre. But his comments on the works he studies and sometimes handles – he is a literal believer in what Berenson called "tactile values" – are always revelatory. Eloquent as he is, Montebello is even better when he falls silent. Velázquez, he says at the Prado, "strikes me dumb"; he then stands aside and lets us gaze in awe, as if looking over his shoulder, at the illustration on the facing page.
guardian.co.uk © Guardian News & Media Limited 2010
Published via the Guardian News Feed plugin for WordPress.
Categories
Tags