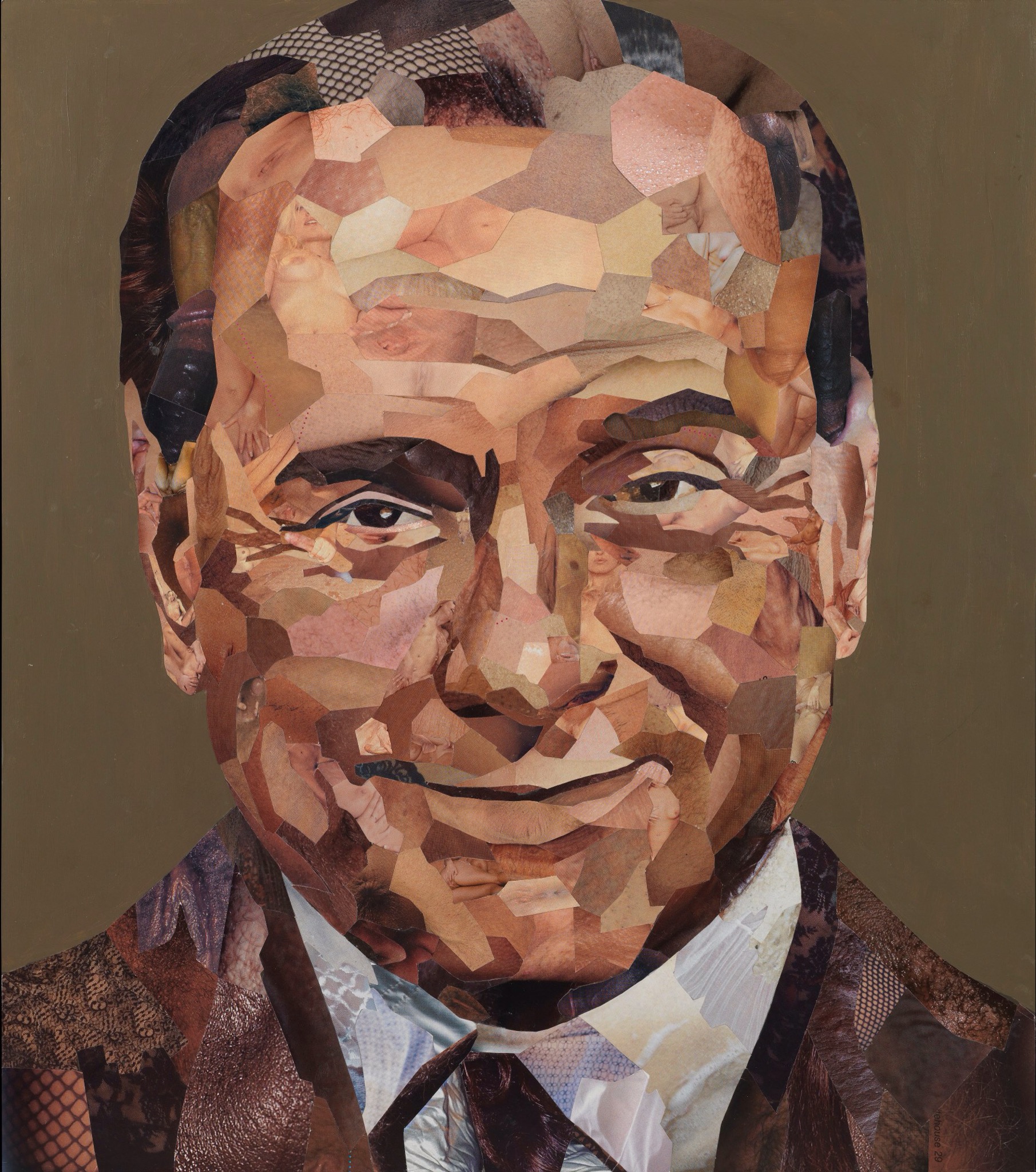 20th November – 20th December 2014 Lazarides Editions, 22 Upper Ground, London SE1 9PD
Lazarides Editions' inaugural exhibition will reflect upon an area of Yeo's practice that has not yet been highlighted in any previous retrospective, celebrating the artist's comprehensive body of widely acclaimed printed material. Following Yeo's landmark 2013 exhibition at London's National Portrait Gallery, he has recently been the subject of a mid-career retrospective at the Lowry in Manchester. A major new body of work, Jonathan Yeo Portraits, will mark the artist's most recent museum showcase later this autumn at Newcastle's Laing Art Gallery.

Lazarides and Jonathan Yeo commenced collaborating in 2007 with Yeo's first exhibition to feature his hugely popular pornographic collage series. Bush, the unauthorised portrait of the then US president George W, was conceived and launched as a 22 colour screen print, igniting the artist's interest in printed editions. The screen print, initially made for preservation purposes, embraced the integrity of the original collage and prompted an experimental phase with printmaking, encompassing etching, layering, stenciling, hand finishing and digital formats.
Jonathan Yeo: The Print Retrospective will see over 30 different limited editions brought together in one place, including a selection of unseen portraits and new pieces created specifically for the exhibition.
About the Artist
Jonathan Yeo (b. London, 18 December 1970) is internationally reknown for his portraits of iconic figures including Nicole Kidman, Damien Hirst, Malala Yousafzai, Kevin Spacey and Tony Blair. The British painter has exhibited extensively in Europe, North America and the Far East. Yeo was never formally trained at art school, instead he taught himself how to paint in his early twenties while recovering from lymphatic cancer, before carving out a career in the nineties painting a range of prestigious cultural and political figures.
In 2007 Yeo's work took a new direction when the White House reneged on a commission for him to paint a portrait of President George W. Bush. He went ahead with the picture anyway, creating a collaged likeness out of pornographic magazines, including a sexual act reportedly illegal in the state of Texas. The image was shown by Lazarides in London, New York and Los Angeles, resulting in immediate worldwide notoriety.
Jonathan Yeo sees his collages as a wry comment on the gradual pornographisation of advertising and the mass media. He says the portraits are playful references to the warped attitudes toward sex and morality. while the nudes emphasise the dramatically contrasting portrayals of the female body.
Yeo's ability to fuse the figurative and abstract is ever evident in his work and transfers effectively into printmaking. His evolving interests in portraiture can be clearly charted through the various media, from the collage period through the surgery series and up to more recent high profile portraiture. The collages and paintings continue to inspire editions which, in most cases, take the original image and and build them into something unique within their own right.
Lazarides Editions
Lazarides Editions provides a dedicated platform for fine art print editions from the Lazarides international stable of artists, exploring new developments in contemporary printmaking across a range of practices and media. Following the launch of the newly equipped print studios on Greenwich Peninsula, Lazarides Editions joins Lazarides Rathbone in profiling artists that collectively defy categorisation.
Alongside the launch of the new studio and online store, 2014 will see the opening of the Lazarides Editions at Sea Containers on the Thames South Bank. The new gallery, within London's globally acclaimed Mondrian Hotel, will present a comprehensive schedule of bespoke exhibitions, artist collaborations and independent events in addition to a revolving curation of notable print editions.
Artist's represented include: Antony Micallef, Brett Amory. Conor Harrington, 3D, Doug Foster, Invader, JR, Jonathan Yeo, Miaz Brothers, Oliver Jeffers, Ron English and Todd James. www.lazinc.com
Categories
Tags