---
This article titled "Headset provides '3D soundscape' to help blind people navigate cities" was written by Oliver Wainwright, for theguardian.com on Friday 7th November 2014 17.11 UTC
Knobbly pavements and ticking pedestrian crossings are one thing, but the frustrating experience of getting around the city for visually impaired people could soon be revolutionised by a new navigational headset which claims to let you hear your surroundings as a "3D soundscape".
Developed by Microsoft and the Guide Dogs charity over the last two years, with the government-funded Future Cities Catapult, the headset contains a GPS tracker, compass and gyroscope, and can be programmed to talk to you through your route, like a pedestrian sat-nav. Paired with a smartphone, it uses location information from Microsoft's Bing maps, which can be supplemented by tiny Bluetooth-enabled beacons stuck to lamp-posts around the city.
"The project was inspired when my daughter was born," says Microsoft's Amos Miller, a former trustee of Guide Dogs who is visually impaired. "I wanted to be able to take her out for a day, or just go to the cinema – and I thought, 'how can I make that something that I would not hesitate to do?'"
He describes how the immersive navigation system is intended to feel like "painting a picture of the world through sound, similarly to how a lighthouse guides with light," in order to "remove much of the fear of new journeys and improve those which people are already familiar with."
The design takes the form of a "bone-conducting" headset, developed with sports headphones company AfterShokz, which is not quite as sinister as it sounds. Instead of having earpieces, it has two pads that rest on your upper jawbone and transmit sound through vibration. The system bypasses the ear-drum so you can still hear noises around you as usual, rather than blocking your ears with headphones.
As you begin to walk along the programmed route, you hear a kind of "clip-clop, clip-clop" – a bit like being accompanied by Monty Python's coconut-wielding minstrel, Patsy – which is punctuated by a regular "ping" that indicates you're going in the right direction. If you stray off course, it's interrupted by a swishing sound, as if you'd wandered off into some foliage.
Just like using sat-nav, your accompanying guide can alert you to points of interest in her soothing synthetic tones, and she'll also let you know when you've reached the bus stop and even when the next bus is due. To create the "soundscape" effect, the system uses directional audio technology to make certain directions and the description of landmarks sound like they're coming from where they are actually located. If the cafe is 10m ahead and on the left, that's where the trusty Bing maps voice will sound like it's calling out to you from. You can even ask it for extra information on local landmarks, like history or opening hours, all plundered from the Bing database.
"It really helped me create a bigger picture of the area I was in," says Kirstie Grice, a cane-user from Reading, who trialled the system getting the train from Reading to Paddington. "We don't always want to plan ahead to see if we can get community transport or a taxi or something; we want to be able to just jump on a bus and go somewhere and have that freedom. We want to live like normal people."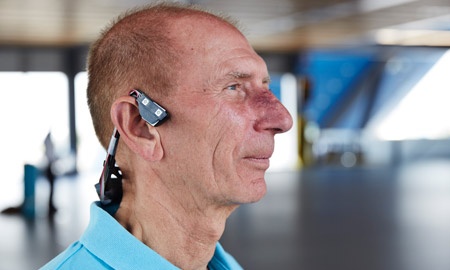 According to the Guide Dogs charity, around 180,000 visually impaired people in the UK rarely leave their house alone. By 2050, the number of people with visual impairment is set to double to around four million, as the population ages.
"Visiting a new city is often daunting, even for people with enough confidence to tackle the challenge independently," says Jenny Cook, head of strategy and research at Guide Dogs. "For others, who rarely leave home alone, the thought of an unfamiliar journey leaves them stressed and anxious, and visiting a new area is an impossible dream."
For the Futures team at the Catapult – a kind of speculative urban ideas laboratory, led by Dan Hill – the project represents the first stages of a much bigger inquiry.
"We're interested in projects that are trying to flush out the true possibilities of the 'internet of things' and 'smart cities', by taking a human-centred design research approach," he says. "The idea was to use visually impaired people as lead users, but we're interested in how to make a city more accessible and fluid for everybody. How can the mobility experience improve when everything is connected and talking to each other? The bus stop can talk to your phone, and your phone can talk to the bus, saying you want to get on it – and it could even pre-pay for you. Think how much easier the whole experience of a train station could be."
His team is working on a number of research strands, from air quality monitoring to connected displays and interactive signage, working with public sector stakeholders including Network Rail and Transport for London.
"The technology is woven into our cities, becoming increasingly rich by the day," says Future Cities' project lead for urbanism, Claire Mookerjee. "What we need now is for city leaders to make the most of it and test new ways of using it at scale."
There's profit in it, too. She says the "integrated city systems market," the lucrative domain of such tech giants as Cisco and Siemens, will be worth an estimated £200bn by 2030 – a reminder that, while networked cities might begin to ease our everyday lives, they also open the door for more of our personal data and movements to be tracked, analysed and, ultimately, monetised.
guardian.co.uk © Guardian News & Media Limited 2010
Published via the Guardian News Feed plugin for WordPress.
Categories
Tags