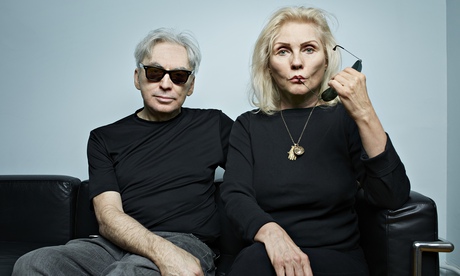 Chris Stein and Debbie Harry photographed by Mike McGregor for the Observer in New York last month.
---
This article titled "Debbie Harry by Chris Stein: a life in pictures" was written by Hermione Hoby, for The Observer on Sunday 2nd November 2014 09.15 UTC
When Debbie Harry and Chris Stein sit down beside each other on a black leather sofa, things look exactly as they should. These two are no longer boyfriend and girlfriend, as they were in the early days of Blondie, but after 40 years of leading one of the most influential bands of the past century they remain – almost palpably – a pair: Debbie and Chris, Chris and Debbie.
Harry first saw Stein from the stage, in 1974, while she was singing in a girl group called the Stilettos. He was silhouetted in the crowd and, at the time a nervous performer, she directed the songs to him. They met after the show and the rest is pop history: they became an item, began writing songs together and Blondie, a pop band born out of a punk spirit, went on to have hit after hit, while retaining the scrappy insouciance that defined downtown New York in the 1970s. Songs such as Call Me, Heart of Glass and Atomic have attained a kind of indelibility: the power of Harry and Stein's musical partnership is obvious. Less well known is the kind of chemistry they have as photographer and subject.
Stein has been taking photographs since the band's early days and has now collected them in a sleek black volume called Chris Stein/Negative: Me, Blondie, and the Advent of Punk. An exhibition at Somerset House in London will accompany the book.
There are photos of David Bowie, Richard Hell, David Byrne, William Burroughs, Joan Jett et al; but, unsurprisingly, his favourite subject is Harry. One shot, of her "cooking" (that is, brandishing a flaming frying pan in a blackened kitchen), has a wild humour that's typical of Stein's sensibility – it's one that the writer Glenn O'Brien identifies in an essay in the book as "the light side of the dark side". The photoshoot happened when the couple returned from a tour in 1977 to discover their apartment had burned down, after an electrical fire. Rather than despair, Stein looked at all that sooty ruin and thrilled to its aesthetic potential.
"I think the point of Chris's charm as a photographer," Harry agrees, "is to see beauty in rot and chaos and destruction and rubble. Plus, the dress that I'm wearing was supposedly Marilyn Monroe's." It, too, had been in the fire, so it "had done a weird thing: it was very soft and chiffony and then it became this melted, stiff thing".
Looking at image after image raises this question: is it possible to take a bad picture of Debbie Harry?
"Yeah…" shrugs Stein, without conviction. "I mean stuff where the flash would be out of sync or something. But if I was taking photos of her… she always comes off pretty well." That includes one shot of her bungee jumping topless, aged 45.
"I would have gone stark raving naked," she says, "but I was up there on the top of the thing and I had the clamps already on my ankles so I couldn't get my shorts over them. I was so disappointed. Because I figured if I was going to die, I should go back out the way that I came – naked. It was great. It was titillating, you know? It was…" she gives a happy little shiver.
Stein has no favourite picture of Harry. As with the band's songs, "they're all like movements in a larger piece. That's how I think about it".
Harry herself sees them as distinct from anyone else's pictures of her.
"I definitely do not have that kind of intimacy with any other photographer," she says, "and when I look at the pictures that he shot I can see the difference in my eyes."
And what is that difference?
"Love!" she says, and lets out a surprisingly twinkling laugh. "Pretty simple."
Chris Stein/Negative: Me, Blondie, and the Advent of Punk by Chris Stein (Rizzoli £35) is out now. Click here to buy it for £29.75. An exhibition of the photos is at Somerset House, London WC2, from 5 Nov until 25 Jan 2015, free entry
guardian.co.uk © Guardian News & Media Limited 2010
Published via the Guardian News Feed plugin for WordPress.
Categories
Tags