The Jerwood has been able to put on this show with the help of a crowd-funded £30,000, sourced via Art Fund. The standout piece is what might be considered the Chapman Bros' career highlight: 'The Sum of all Evil' (2014), another reworking of the series that began with 'Hell' (1999). It features thousands of model Nazi soldiers committing abhorrent acts in an apocalyptic tableau, complete with huge piles of corpses as well as numerous consumerist references. If one of the roles of an artist is to reflect reality back to us in an arresting and thought-provoking way, then here we have that role fulfilled. With its juxtaposition of holocaust and Ronald McDonald schlock, provocation is delivered by the blunt, bloody spadeful.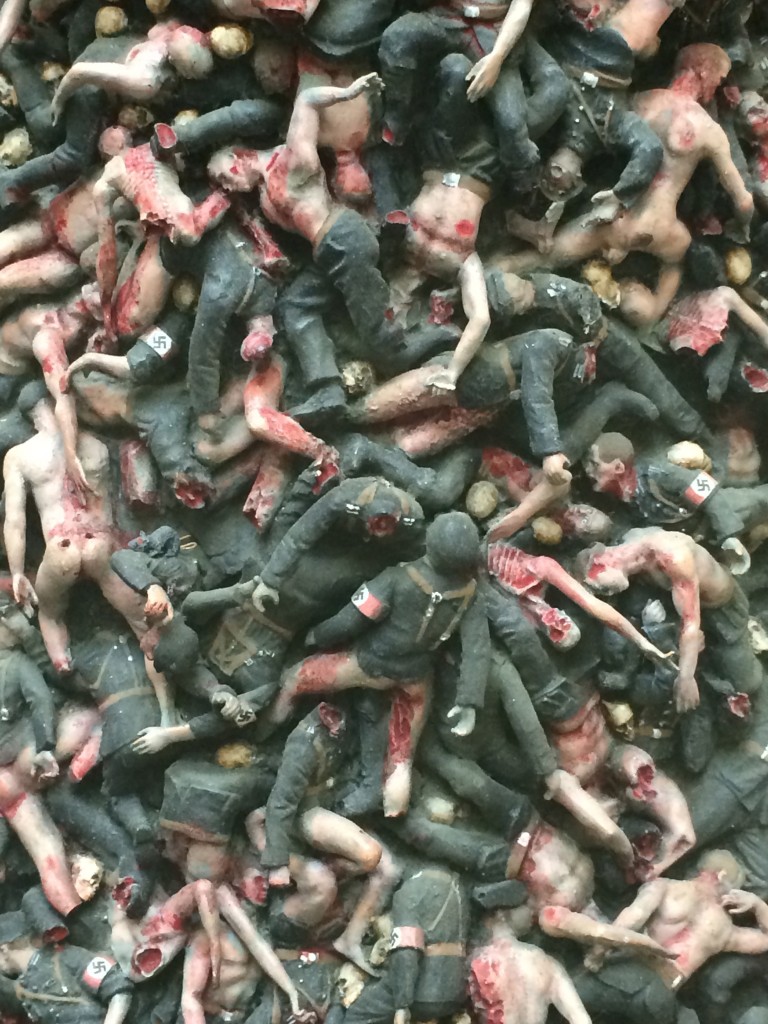 Detail, 'The Sum of all Evil' (2014).
New work comes in the form of 'Sturm und Drang' (2014), this bronze statue being a reworking of the Chapmans own fibreglass 'Great Deeds Against the Dead' (1994), itself an interpretation of Goya's Disasters of War image: Grande Hazaña! Con Muertos! (A Heroic Feat! With Dead Men!). It's sizeable at 2.5 metres, and grotesque. When I asked Dinos why bronze was the chosen medium for this work he told me: "Bronze statues are usually grand, in honour of some general or whatever, so hanging three joke skeletons on a shit tree in bronze… it's a misuse of bronze. I'm actually not that interested in bronze, it's just a tried and tested method." And what about the longevity of bronze? "The longevity of the work is of no interest – I'm one of those people that believes that when I close my eyes the whole world disappears – it's all in my head." Notable in 'Sturm und Drang' is the lack of biting satire and cultural commentary we see in 'Hell' and 'The Sum of all Evil', so that whilst it's impressive, one is nevertheless left wanting the full Chapman Bros' over-the-top modus operandi. And when Dinos closes his eyes, he might also be thinking about money: White Cube is offering this bronze in an edition of three.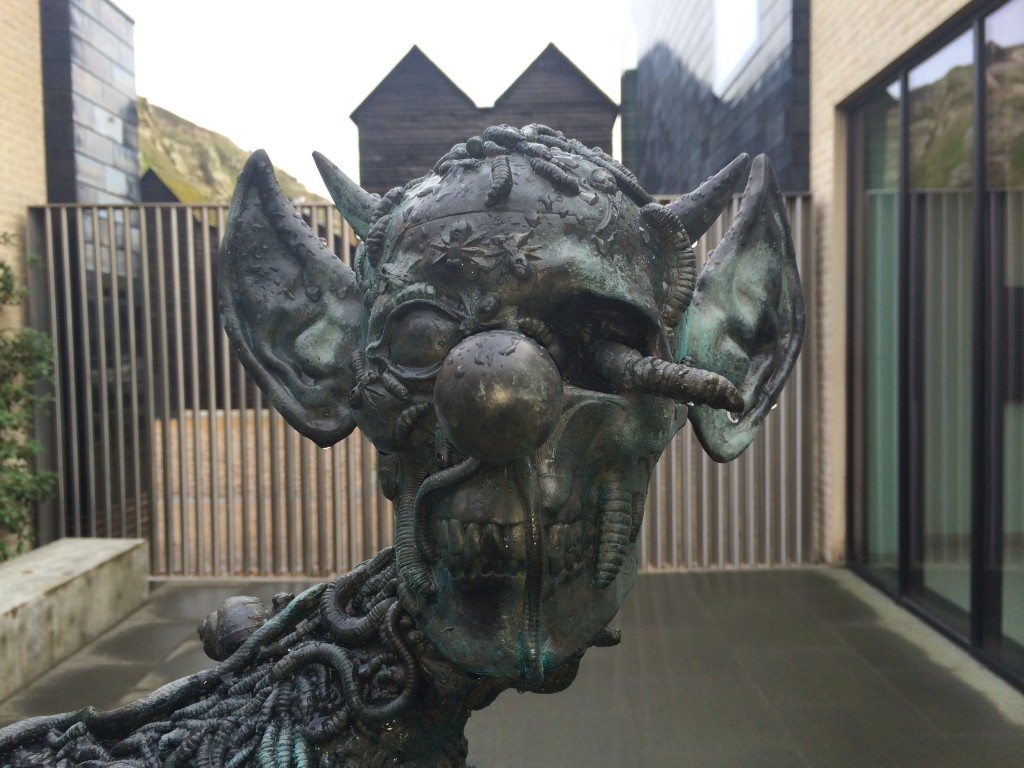 Detail, 'Sturm und Drang' (2014)
Humour has been a vital ingredient of the Chapmans' work over the years, and in this show it's delivered in the form of the so-dubbed 'Children's Gallery'. We see an installation of a lowered ceiling (read: this is a gallery for kids) over a space in which just one small painting hangs – a still life signed 'A.Hitler'. It's a fake, but no matter, we get the joke: a witty response to the furore over Jake's assertion that parents shouldn't take their kids to see art in galleries, they wouldn't understand it. The problem is that what we have here is a one liner and nothing else. The accompanying series of paint-by-numbers drawings alongside don't elevate this joke to a work of art.
The Rape of Creativity, the set of Goya prints the brothers have defaced with cartoon over-drawing, suffers from the same drawback: it's essentially a one liner, like so much conceptual art of old, and having delivered the joke in the first print, one doesn't really need to labour the point in the remaining 80 of Goya's set.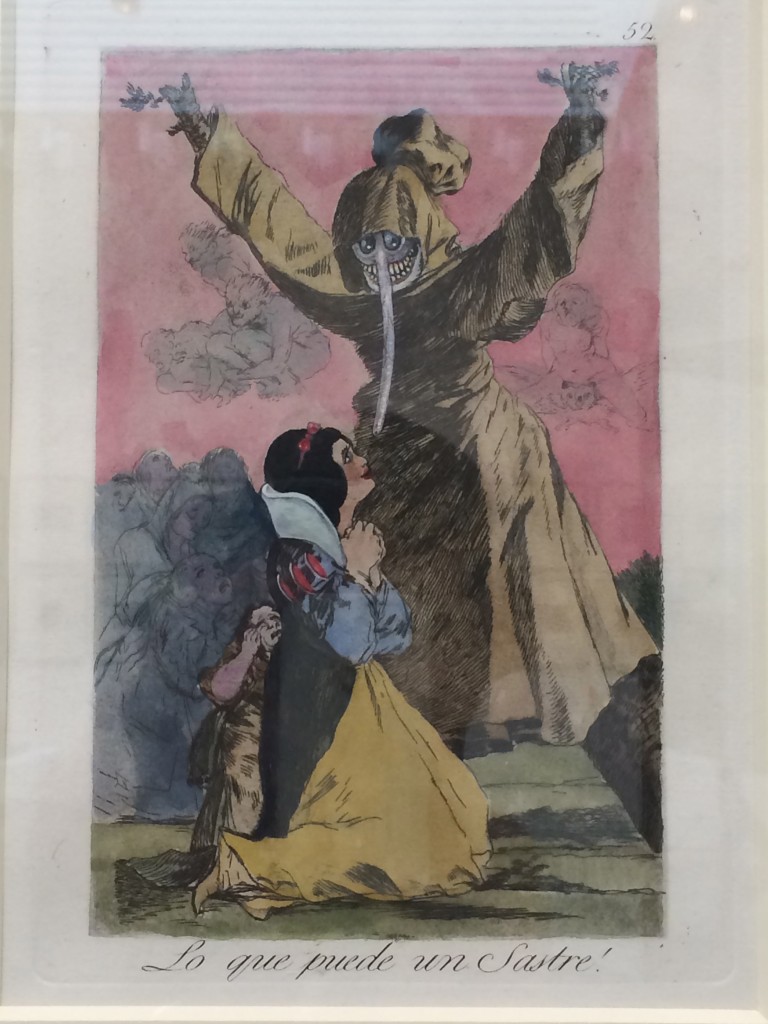 A defaced Goya: The Chapman Bros 'The Rape of Creativity'
In 2012 the brothers caused outrage when they installed an Adolf Hitler sculpture as part of a crazy golf gallery installation. Upon successfully holing the ball, it performed a Zieg Heil salute and shouted "Nein, Nein, Nein!". With this in mind I asked Jake if he thought he could do anything to spice up Hastings' crazy golf courses. Jake: "I'm sure we could do something interesting, but perhaps not as racy." Which I thought was telling: as an older version of his bad-boy self, Jake Chapman actually cares about what Hastings thinks of him.
An entertaining distraction from the press briefing was the tattoo shop installed in one of the Jerwood's ante rooms. Here volunteers were choosing a Chapman Bros design. A couple of girls were skiving off work to come and have a tattoo, whilst another had chosen a blood-sucking insect to go on her back. Rollo Ross, a journalist, was looking pale with worry and sweating at the prospect of having Dinos draw a custom tattoo design on his arm. Over lunch Rollo asked Dinos what he was planning to do to him. Rollo: "It's not going to be a swastika is it?" Dinos: "I find it's best not to think about these things in advance, but just do it!"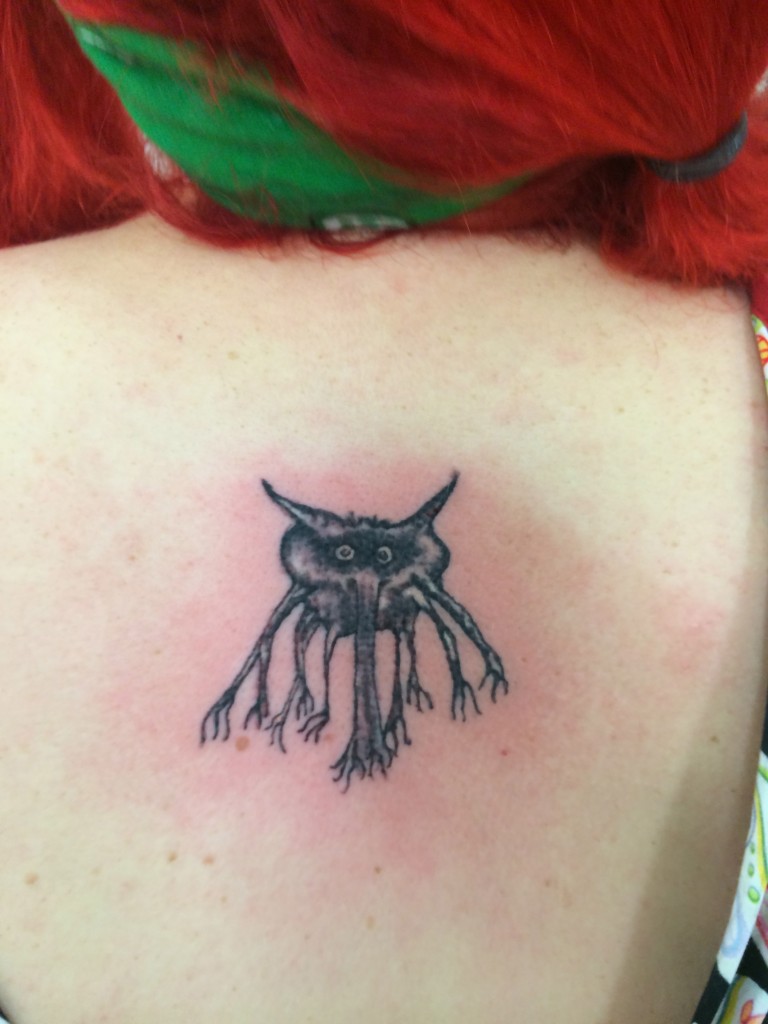 A volunteer's Chapman-designed tattoo.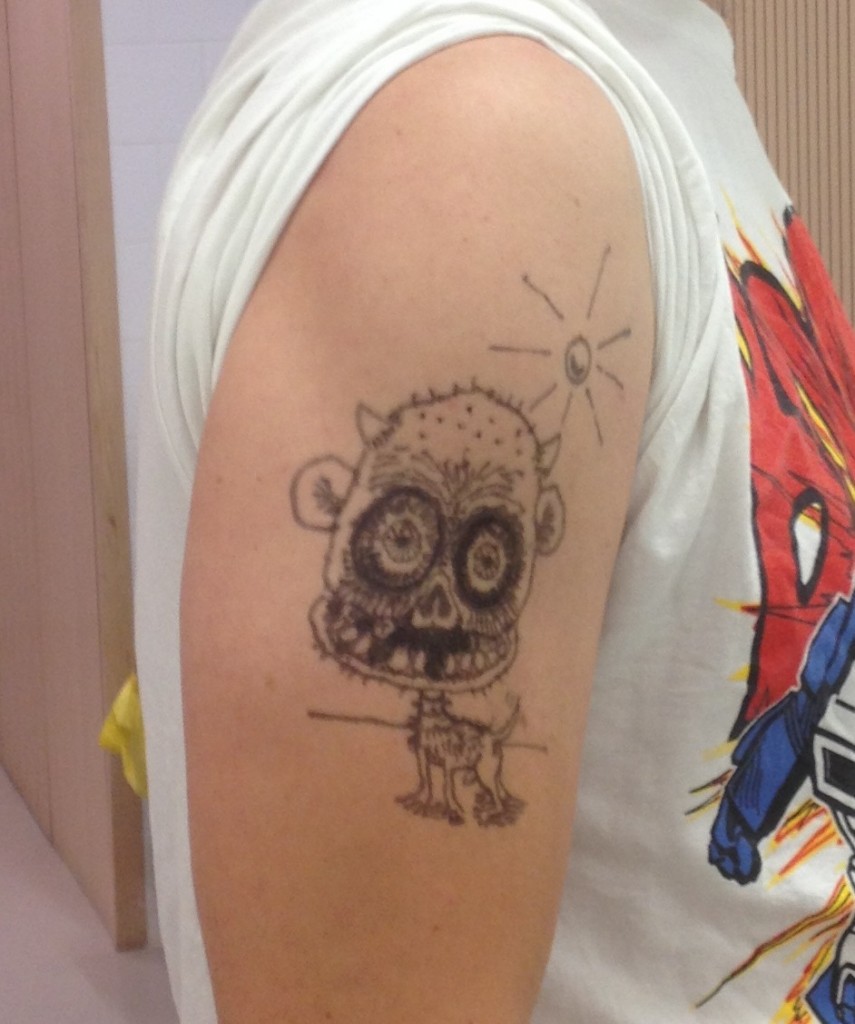 Rollo Ross' new Dinos-penned tattoo by www.monkeypawtattooparlour.com
As I left the Jerwood it occurred to me that what Rollo was feeling is what Jake and Dinos should surely be invoking in the rest of us. The brothers are mellowing in their old age and one is left wondering where they go from here. That notwithstanding, I highly recommend this show – it's curated to present a rounded view of the Chapman Bros' oeuvre, from apocalypse, via Emin's tent, to monumental bronze. And your visit will also give you access to the Jerwood's fine collection upstairs.
Jake & Dinos Chapman: 'In the Realm of the Unmentionable'
The Jerwood Gallery, Hastings, until 7th Jan 2015. www.jerwoodgallery.org
Words: Laurence Poole
Categories
Tags