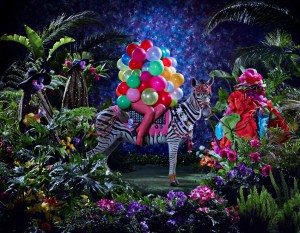 Last year during Frieze week was the launch of the inaugural edition of 1:54, a fair of international galleries displaying African artists. Considering the increasing popularity of African art this makes commercial sense as well as giving Londoners the opportunity to see art from galleries and by artists they may not be aware of.
I visited last year and actually thought the quality of work was mediocre but I'm happy to report that the fair has come back stronger in its second edition and there's a maturity and breadth and depth in work that the 2013 edition lacked.
With that in mind I've picked out my 4 favourite artists of 1:54 2014: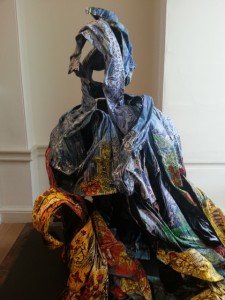 Peju Alatise – Art Twenty One
This figurative sculpture made from frozen fabric is the first work I saw on entering the fair and it's a perfect representation of the fair in taking a typically European sculpture pose and infusing it with African influence.

Sammy Baloji – Galerie Imane Fares
A solid portfolio from this artist but his strongest work is a diptych showing the bright lights of Las Vegas on one side and an abandoned warehouse in Democratic Republic of Congo on the other. A stark contrast between Western decadence and African poverty.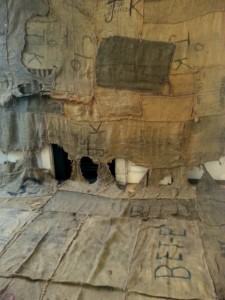 Ibrahim Mahama – A Palazzo gallery
Mahama's sculpture made of used sacks may have been a highlight at Saatchi's recent Pangaea show but in that show the large scale work was only on the wall. Here it covers the ground and walking upon it and having the uneven surface slip and slide beneath my feet makes  it more tangible and engaging artwork.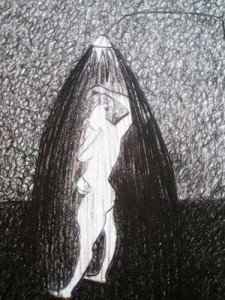 Serigne Mbaye Camara – Carpe Diem
Dense lines obscure showering figures while the opposite wall contains fantastical creatures that are as odd-looking as they are menacing.
1:54 Contemporary African Art Fair is on at Somerset House until 19 October. Tickets are £15 for adults.
All images used are copyright the artist & 1:54.
Categories
Tags