Multiplied The Contemporary Editions Fair from Christies opens this Friday 17th October.
FAD has chosen three artist and their galleries ahead of the opening, giving you a sneak peak of what to expect.
First up we have Chinese Artist Jack Tsai from EyeStorm.
1 If you weren't an artist, what else would you be?
A head chef
2 Tell us a bit about your work and the main ideas that you explore in it
I try to explore the cultural differences between east and west in my work, harmonising it through my fusion style.
3 How do you start the process of making work?
Initially my ideas come from daydreaming, then I sketch these dreams onto paper or onto the computer through digital collage, before finally using various different mediums to
make the pieces come alive.
4 Do you ever think about whether a work will make a print edition when you start on a piece?
I know the answer to this before I start on a piece because my prints exist only as prints and my originals only as originals. I have my own theory of what kind of styles work well on paper and what styles are good for other mediums.
5 Why do you think prints are so popular?
Perhaps because they're generally more affordable than originals, collectable and easy to hang in a home environment, but I think mostly because they have the potential of increasing in value in the future, once the full edition has sold out.
6 Do you consider the viewer, when making your work?
I believe in my own judgment and that the viewer will like my work as much as I do if I'm 100% satisfied with it.
7 What work will you be exhibiting at Multiplied?
I'll be exhibiting with Eyestorm, and this is the fourth year they've shown my work at Multiplied. They'll be exhibiting a piece from my most recent playing card series, titled 'War Skull', in a bespoke, mirror-backed frame (the piece is printed on both sides), as well as my 'Shanghai Tang Series' which consists of six prints I published with Eyestorm and luxury brand Shanghai Tang earlier this year.
8 Some people don't think of editions / prints as 'real art', what's your view?
I disagree. Limited editions go back over 200 years and have always been considered as original art. The confusion comes from some prints being made as copies of originals, which are sometimes frowned upon, but all the screenprints I make are original prints, made from scratch, specifically as a print edition and where no 'original' exists and no more prints can exist after the edition has been printed.
9 What do you have planned for the rest of the year?
Working hard to prepare new artworks for my solo shows next year in HK and London, and making more editions with Eyestorm, my print publishers.
What art exhibitions are you looking forward to during Frieze week?
Of course Multiplied Art Fair, print is a huge part of my art and I'm glad to be exhibiting at Multiplied for the 4th consecutive year with Eyestorm.
If you had £5,900 to spend on artworks, what would you buy?
I would buy my own work, the Ace of spades from my new "War Skull" series, the best skull art I've ever created in my career. (see below)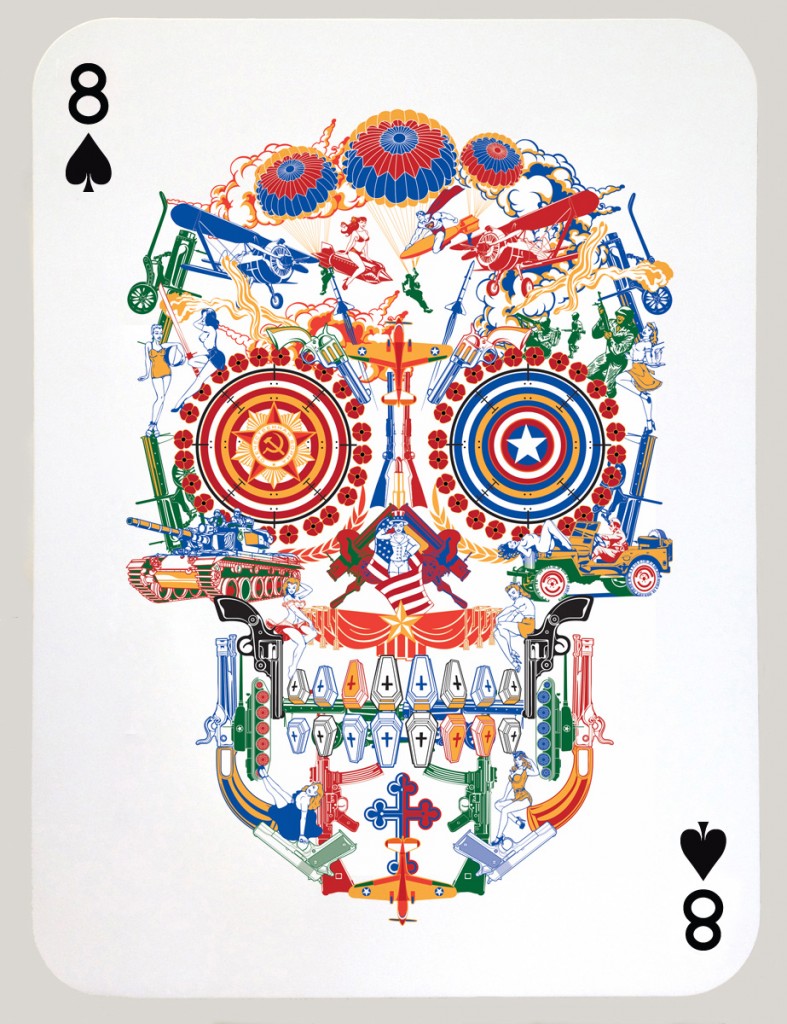 Multiplied Contemporary Art in Editions Fair 17th – 20th October at Christies 85 Old Brompton Rd
London multipliedartfair.com
See More of Jacky's work at Eyestorm.com
Categories
Tags