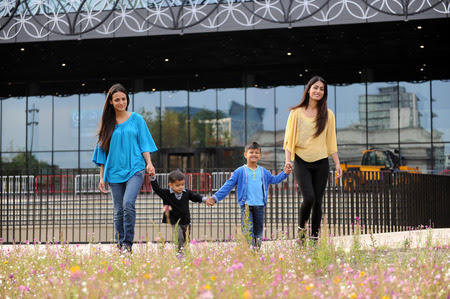 The Jones Family inspire A Real Birmingham Family by Gillian Wearing, photo by Jas Sansi, Courtesy of Ikon
A Real Birmingham Family is a project from Turner Prize-winning artist Gillian Wearing led by Ikon that has been over three years in the making.
During 2011 and 2012, residents of Birmingham were urged to nominate their families to be the face of Birmingham. No limits were placed on how the 21st century family might define itself and nominations were received from hundreds of participants.
In 2013 the Jones family, consisting of two sisters Roma and Emma – both single parents – and their two sons Kyan and Shaye, were selected as A Real Birmingham Family by the artist and a diverse panel of community, cultural and religious figures. The selection was finalised following discussions between the panel members on what constitutes a Birmingham family: multiple generations, friendships and diversity as well as evidential links to the city.
The concept for A Real Birmingham Family developed from a past project Wearing undertook in Italy, A Typical Trentino Family (2008), where a local family was selected to be immortalised in a bronze sculpture. During the process the artist worked with statisticians who gave her the break down of what the typical family in Trento consisted of; their definitions of a family were surprisingly wide-ranging and included one person living alone. Wearing found this an inclusive way of regarding family and applied it to the search in Birmingham.
Wearing explains:
I really liked how Roma and Emma Jones spoke of their closeness as sisters and how they supported each other, it seemed a very strong bond, one of friendship and family. I hope the sculpture puts across that connectedness between them. A nuclear family is one reality but it is one of many and I hope this work celebrates the idea that what constitutes a family should not be fixed.
Limited edition A Real Birmingham Family posters signed by the artist are available for £60, with proceeds going towards the funding of the project. ikon-gallery.org
Support A Real Birmingham Family
IKON need to raise £100,000 to fund Gillian Wearing's bronze sculpture of the chosen family, and can only do this with your help. Any donation is welcome.For a limited period, from now, every donation IKON receive will be doubled through the Arts Council England Catalyst Scheme. For example, this means a donation of £5 from you will be worth £10 to Ikon.
Make a Donation HERE
???
About IKON
Ikon is celebrating its 50th anniversary in 2014. It has held numerous seminal exhibitions by artists including Martin Creed, Antony Gormley, Carmen Herrera, Julian Opie, Cornelia Parker and Dayanita Singh. It has played an instrumental role in launching the careers of many of the artists it has exhibited. Ikon's Director, Jonathan Watkins, continues to build upon this legacy in bringing new artists to the gallery and the UK as part of its 50th anniversary programme, collectively known as Ikon 50.
Ikon Gallery, 1 Oozells Square, Brindleyplace, Birmingham B1 2HS tel. +44 (0) 121 248 0708 / fax. www.ikon-gallery.org
Categories
Tags