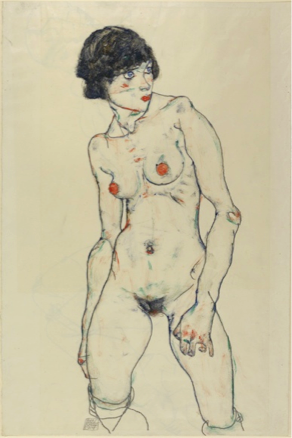 Egon Schiele (1890-1918), Standing Nude with Stockings, 1914, Black chalk and gouache, 48.5 x 32.1 cm, Germanisches Nationalmuseum, Nuremberg Photograph: M. Runge

23rd October 2014 – 18th January 2015 The Courtauld Institute of Art Somerset House Strand London WC2R 0RN www.courtauld.ac.uk
The Courtauld Gallery will present the first major museum exhibition in over 20 years of one of the 20th Century's most exceptional artists, Egon Schiele (1890-1918). A central figure of Viennese art in the turbulent years around the First World War, Schiele rose to prominence alongside his avant-garde contemporaries, such as Gustav Klimt and Oskar Kokoschka. He produced some of the most radical depictions of the human figure created in modern times, reinventing the subject for the 20th Century. The exhibition will chart Schiele's short but transformative career through one of his most important subjects – his extraordinary drawings and watercolours of male and female nudes.
Egon Schiele: The Radical Nude concentrates on the artist's drawings and watercolours. It brings together an outstanding selection of works that highlight Schiele's technical virtuosity, highly original vision and uncompromising depiction of the naked figure. This sharply focused exhibition will be a unique opportunity to see thirty-eight of these radical works drawn from both international museums and private collections, with many works shown in the United Kingdom for the first time.
Schiele arrived in Vienna in 1906, aged just sixteen, to train as an artist. He quickly proved his precocious talent and the following year sought out Klimt, the leader of Vienna's Secessionist group of avant-garde artists and designers, who became a mentor to the young artist. Schiele's early work could not have prepared the art establishment for the extraordinary breakthrough that he made in 1910 when he began to draw the figure in an entirely new way and the subject of the nude took on an increasingly important role.
This exhibition will begin with a rich selection of nudes from this seminal year, including a number of Schiele's powerful nude self-portraits, demonstrating how his approach was closely tied to his introspective examination of his physical and psychological make-up. The main section will explore his provocative nudes of the next nine years when he pushed artistic conventions through his direct expression of human experience, fears and desires. The works are bound up with themes of self-expression, procreation, sexuality and eroticism. These were fertile concerns in the socially and psychologically charged atmosphere of pre-war Vienna.
Schiele overturned and transformed old traditions of art school life drawing classes with his raw and unidealised approach to the nude. Rather than just depict conventional artists' models in familiar poses, he took as his subjects an unusual variety of people including himself, his sister, male friends, his lovers and wife, female prostitutes, pregnant women and babies observed in a medical clinic, and a number of young female models. Schiele's subjects often act out a striking body language, assuming expressive or painfully twisted poses, his models frequently explicit in their nudity. Many of these works affronted contemporary Austrian standards of morality and were considered pornographic by some. In 1912 Schiele was even imprisoned for two months for contravening public decency. Today, these works are celebrated for challenging outmoded conventions of the nude in high art of the period and for investing the genre with a new and distinctly modern relevance.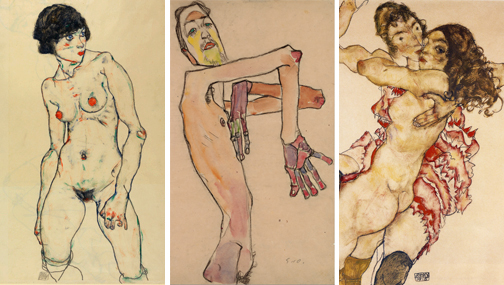 The last part of the exhibition will look at works from Schiele's final years before his untimely death in 1918 from Spanish influenza, aged just 28. An important aspect of all these works is Schiele's unique draughtsmanship, which the exhibition explores through the development of his technique and approach to the medium that he made so distinctively his own. Egon Schiele: The Radical Nude will also be an opportunity to reflect upon Schiele's wide-ranging influence on the course of modern art that still resonates today.
Dr. Ernst Vegelin, Head of The Courtauld Gallery comments:
'Egon Schiele's works illuminate a radical approach to a traditional subject. His unflinching portrayal of the human figure distinguish these works as among his most significant contributions to the development of modern art.'
Dr. Barnaby Wright, Daniel Katz Curator of 20th Century Art at The Courtauld Gallery adds:
'As the first museum exhibition of the artist in the UK for over twenty years, this is an unique opportunity to bring together a remarkable group of Schiele's nudes for public display. The psychological charge of his work is palpable in the distinctive line of Schiele's nudes, the influence of which reverberates in the work of important contemporary artists today.'
The exhibition will be accompanied by a fully illustrated catalogue and will include new research by leading scholars including Professor Peter Vergo and Dr Gemma Blackshaw.
Categories
Tags