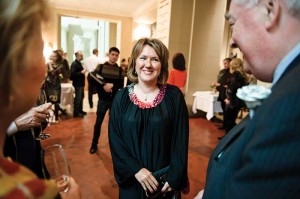 The Art Newspaper is to have a new owner, the mathematician, engineer and collector, Inna Bazhenova, who has been the publisher of The Art Newspaper Russia since 2012, it was announced in a press release from the publication earlier today.
The sale agreement boosts the financial backing of the paper and allows it to build a greater internet presence.
Umberto Allemandi, founder of the Giornale dell'Arte and The Art Newspaper network, now honorary president, said: "After 50 years in the business, I need to think of the future. I require four things: total independence from outside interference; intelligent choice of news; scrupulous attention to the facts, and indifference to economic advantage. I want my 50 years to have a legacy, so I have chosen Inna. I pass the baton to her because she and her husband Dmitry are young, they are rich, they are honest and have convinced me that they share my ideals."
Inna Bazhenova said: "

I feel very fortunate to be the new owner of The Art Newspaper. The quality of its journalism and scholarship are outstanding and its excellent coverage of international art news is vital in our global environment. When I started collecting art I realised it was absolutely essential reading. I want to reassure you that The Art Newspaper will retain complete editorial independence, now and for as long as I own it. My aim is to invest in it so that it may remain as good as it is today."
The Art Newspaper, founded in 1990, is one of the leading reporters of art news worldwide. Unique in its conception and scope, it publishes news, interviews, reviews and debate about the art world, every month covering everything from antiquity to the contemporary. Its international readership is made up of artists, collectors, museum directors, consultants, dealers, trustees, auctioneers, curators, public policy-makers and those with a professional as well as personal interest in the global art market. The Art Newspaper is circulated in 23,000 copies and its readership is over 50,000. It has 84,300 followers on Twitter and 278,000 Likes on Facebook.
Businesswoman and art collector Inna Bazhenova was born in 1968. She grew up in Nizhny Novgorod, a city in the Volga region of the USSR and began her career as an engineer in the state aeronautics industry. In 1994, she set up the first of a group of companies using aeronautics technologies in the design and manufacture of pumping equipment for oil and gas and later co-founded another company that made drilling equipment for the energy industry. She now has interests in a number of associated businesses with her husband Dmitry Samorukov. She started collecting about ten years ago and so embarked on a passionate quest to collect and learn about art. In 2010, after extensive research, she approached The Art Newspaper, which granted her a licence to publish a Russian edition. In 2012, when she and her husband had become friends with the owner of The Art Newspaper, Umberto Allemandi, and with its founder editor, now CEO, Anna Somers Cocks, they approached him with an offer to buy it, which he accepted. Inna Bazhenova, her husband and five children live in Moscow and in the UK.
Categories
Tags