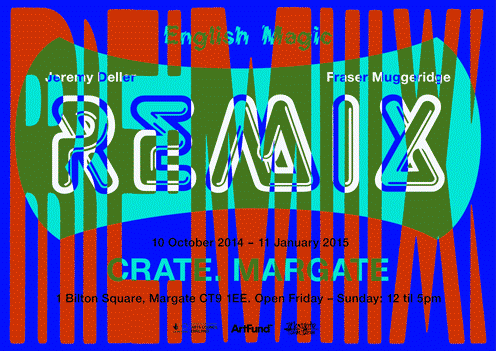 Crate Studios & Project Space 1 Bilton Square, Margate cratespace.co.uk
Opening 10th October 2014
Crate is to present collaborative show of new works by Jeremy Deller and Fraser Muggeridge.
Taking elements from Deller's 'English Magic' exhibition, 'English Magic Re-Mix' is a selection of new and re-worked imagery. Conceived originally as being a celebratory way to mark the end of a touring show, 'English Magic Re-Mix' acts as the naughty offspring of the original.
The exterior of the Crate building (a former printworks behind Margate High Street) will be transformed with posters and viewable at all times throughout the duration of the show.
'English Magic Re-Mix' will run concurrently with the final showcase of 'English Magic' at Turner Contemporary, Margate (11 October 2014-11January 2015).
Two prints will be for sale in an edition of 300 at the exhibition.
Exhibition opening party 10th October 2014 6pm-9pm
Exhibition runs until 11th January 2015
Opening times are 12pm-5pm, Friday-Sunday
href="http://cratespace.co.uk" target="_blank">cratespace.co.uk
Categories
Tags