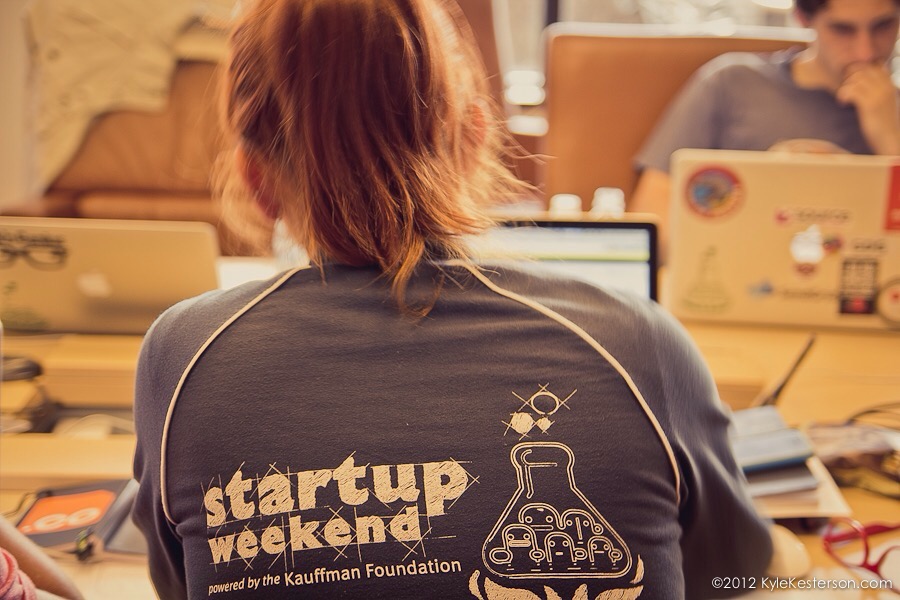 Event website: www.up.co/communities/uk/london/startup-weekend
Get your tickets now, Earlybird tickets end at midnight this Friday:
www.eventbrite.com
Startup Weekend Art London is a 54-hour event to be held on the 3rd-5th October at the accelerator Wayra with the aim of encouraging technology entrepreneurship in the arts. Startup Weekend Art London will see attendees develop ambitious new businesses for the arts sector from scratch. These will explore the new opportunities of funding, making, sharing and enjoying art and culture as made possible by the latest technological developments.
The weekend begins on Friday evening with an introduction by Bernadine Bröcker, Founder of Vastari.com, followed by pitches from participants who have come with an idea. Teams form around the most popular ideas and will include a healthy mix of developers, designers and commercially-minded art enthusiasts. The next two days see the teams hard at work to produce a minimum viable product and business plan, to be presented on the Sunday evening to the judges.
With a high profile panel of judges and coaches including Jonas Almgren (CEO, Artfinder), Kati Price (Head of Digital Media, V&A) and Tak Lo (Director, Techstars) – the participants will be able to ask for advice and test their ideas against some experts and leading names in the fields of arts, entrepreneurship and technology. They will have access to 3D printers from iMakr to help with making prototypes, creating artworks and producing consumer-oriented objects.
Luba Elliott, event director, said:
"Traditionally, the art industry has been low itechnological and business innovation. With the event, we are encouraging participants to bring their ideas and experiences from the art world and other industries to start new companies and solve some of the most pressing problems in the art world.
Startup Weekend events condense the rollercoaster journey of entrepreneurship into one action-packed weekend. Surrounded by arts industry stakeholders and with experienced coaches on hand, the event is ideal for testing new technologies, business ideas and approaches to then develop them into a fully-fledged business afterwards."
Get your tickets now, Earlybird tickets end at midnight this Friday:
www.eventbrite.com
Startup Weekend Art London is sponsored by:
Google for Developers, iMakr, Artfinder, Capital List, Postcard Teas and Square Mile Coffee
About Startup Weekend
Founded in July 2007 in Boulder, Colorado by Andrew Hyde, at its first event Startup Weekend brought together 70 entrepreneurs with the aim of creating a startup in just 54 hours. In January 2010, Marc Nager and Clint Nelsen took over ownership and registered Startup Weekend as a not-for-profit organisation, relocating the base to Seattle and later that year, achieved 501c3 status and received a grant from the Kauffman Foundation. Since then, over 1000 events have been held under this model in over 500 cities, catalysing the entrepreneurial journey of over 150,000 aspiring innovators.
Event judges
Jonas Almgren, CEO at Artfinder
Kati Price, Head of Digital Media at the V&A
Tak Lo, Director at Techstars
Glen Mehn, Partner at Bethnal Green Ventures
Bernadine Bröcker, Founder and Managing Director at Vastari
Patrick van der Vorst, Founder at Valuemystuff
Event coaches
Ezra Konvitz, Co-founder at ArtStack
Marcos Steverlynck, co-Founder and CTO at Rise Art
Ashley Wong, Head of Programmes and Operations at Sedition
Bernadine Bröcker, Founder and Managing Director at Vastari
Annika Erikson, CEO at Articheck
Harry McCarney, Founder and Managing Director at Hack & Craft
Theodora Clarke, Founder and Editor of Russian Art and Culture
Jonathan Webb, CTO at Tamome
Cristian Civera, co-Founder and CTO at ArtGuru
Event website: www.up.co/communities/uk/london/startup-weekend
About Mark Westall