There are loads of art events such as private views, artists talks, and screenings happening around London, usually, but its August now and barely any events are happening. To help you with the choice Jenny Judova from Art Map London will be advising on what events seem worth attending during the week.
TUESDAY 23rd SEPTEMBER
Private view Jose Dávila 'Daylight Found Me With No Answer' @ Max Wigram Gallery at 6:30 – 8:30pm
Max Wigram Gallery, 106 New Bond St, London, W1S 1DN
http://artmaplondon.com/artmap/?p=433

Private View William Hunt 'Playing the Goat' @ PEER at 6-8pm 97 & 99 Hoxton Street, London N1 6QL
http://artmaplondon.com/artmap/events/private-view-william-hunt-playing-the-goat/
New film work, commissioned by PEER, featuring the artist's most ambitious performance to date.
WEDNESDAY 24th SEPTEMBER
Panel Discussion 'My Gallery Experience' @ Ziferblat at 7:30-8:30pm
388 Old Street, EC1V London, United Kingdom
http://artmaplondon.com/artmap/events/panel-discussion-my-gallery-experience/
Panelists: Tabish Khan (art critic at FAD & Londonist ),
Lucy Sparrow (artist, creator of The Cornershop),
Sam Walker (galerist, co-director of Chart Gallery)
Panel Chair: Jenny Judova (founder of Art Map London)
London has more than 400 Art Galleries//museums//organisation (trust us we counted). The primary job of these is to show, sell, and promote the artist. Some are better at this than others and this panel discussion will attempt to find out what is good practice and what can be done better. By sharing experience we want to help artists avoid some pitfalls, and help gallery directors and staff understand what do artists and art critics expect from them.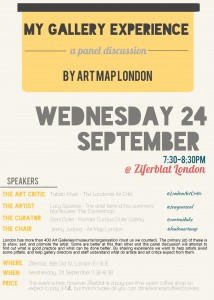 Private view 'The Nakeds' group show @ Drawing Room at 6-8:30pm
Drawing Room, 12 Rich Estate, Crimscott Street, London SE1 5TE
http://artmaplondon.com/artmap/events/private-view-the-nakeds-group-show/
A group exhibition looking at drawings of the body exposed, including work by: David Austen, Fiona Banner, Joseph Beuys, Louise Bourgeois, Paul McCarthy, George Condo, Enrico David, Marlene Dumas, Tracey Emin, Leon Golub, Stewart Helm, Chantal Joffe, Maria Lassnig, Chris Ofili, Carol Rama, Egon Schiele, Nancy Spero, Alina Szapocznikow, Rosemarie Trockel, Nicola Tyson, Andy Warhol and Franz West.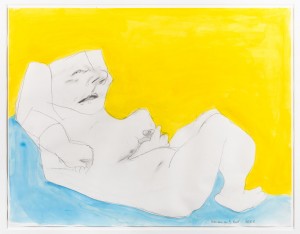 THURSDAY 25th SEPTEMBER
Private view Mario Merz soloshow @ Pace at 6-8pm Pace Gallery, 6 Burlington Gardens, London W1S 3ET
http://artmaplondon.com/artmap/events/private-view-mario-merz-soloshow/
Pace London, in collaboration with the Fondazione Merz, is honoured to present a seminal exhibition of the Italian artist and Arte Povera master Mario Merz, from 26 September to 8 November 2014, at 6 Burlington Gardens. Spanning the artist's career, the exhibition will feature iconic sculptures, installations, large paintings and major works on paper. This retrospective marks the first London exhibition of the artist's oeuvre in over twenty years.
Private view Liadin Cooke Nostos @ noshowspace at 6:30-8:30pm
noshowspace, 13 Gibraltar Walk, London E2 7LH http://artmaplondon.com/artmap/events/private-view-liadin-cooke-nostos/
noshowspace is pleased to present the first London solo exhibition by Liadin Cooke, comprised of an installation of new works.
The exhibition is titled Nostos, Greek for 'homecoming'. Cooke was born in Ireland in 1958 and lived there until 1993, when she moved to London and, later, West Yorkshire. Her work is infused with a sense of place and the modernist ideology of combining art and life. In Nostos her attention is focused specifically on Irish vernacular furniture and forms that fulfil basic human needs, such as a surface to eat at or a place to sleep. Much of this furniture is multipurpose, with doors used as tables or seats as beds. These forms are rooted in the Irish folk tradition and yet the pared down quality and simplicity of living is more reminiscent of minimalist furniture and objects.
FRIDAY 26th SEPTEMBER
SLAM Friday Jerwood Drawing Prize 2014 exhibition @ Jerwood Space at 6-9pm
Jerwood Space, 171 Union Street, City of London SE1 0LN, United Kingdom
http://artmaplondon.com/artmap/events/slam-friday-jerwood-drawing-prize-2014-exhibition
Jerwood Makers Open is a major initiative in the Jerwood Visual Arts programme and recognises rising stars in the world of applied arts. It offers crucial support in the early stages of their careers, enabling the selected artists to develop their creative ideas independently of specific commissioning structures. The finished commissions will be shown for the first time in an exhibition at Jerwood Space in London, before touring the UK.
Late opening East London Printmakers Annual Exhibition @ Embassy Tea Gallery at 6-9:30pm
Embassy Tea Gallery, 195-205 Union Street, London SE1 0LN
http://artmaplondon.com/artmap/events/late-opening-east-london-printmakers-annual-exhibition/
Celebrating another fantastic year of printmaking, East London Printmakers will be holding its annual exhibition at the Embassy Tea Gallery. Seventy artists will be exhibiting their latest work, showcasing a wide variety of printmaking techniques.
We are very proud to announce that this year, British Abstract Expressionist painter and printmaker Albert Irvin OBE, RA will be opening the exhibition.
SATURDAY 27th SEPTEMBER
The London Art Book Fair @ Whitechapel Gallery at 6-9pm 77-82 Whitechapel High St, London E1 7QX
http://artmaplondon.com/artmap/events/the-london-art-book-fair-2014/
The Whitechapel Gallery presents a series of talks, performances, projects, readings and workshops during The London Art Book Fair (26th-28th September).
Highlights include Canadian artist, publisher and co-founder of the New York Art Book Fair AA Bronson on zine publishing; best-selling author Douglas Coupland on technology, language and identity; and a guide to understanding contemporary art with art critic and writer Ossian Ward and artists Pablo Bronstein, Jeremy Deller and Ruth Ewan.
Categories
Tags