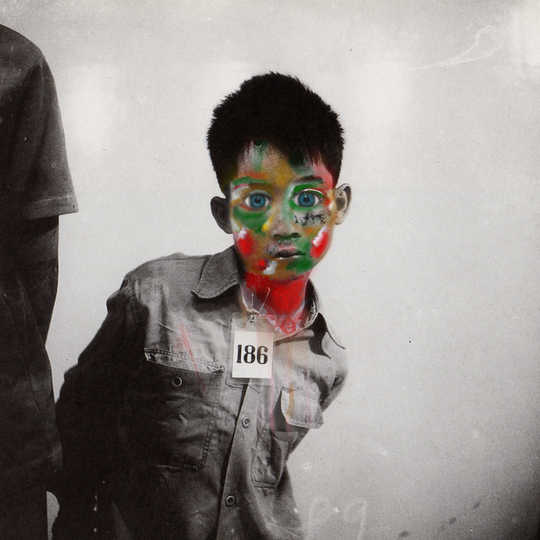 Mary Osinibi focused on the children affected by war she aims to remind us of past wars to serve as a warning for todays current wars; the view that we in the 21st century have yet to learn from the suffering and wars of the past. Quote from the book of Ecclesiastes 1:4-11 sums it up "There is nothing new under the sun". By using real photographs of actual real past wars of children who where destroyed by wars Mary Osinibi aims to remind and awaken the conscience of her viewers for change, that we may learn from the horrors of the past.
1st October 2014 82 WESTBOURNE GROVE NOTTING HILL LONDON W2 5RT
Debut Contemporary opens an incredibly special exhibition entitled ' Human Suffering at Times of Crisis' on Wednesday, 1st October 2014, from 7.30-9.30pm curated by British artist Barry Martin and Samir Ceric, founder and CEO of Debut Contemporary.

I began work on this piece "Chillin In Syria" in 2013 after a great many start up of fighting and cease fires where happening in Syria. It seemed that the newspapers, which I read everyday and make my work out of, where particularly interested in raising awareness to the American people that things could get worse, which was hard to imagine when looking at the pictures and reading the stories. But what I thought was interesting was that there would be a horrific photo about Syria in the newspaper and when you turn the page there was an ad for a wonderful sunny poolside hotel where people were smiling, drinking and having a great time. Thusly, I thought I could create something that showed two sides of the world. One being war, the other being human and how those two sides clash and combine. The work is made from pen, ink, panpastel, newspaper, plexiglas, and plastic, mounted on wood. The dimensions are 17 x 30 x 2.
This will be a unique opportunity to witness a number of extraordinary works Debut artists will have especially created for this exhibition including a masterpiece by one and only Barry Martin himself. Other artists include Guy Portelli, Syrian artist Anas Homsi, represented by the Lahd Gallery and its founder Princess Nauf Al Bendar, another artist and entrepreneur, Surbhi Modi, from Delhi and her work entitled "Pearl Harbour? which talks about the effects of war on art and culture, Sassan Bahktiar whose work is currently being auctioned by Sotheby's in NY and many more talented Debut artists currently involved with the Debut Art Incubator programme.
Barry Martin says:
'Human suffering and its remedy can create within the one image a way forward, albeit as a work of art. Perhaps, we as artists can express our outrage, concern and create works of art that give us expressive space and important ' voice speak' that will be poignant, not just for us, but prick the conscience of those who view them, and as an 'aide memoire' to those human values of life and universal stations of high ethical and moral standing that world civilisation aspires to!?
But, perhaps the moment has arrived, and of necessity our consciousness demands a reaction. This proposal invited all participating artists to specially create a piece of work in response to the human predicaments that prevail across the world in areas of calamity, causing human strife and denial of life itself. It was suggested that the work should focus on the human condition as the subject of the work, rather as for example with wars the causal politics that created them.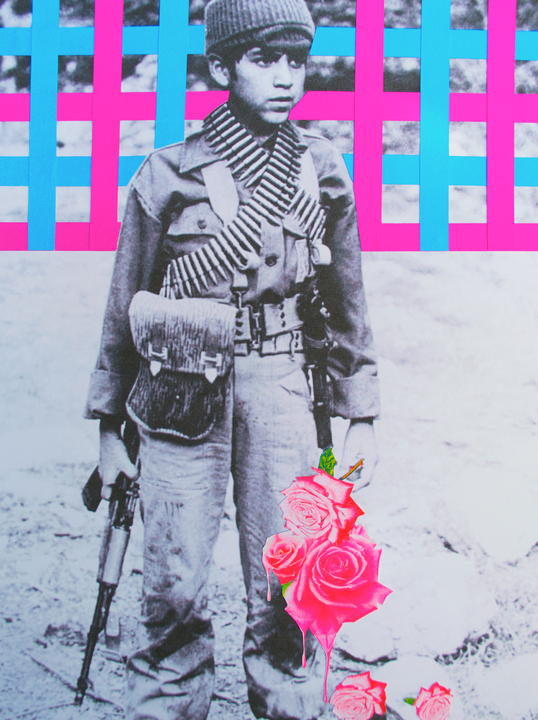 Sassan Behnam Bakhtiar, Untitled I, Aftermath series, 2014, Edition of 4,
This series is directed to the damage, outcome and suffering of all these man made wars for all for the wrong reasons and personal greed of a few, which have destroyed and handicapped our younger generations of the past, present and will be doing the same for the youth of the future. Why does this world accept having children being obliged to go defend their lands because of the greed of a few? Why do children and young adults have to act like men to protect their families and to get massacred willingly by others? What is this world we are living in today where no one dares to say anything. Fear has take over and has been put by force in everyone's mind. People have to make a stance against this system, against this group of people dictating our world based on their greed. I say, enough of seeing everyday these genocides happening in selected and hand picked countries. We have failed as humans, and will not be better than the same people doing all these sins if we do not stand together and speak out the truth and resist the system. This series of works is a reminder of the repetition of the same tactics, which have taken our world where it is today, killing thousands of innocent people on a current basis. By seeing these pictures, any human shall be reacting in a positive manner based on his/her emotions and the point of these works will be to trigger something in the audience which has been forcefully closed down by the system. I always state that International media, specially the biggest names, are nothing but tools to be used to create propaganda for these killings, genocides and human sins. Today, every one can see what is happening all around the world, so why not make a stance, why not make our voices heard that we are against this, why not put all our differences aside for peace and humanity.
The initial work 'Untitled I' is an Iranian 12 year old boy who does not have a choice but to defend his land along his family as the invaders will do even worst if they are to win. The grid behind him represents that he can not turn back and it is even too late for that even still deep down his true desire is nothing but peace and harmony.
About The Artists
Barry Martin studied at Goldsmiths' College of Art, University of London 1961-66, St Martin's School of Art 1966-67. He has works in many public, corporate and private collections. Some Public and Corporate collections include: The Tate Gallery; Museum of Modern Art, Paris; Science Museum; British Museum; Arts Council of England; Northern Arts Association; National Portrait Gallery; to name a few. Martin has taught in many art colleges including: The Royal College of Art, London; The Slade School; The Royal Academy Schools; Goldsmiths' College; St. Martins School of Art. Movement, both real and imaginery has formed the basis of much of the artist's work. This has been realised in both 2-dimensional and 3-dimensional works some of which are in major museum, corporate and private collections. Barry Martin has also pursued ideas of movement and meaning in the activities of games, notably chess. He has written about art and given major lectures at the Tate Gallery to coincide with a number of their major exhibitions, for example Jackson Pollock; Piet Mondrian; John Singer Sargent, Hans Hofmann, and the Chess and Art Symposiums 1991, 1993.
Guy Portelli studied Interior Design and 3D Design at Medway College of Art and worked as a sculptor in the special effects department for BBC TV before setting up his own studio in 1981, producing sculptures for the advertising market. His first opportunity in the world of fine art sculpture was the commission to sculpt 13, 9ft classical sculptures for The London Pavilion, in Piccadilly Circus, London. Having gained a reputation for Classical sculpture, Guy wanted to promote the more creative aspects of his work, setting up exhibitions of abstract sculptures in galleries, sculpture parks, Manchester Art House, Sausmarez Manor in Guernsey, and also a major London show with Andrew Logan. Elected as a member of the Royal Society of British Sculptors in 1998 and voted on to the council in 2000. Actively involved with the promotion of sculpture organising many group exhibitions. In 2005, the artist authored 'Modern British Sculpture' a comprehensive study of modern sculpture developments in Great Britain, followed by featuring on BBC's Dragon's Den in 2008, where he secured investment backing to develop his 'Pop Icon' collection.
Nauf AlBendar, H.H Princess Nauf Bendar Al Saud is a Saudi Arabian princess, an Imperial PhD graduate in clinical medicine and the founder of Lahd Gallery Ltd. In 2005, At the age of 22, Prs. Nauf AlBendar broke the royal tradition by not only working full time as an employed genetic researcher at the King Faisal Hospital in Riyadh, Saudi Arabia but also in setting up Lahd Gallery as a focal point for women artists from the Gulf. The gallery soon became a well-known exhibition space on the contemporary art scene, representing emerging and established artists, it brought together the leading contemporary art works from the MENASA region. Prs. AlBendar's primary focus is to promote exclusively the talents of contemporary MENASA art by making it accessible to the public as well as giving women artists of the region a voice and a hub. Today Lahd Gallery are considered 'Pioneers in contemporary MENASA Art' and are involved with several charitable events and organisations including The Bobby Moore Foundation, Not On Our Watch and Marie Curie. In addition to her various ventures, Prs. AlBendar has been featured in several outlets worldwide including, MBC, Al Arabiya, Al Sharg Al Awsat, Korea Herald, The Brunei Times, Canvas Magazine, Modern Art Asia, Velvet, Arab News, The Guardian, The Art Newspaper and many others. She was shortlisted as the Woman of the Future in Arts, Media and Culture at the Women of the Future Awards in 2011. She has since staged popular exhibitions including Kuwaiti Pop Art, Sudanese Paintings, Moroccan figures, Turkish art and sculpture, Arabic – semitic Calligraphy and art installations of Greek/Arabic mystical objects. Prs. AlBendar graduated with a BA in Molecular genetics from King's College London and has a PhD in clinical medicine from Imperial College; she has had publications on her topic of interest and considers herself an unconventional artist in her free time.
About Mark Westall