On 12th September Closing Event to celebrate all that has made the Bermondsey Project such a dynamic creative hub. There will be events happening throughout the day and evening, including:
Open Studios Over 160 artists open their studios to the public 6-9pm
Bow Arts runs one of the most vibrant and well attended Open Studios in London. The Open Studios represents an excellent opportunity for members of the public, curators and collectors to see a huge range of diverse art forms and artists at all stages of their careers.
At Bermondsey Project over 160 artist's in Bow's SE1 studios will be showcasing their work.There will also be the opportunity to visit the studios of Crisis's member artists and artists in residence and to visit the amazing facilities offered by London Sculpture Worskshop and East London Furniture,our other onsite partners.
More Details: bermondseyproject.com/project/bermondsey-project-open-studios
The Opening of Two Exhibitions:

Mark Wallinger presents: The Best of Bow Arts Ground floor Gallery 6-9pm 12-28 September 2014 1-6pm
Artists: Silke Dettmers, Elena Dimitrova, Jean-Philippe Dordolo, Katherine Fishman, Anna Ilsley, Alyona Larionova, Robyn Litchfield, Kate Murray-Browne, Lucienne O'Mara, Vanessa Scully, Harriet Stripling and Jessica Wilson.
More Details:bermondseyproject.com/project/mark-wallinger-presents-the-best-of-bow-arts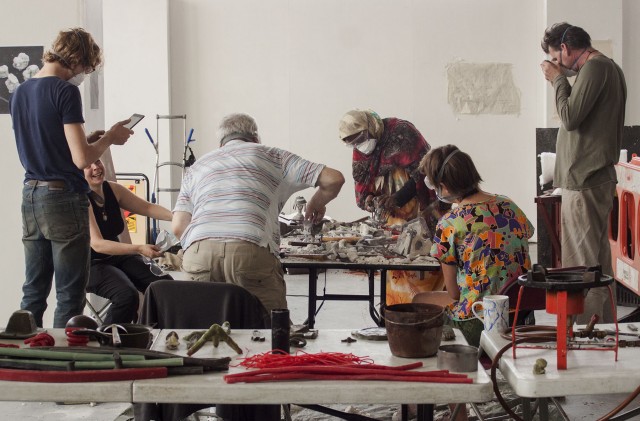 Made In Bermondsey – opened by Zandra Rhodes Second Floor Gallery 6-9pm
Over the years Bermondsey Project has been home to 500 artists, designers and makers. This exhibition celebrates the diversity within this building and showcases the work produced by members of Crisis Skylight Bermondsey, the small on-site art college that has enabled ex-homeless artists to thrive.
More Details: bermondseyproject.com/project/zandra-rhodes-opens-made-in-bermondsey
An Arts and Crafts Market The chance to purchase unique work by our resident and partner artists and designers 4- 8pm
More Details: bermondseyproject.com/project/arts-crafts-market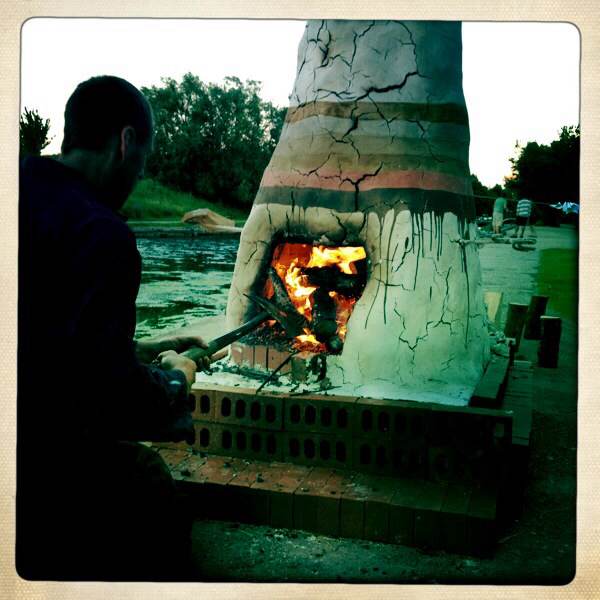 London Sculpture Workshop presents Sculptural Kiln Firings in association with Clayground Collective 5-9.30pm
This unique event will present the results of a kiln building course using experimental forms created from paper, shopping trolleys, suspended containers and brick. More Details
bermondseyproject.com/project/sculptural-kiln-firings
PLUS Open air film screenings: The Miami and Moscow Film Selections Artist Sound of Film curated by David Gryn for Artprojx 8.30pm Details Below:
'The Miami and Moscow Film Selections' @ Artprojx and Bermondsey Project at 8:30pm
bermondseyproject.com/project/fin Bermondsey Project 46 Willow Walk London SE1 5SF

Image courtesy of the artist Takeshi Murata OM Rider 2013
Artists: Nick Abrahams, Cory Arcangel, Dara Birnbaum, Pierre Bismuth, Martin Creed, Nathalie Djurberg and Hans Berg, Kota Ezawa, Dara Friedman, Leo Gabin, Theaster Gates, William Kentridge and Philip Miller, Lina Lapelyte, Ryan MacGinley, Ari Marcopoulos, Takeshi Murata, Laurel Nakadate, Rashaad Newsome, Nicola Thomas.
The films selected are highlights of works that were originally selected and curated by David Gryn for the Film programme at Art Basel in Miami Beach over the last 4 years. The films were all played on the New World Symphony Center's screening wall in Soundscape Park during the annual art fair. This selection was played outdoors in Moscow as part of the Museum Nights in May 2014 along with DJ Max Reinhardt.
These works all engage with music, rhythm and sound and remain resonant from their initial playing. They all have a power that is far beyond just the work, one that creates lingering memory with the viewer long after the work has been seen and finished. The selection of these was driven by their sound, engagement and that the language needed to digest these works is that of audio-visual. These works reflect on the current trends and modes of communication such as YouTube, TV, animation, gaming, social media and used to create new images, sounds and unexpected connections.
Closing event 'The Miami and Moscow Film Selections' @ Artprojx and Bermondsey Project at 8:30pm
bermondseyproject.com/project/fin Bermondsey Project 46 Willow Walk London SE1 5SF
Categories
Tags