WEEK: 8th – 14th September
There are loads of art events such as private views, artists talks, and screenings happening around London, usually, but its August now and barely any events are happening. To help you with the choice Jenny Judova from Art Map London will be advising on what events seem worth attending during the week.
TUESDAY 9th SEPTEMBER
Private view Mary Reid Kelley 'Swinburne's Pasiphae' @Pilar_Corrias at 6-9pm
http://www.pilarcorrias.com/exhibitions/mary-reid-kelley-swinburnes-pasiphae/
54 Eastcastle Street, London, W1W 8EF
Pilar Corrias is pleased to present Swinburne's Pasiphae, the second solo exhibition by American artist Mary Reid Kelley with the gallery, featuring a new film alongside props, drawings, and photographic portraits.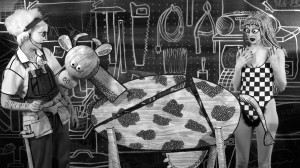 Private view Esther Nienhuis 'Saudade' and Sherry Karver 'People Watching' @RebeccaHossack Art Gallery at 6:30-8:30pm
http://www.rebeccahossack.com/exhibitions/64/overview/
2a Conway St London W1T 6BA 2 openings in 1/
Dutch-born Nienhuis regards the desire to be elsewhere as the essential characteristic of her work. Her paintings pivot on the moment at which Fernweh (desire for unknown) and Heimweh (desire for known) become inseparable. She seeks to expose the symbolic thresholds that distinguish the here and now from alternative realities and times—past, future and imaginary.
Karver uses photography, story telling, photo montage and hand painting with oil glazes to evoke a sense of mystery and intrigue. Karver manages to accurately capture the hidden curiosity within us all by observing crowds, analysing strangers, and carefully noting personal details to unravel a stranger's story.
WEDNESDAY 10th SEPTEMBER
Private view Patrick Michalopoulos 'A Thousnd Years of Love' @schwartzgallery at 6-9pm www.facebook.com
Schwartz Wharf: 92 White Post Lane, Ground floor, Building 2, London, E9 5EN 
'A Thousand Years of Love' is a solo exhibition by emerging contemporary artist Patrick Michalopoulos', his second gallery solo show. In a departure from previous investigations into sculptural objects Michalopoulos presents painting for the first time. What is carried over into this current body of work is an interest in materiality. A gestural handling of paint imbues the resulting images with a performativity that disrupts yet amplifies the narrative structures which can be seen across the surface of these works.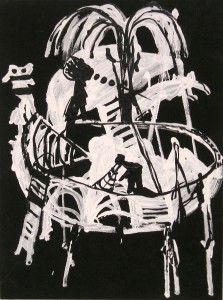 Private view Hynek Martinec 'Every minute You are Closer to Death' @Parafin Gallery at 6-9pm www.parafin.co.uk
18 Woodstock Street, London W1C 2AL 
Parafin is pleased to announce the inaugural exhibition at its gallery at 18 Woodstock Street, Mayfair, showing new paintings by the young Czech artist Hynek Martinec (b. 1980). Martinec's works are ambitious statements about time, spirituality and the nature of reality. Martinec's extraordinary hyperrealist paintings combine a deep commitment to art history with contemporary subject matter.
Panel discussion 'What's Wrong with Video Art?' @RPGallery at 7:30-8:30pm
http://rosenfeldporcini.com/ Rosenfeld Porcini 36 Newman St, London W1T 1PU 
'What's Wrong with Video Art?' featured guests speakers will be: Ian Rosenfeld , David Gryn, Tabish Khan ; and the chair for the panel will be Mark Westall from FADwebsite. Tickets (£4) will be available on EventBrite.
THURSDAY 11th SEPTEMBER
Private view 'Space Age' @ Hus Gallery at 6-9pm
http://husgalleries.com/index.php/exhibitions/view/upcoming-space-age 
8 Hanover St London W1S 1YE Yes Hus Gallery 
Hus Gallery is pleased to present Space Age, an exhibition of new works by Nathan Green, Santiago Taccetti, Ophelia Finke and Konrad Wyrebek. The title of the show riffs on Lucio Fontana's description of Spatialism (Spazialismo), which called for artists to expand their work into the third dimension, and away from the illusory space of traditional easel painting.
Film Open Screening @ Whitechapel Gallery at 5pm
http://www.whitechapelgallery.org/shop/product/category_id/1/product_id/1979 
Whitechapel Gallery 77-82 Whitechapel High St London E1 7QX 
Meet six emerging and established artist filmmakers as they present their short film work and discuss it with peers and Adjunct Film. Curator Gareth Evans. To take part in future film@whitechapelgallery.org
FRIDAY 12th SEPTEMBER
Park Night: Hannah Perry, Horoscopes (Déjà Vu) @ Serpentine Pavilion at 8pm
http://goo.gl/exWKcl
Serpentine Pavilion Kensington Gardens, London W2 3XA 
Inspired by her editing practice, artist Hannah Perryproduces a new, site-specific work, which results in the unfolding pace of a performance film, with all its jolts, stirs and jump-cuts.
Directed and written by Hannah Perry
Edited by Sam Riviere
Electronic music collaboration with Mica Levi(Micachu)
Live music by Mica Levi, Lucy Railton, Raven Bushand Giles King-Ashong
Choreography collaboration with Holly Blakey
Tickets £5/4
Closing event 'The Miami and Moscow Film Selections' @ Artprojx and Bermondsey Project at 8:30pm
http://bermondseyproject.com/project/fin 
Bermondsey Project 46 Willow Walk London SE1 5SF 
Artists: Nick Abrahams, Cory Arcangel, Dara Birnbaum, Pierre Bismuth, Martin Creed, Nathalie Djurberg and Hans Berg, Kota Ezawa, Dara Friedman, Leo Gabin, Theaster Gates, William Kentridge and Philip Miller, Lina Lapelyte, Ryan MacGinley, Ari Marcopoulos, Takeshi Murata, Laurel Nakadate, Rashaad Newsome, Nicola Thomas.
The films selected are highlights of works that were originally selected and curated by David Gryn for the Film programme at Art Basel in Miami Beach over the last 4 years. The films were all played on the New World Symphony Center's screening wall in Soundscape Park during the annual art fair. This selection was played outdoors in Moscow as part of the Museum Nights in May 2014 along with DJ Max Reinhardt.
These works all engage with music, rhythm and sound and remain resonant from their initial playing. They all have a power that is far beyond just the work, one that creates lingering memory with the viewer long after the work has been seen and finished. The selection of these was driven by their sound, engagement and that the language needed to digest these works is that of audio-visual. These works reflect on the current trends and modes of communication such as YouTube, TV, animation, gaming, social media and used to create new images, sounds and unexpected connections.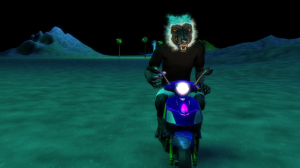 SATURDAY 13th SEPTEMBER
Late opening 'Next Brave New World: Designing [possible] Futures' @ AreByte at 6-9pm
http://www.arebyte.com/nbnw/4585958757
AreByte Unit 4, 49 White Post Lane, Queens Yard, E9 5EN 
Arebyte gallery is happy to present 'Next Brave New World', an exhibition featuring a selection of projects from graduates of the Royal College of Art which engage with the cultural and social impacts of technology. The projects all inspect different aspects of possible future scenarios through the lens of speculative design, technological developments and social and political narratives.
Private view 'Seams' groupshow @ We Are Sweet Art at 8-10pm
http://www.wearesweetart.com/
Hoxton Arches Gallery, Arch 402 Cremer Street, London, E2 8HD 
Join us this London Fashion Week for Seams, a multi disciplinary exhibition exploring the relationship between art and fashion. Seams will aim to offer an alternative view on fashion week; with fashion designers, sculptors, fine artists and illustrators all addressing the theme with a view to celebrating but also critiquing and challenging fashion industry norms.
Categories
Tags