We speak to Fabio Lattanzi Antinori who is currently showing his digital sculpture 'The Abyss' in DegreeArt's Post Digital – Are We There Yet exhibition.
Hi Fabio,
So how are you? What have you been up to this week?
Hi, I am pretty well thanks. Things are pretty exciting, and I am having a lot to work on these days; this past week specifically I have been working at a piece commissioned by Nimrod Vardi at Arebyte, to be exhibited in a little portable house built by Richard Brown, as part of the Affordable Wick project. The space will also host 'Dream House' a piece by Sarah Ludy. It is all looking very exciting and it feels good to be exhibiting in unconventional spaces.
You are currently showing in the 'Post Digital – Are We There Yet' exhibition at DegreeArt – tell me more about the piece you are showing?
Yes, I have one piece as part of the show; it is called 'The Abyss' and it deals with the value and meaning of words in our contemporary society, at large, and more specifically within the context of branding. The artwork transforms words like a philosopher's stone would transform chap metals into gold. Such words are derived from two databases; one made out of terms taken from some of the cheapest goods on sale on Amazon and Ebay in the UK. And a second one composed by a selection of adjectives among those that have been mostly used over the last twenty years of advertising communication. The result is beautified and improved words, that are ready to be used to potentially describe branded products that, of course, do not yet exist.
It's really interesting – and not to mention innovative – how did you come up with the concept?
I have always been fascinated with the way language can be commodified, and put to use in the context of the market. The piece was created initially for the Au exhibition at Beers Contemporary; as the theme of the show was the element of gold. I wanted to create a piece that would recombine symbolic elements of mystery with connotations of the corporate world in order to make space for a critique or simply my point of view in regards to the way products and brands are becoming increasingly important for our system of things.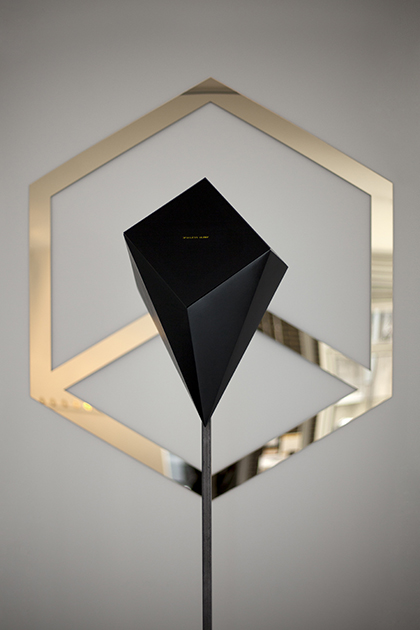 You'll be showing at the V&A in September – are you excited? How did you become involved with the V&A Digital Design Weekend?
Yes, I am extremely excited indeed. Being at the V&A is an amazing opportunity for any artist. I am super happy I will be showing there soon. Irini Papadimitriou had already invited me to participate in a series of Digital Futures events at the museum over the past few years; in November 2013, together with Bare Conductive and Alicja Pytlewska, we produced 'Contours' a collaborative interactive piece for the MAK Museum in Vienna for the program co-curated by Sabine Seymour and Thomas Geisler. Irini saw the documentation and we were then invited to show our work for the Digital Weekend at the V&A. It will be fantastic.
So your work addresses the individual and the group from a social, historical and cultural perspective focusing around the relationship existing between corporate systems and how they relate to notions of power, control and spirituality – what spurred you on to explore this and develop this through art?
Well, I always had an interest in exploring the shared territory between corporate systems — the language of contemporary power — and spirituality, the intimate language of the individual. And art, in all of this, acts as a potential platform, where a multitude of discourses can be initiated, analyses can be provided, tests be performed and potential scenarios be imagined. I like to think about my practice as a way of building metaphors for the way certain aspects of the way our society is organised; these metaphors sometimes become quasi models that serve to operate a conceptual deconstruction meant to reveal possible weak points and ultimately suggest the possibility of a change.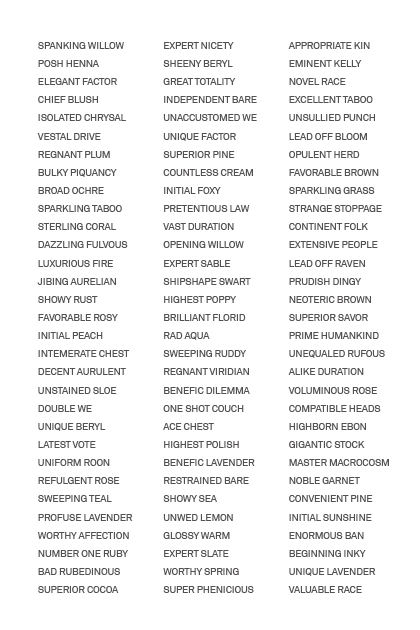 Your work uses both sculpture and technology – how did you develop the technology element to your piece?
I see technology as a tool to help me reach a destination, as it has probably always seen ever since the first tools were created. The technological aspect behind The Abyss comprehends database programming and coding a microprocessor to match groups of words in real time and finally display them on a hidden screen. The most challenging part of this work had to do with building the actual tri-dimensional shape; although it is polygonal and apparently rigid and geometric, it is also fuzzy, odd and not necessarily precise. Attempting to keep this fine physical balance between these two categories of representation absorbed the majority of time and energies.
And what was your inspiration for the physical appearance?
The inspiration comes from a book I read years ago, L'Œuvre au Noir by Marguerite Yourcenar. The story that revolves around the protagonist being an alchemist, made use of several references to the world of geometry – specifically used in the context of alchemy. When I decided to draw inspiration from the myth of the philosopher's stone, all those references got back to me almost immediately.
What does the term 'Post Digital' mean to you?
This is a difficult question to answer as it pertains to quite a broad scenario that is difficult to grasps with just a few words; I see it as a context within which to position the relationships our society and individuals are developing with the digital domain; it has specific evolving connotations and paradigms.
If you are asking with specific relation to Post Digital Art, then I must add that I always feel reluctant to define art with categories. While it might work for positioning the work of some artists in the market, it can also pose heavy limitations on art production itself. In this respect, I am more interested in seeing the political, social and cultural repercussion that our relation with the digital is having on our society and to adopt it as a context where to develop an understanding of the many ecologies brought up by the digital domain.
Have you been influenced by any other artists – both old and new?
Many, although it is always difficult to name artists. Among these many I would say… I often think about Cildo Meireles, and for different reasons to the conceptual practice of Sol Lewitt, but there are other artists as well such as the New Tendencies movement for example. Among the new ones I follow with interest the work of Allora and Calzadilla.
During the Post Digital exhibition there has been the relay going on the website http://postdigitalart.co.uk/ what do you think about using this as a platform for artists to explore the post digital together?
Yes, I think it is always good to have a place, either real or digital, where you can share backgrounds, experience, ideas and points of view. Group shows are an amazing opportunity for artists to promote their work and to speak to both the general public and to the other artists participating. But then, everything goes so fast, that I always end up not meeting anyone for real and after a while the experience of that show is gone, together with the opportunities it could have presented.
This way instead we all had a tool to help us deepen the impressions we received during the opening, to get to know the other artists better, perhaps not in person, but at least with a better understanding of their practices and thoughts.
Join the Post Digital discussion and gain insight to the Post Digital artists work at http://postdigitalart.co.uk/.
Categories
Tags