WEEK: 29th July – 3rd August
There are loads of art events such as private views, artists talks, and screenings happening around London, and often it is impossible to choose where to go and what to see. To help you with the choice Jenny Judova from Art Map London will be advising on what events seem worth attending during the week.
Tuesday 29th July
Leyden Gallery, 6:30-9pm private view Platform for Emerging Artists 
http://media.virbcdn.com/files/bf/978af7192d515498-PlatformIIIPressRelease1.pdf 
9/9a Leyden Street London E1 7LE 
Leyden Gallery is pleased to present their third Platform for Emerging Arts show. On this occasion the exhibition features a fantastic and eclectic group of artists selected from a diverse range of backgrounds and practices. The concept for this current show is based upon an open call and the result is an outstanding combination of techniques, worldviews, experiences and vital forces which is reaffirmed in its uniqueness within the space of the exhibition.
Wednesday 30th July
Print Club at Somerset, 6:30pm private view Film 4 Summer Screen
http://www.somersethouse.org.uk
West Wing, Strand, London WC2R 1LA
Artists: Cassandra Yap, Steve Wilson, Joe Wilson, Caspar Williamson, Holly Wales, Hattie Stewart, Rose Stallard, Mat Pringle, Kate Morross, MOL, HelloVon, Kate Gibb, Concepción Studios, Lucille Clerc, Claudia Borfiga, Rose Blake.
Your chance to buy limited-edition prints inspired by each film shown at Film4 Summer Screen.
Back for a second year, Film4 Summer Screen at Somerset House has commissioned Dalston based studios, Print Club London to curate a series of contemporary screen-printed film posters for the 10 year anniversary season. Renowned for printing, curating and dealing screen-printed artworks Print Club London has hand-picked an assortment of styles and artists, including Rose Blake, Hattie Stewart, Kate Moross, Steve Wilson, Kate Gibb and HelloVon.
Thursday 31st July
Kristin Hjellegjerde Gallery, 6:30-9pm private view Andrea Francolino 'A-Biotic'
http://www.kristinhjellegjerde.com
533 Old York Road, SW18 1TG London, United Kingdom
Imagine a time when all that we know is gone. Towering skyscrapers and concrete giants, all that epitomises humankind's modern achievement, are powerless in the face of time. Gleaming walls of glass and marble are reduced to dust and rubble. Imagine, now, what would remain among the rusted, twisted steel and desiccated piles of stone – a tendril of something green, vibrant and alive. New leaves sprout from a mountain of concrete, rising delicately towards the sun. It is nature, creeping back, coming to reclaim this wasteland, for even in the bleakest place there is always life.
Beers Contemporary, 6-9pm private view 'Cut/Copy/Paste' group show
http://www.beerscontemporary.com/exhibitions/cut-copy-paste 
1 Baldwin St, London EC1V 9NU
Artists: Frank Hallam Day, Michael Mapes, Brian Porray
Cut/Copy/Paste presents three American artists who explore the boundaries of the contemporary collage and the re-appropriation of images. Though each artist displays a distinct (yet related) body of work, the exhibition presents the artistic practice as limitless and endlessly reinterpretable; an interminable platform for the interrelating discourses and references of re-imagined images in a contemporary context. The pastel-colour smudged mark made of a fragment in time, the kaleidoscope of a repeated geometric motif, the snippets of photographs and locks of hair – the reinvented; the cut, the copied, the pasted.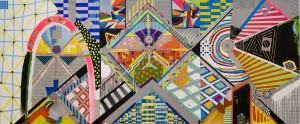 FRIDAY 1st AUGUST
The Cornershop, 6-9pm private view Lucy Sparrow 'The Cornershop'
https://www.facebook.com/events/1439452206320111/
19 Wellington Row, London, E2 7BB
An art show truly worth making a fuzz about, Lucy Sparrow's Cornershop is the fluffiest, furriest shopping experience imaginable. She's filled a former derelict store in Bethnal Green with over 4,000 handmade felt versions of familiar grocery items – from fish fingers and cans of SPAM to sanitary towels and newspapers, rocket ice lollies and oven chips to ciggies, veggies, and what is most certainly the softest loo roll ever manufactured.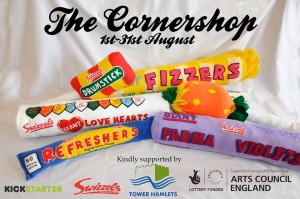 WEEKEND 2-3 AUGUST
Hackney Wicked Art Festival, opening night Hackney Wicked 
http://www.hackneywicked.co.uk/ 
http://www.hackneywicked.co.uk/wp-content/uploads/2012/06/Hackney-WickED-Art-Festival-Press-Release-Programme-Announced-22.07.14.pdf
Formans Fish Island, E3 2NT 
Hackney WickED Art Festival throws opens its warehouse doors to present cutting edge exhibitions from some of London's most extraordinary galleries and a plethora of artists' open studios across the area.
Categories
Tags