"We strive to create a housing revolution in the Stockholm area and that's why we've created a new ideology and platform for collective housing. Our goal is to connect all collectives in Stockholm and throughout Sweden to enable the conceptualization, creation of new ideas, and development of this exciting and stimulating way of living..."
I arrived at Stockholm-Arlanda Airport on the 7th of May, ready to embark on the first leg of my journey, unsure of what the next few days held for me as I traveled across Sweden alone. On my third night in the capital of Stockholm, a chance introduction from a mutual friend between myself and an inspiring group of individuals reminded me that when one travels, it's not so much the sights you see that make it an adventure, but rather the people you meet. Being in the presence of these new friends, I quickly recognized that they weren't just a random assortment of people, but functioned as something more.
Self-described as a collective, they assembled under the name Volkhemmet, a new spin on an old Swedish term. Founded by Stockholm natives Andreas Bigert & Pontus Johansson, Volkhemmet is one of the many collectives out in the world today exploring the power of community and its effect on creative culture. In our latest interview, FAD sits down with Andreas Bigert, one of the co-creators of Stockholm's kollektivet Volkhemmet  to talk more about collective culture in Sweden and the influence it holds towards the progress of creative energy within today's generation
1.  Can you both tell us more about the conceptualization of the collective? Was it an active decision or did it happen naturally?
Pontus and I got to know each other 2007 in high school and met pretty sporadically since, but continued contact throughout the years over chat. Our ways eventually crossed when we were both in search somewhere to live. We started touching on the subject of living together and that it would be nice to form a concept around it; to not just live with random people, but to gain social, economical and self-actualization benefits from it. And so we did.
2. Why the name "Volkhemmet?"
There is an old Swedish word called "Folkhemmet," which is meant to describe the ideal utopian way of living. Former Prime Minister Per-Albin Hansson introduced the idea in 1928, saying that Sweden should become more like a "good home," marked by equality and mutual understanding. His intent was to strengthen the collective sense of Sweden at the time, which gained much public support. Hansson advocated that the traditional class society should then be replaced by "the people's home" (Folkhemmet), and aimed for people to live in a conservative way with high family moral. Much of the conception behind Folkhemmet was shaped by the ideals of Socialism, which have pretty much formed the foundation of Swedish politics up to this day.
What is beautiful with it and what I think is highly admirable, is the politics of it being more of a lifestyle than just an ideology. A merge between politics and social life; a combination between socialism and capitalism. And most importantly, something the majority of people in Sweden sympathized with making possible.
We are the new Folkhemmet. The next generation, bringing back what was once made possible – the collaboration between people with the same radical openness and expression. Together we can inspire and bring forth a politically independent revolution of collaboration with people with different backgrounds. Among us, racism doesn't exist and is not in alignment with our values. We take the stand to provide a home for people who want to work with us to share the ideas behind Volkhemmet and provide a creative and social platform.
3.  What does "collective" mean to you and how do you feel the power of community is important to artists and creative culture in Stockholm or in general?
I think it's impossible to define a collective since they are by nature very different from each other just as people are different from each other. But our collective is more like a family, or a cult maybe. We are a group of 10 people but only 4 people actually living in the collective, but 6-7 who are in the core group I would say. We usually hang out in the collective and spend lot of time discussing creative ideas in general. We have meetings that mainly focus on how we will achieve world domination rather than who's doing the dishes this time. Which eventually results that no one does. And then my girlfriend Erika comes to do it, and she's not even living in the collective, she just loves the people and would do anything for them. Aint that love huh?
I think the power of community lies in the shared interests of both artists and people in general. Sweden is well known for it's successful socialist welfare system and social security network, and has remained consistent for the past 50 years. However, now with the influence of a right wing government, the peoples' focus has been taken away from collaboration. People are more focused on themselves, and a new more individualistic society has emerged. Volkhemmet is politically independent, but I personally believe that the failure of a socialist society is when people's life goals grow away from each other and their paths are planned to go separate ways.
The reason Sweden has been very successful both economically and socially is because of the very strong middle class that has emerged and which has been the foundation of the creative arts in Sweden. People have been able to afford to study/participate in arts, entrepreneurship and creativity in general. Now that possibility is diminishing due to the new, more money focused ideals of the middle class (who eventually grew up to be rich in the end, and in most of cases, that didn't make them happy which they expected). Money is extremely addictive and should be considered like any other drug – good for self contemplation, exploration, and as a foundation for something potentially amazing, but when worshipped it becomes possibly the most dangerous poison of mankind.
People who share that point of view or have critic or an alternate point of view are highly welcome to Volkhemmet to discuss. Maybe I am wrong but this is what my life has lead me into believe.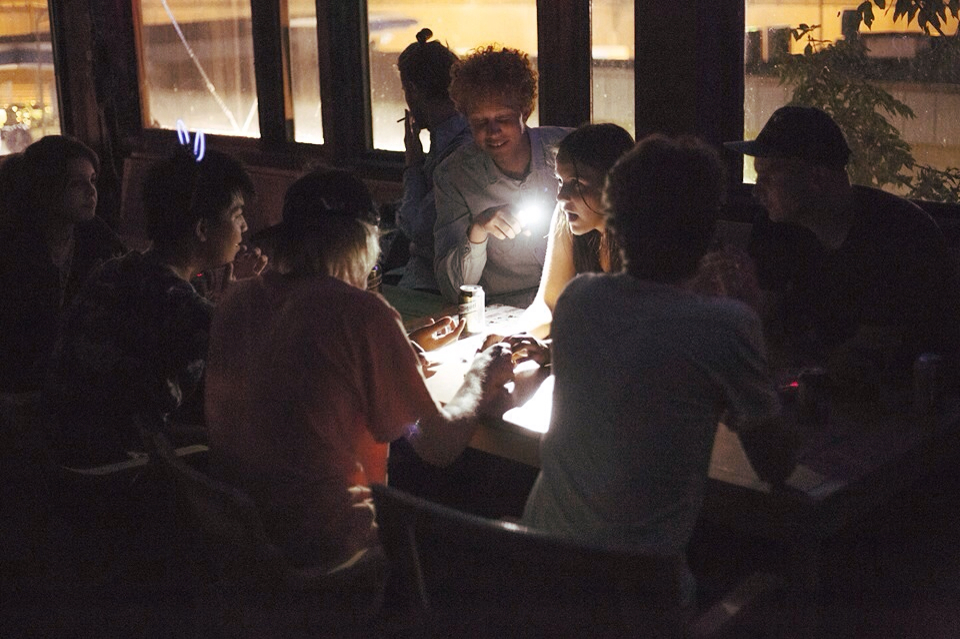 4. How would you describe the vibe of the creative arts industry in Stockholm? Do you think what you are doing is important in regards to the creative scene/new generation of young adults in Sweden?
I would say the creative arts industry is extremely versatile in Sweden due to the high socio-economical security provided by the state welfare. People are able to spend time on self-actualization and thus, an internationally competitive creative arts industry emerges. But like many industries, there is a constant focus on "everyone for themselves." With Volkhemmet, we focus more on being open and welcoming to other creatives, rather than on being an exclusive entity. I think that is the key to discovering new creative outlets and undiscovered talent in people who otherwise wouldn't consider themselves artistically gifted. That's why we consider Volkhemmet to be more than just a collective, but an ever-changing creative platform.
5. Can you elaborate for me on that? What types of creative ideologies are practiced or explored by the collective?
What we are is the result of all the different ideas brought to us by the people we chose to live with. We had 200 applications and the only questions that we prompted were "What's the meaning of life to you?" "What makes you happy?" and "Why do you want to live in a collective?" From each individuals answers and judging from their facebook profiles, it was very easy to for us to see which colorful personalities we were interested in becoming influenced by, rather than trying to make them fit perfectly into our pre-existing lifestyles. The philosophical aspect is a very big part of Volkhemmet since that is where all the concepts come to form. We grow together, and the constant exchange of ideas on a daily basis has been a really big part of the conceptualization of our other projects such as Decadancia, the nightclub we have created together.
6. Why did you want to/or feel it was necessary to begin the collective? We just wanted to hang out with lots of new people since that is what changes you, right? A more relevant question would be "Are you satisfied with the results of starting a collective" and "Was it in alignment with your expectations" and the answer is YES. More than satisfied, and the second answer is that we are all surprised that it all went so fast. It's an honor to get an interview on something like FAD in less than 6 months after we started.
7. Are you primarily focused on basing the collective in Sweden or any prospects of expanding the collective internationally? Our goal over time is to have an infrastructure of collectives all around the world. Think of it as a franchise. We are already starting to discuss it with our friends in Malta and Gran Canaria for example. Oh, and in New York too of course! Even if it would only be on your couch we'd be very satisfied! We want to become the next level of couchsurfing, which by the way is a wonderful concept.
8. Tell us more about Decadancia – which is the Sweden's first club to accept P2P Bitcoin payment. Can you tell me more about the idea behind the club, and your choice in accepting P2P Bitcoin payment?
For those of you who aren't familiar with bitcoin yet, it can be described as the biggest crypto-currency right now. Which means that it's a digital crowd-sourced network of payments with extremely low transaction fees. At the beginning, it was just a joke when we discussed whether to accept bitcoins. But then I randomly joined a suggested site on Facebook that was called "Bitcoinlovers Söder," a project by "BTCX," the main bitcoin transaction site in Sweden. They offered to implement an experimental point-of-sales system for free to our advantage.  We were delighted to see them show up later during the night, paying with bitcoins!
Recently during the biggest political event in Sweden called "Almedalsveckan" I decided to join the bitcoin enthusiasts and participate in the creation of "Bitcoinpartiet," or "The Bitcoin Party," the first political party in the world promoting and protecting bitcoin and it's stand in the local and global economy. Such a great spin off effect from our work with them on Decandancia!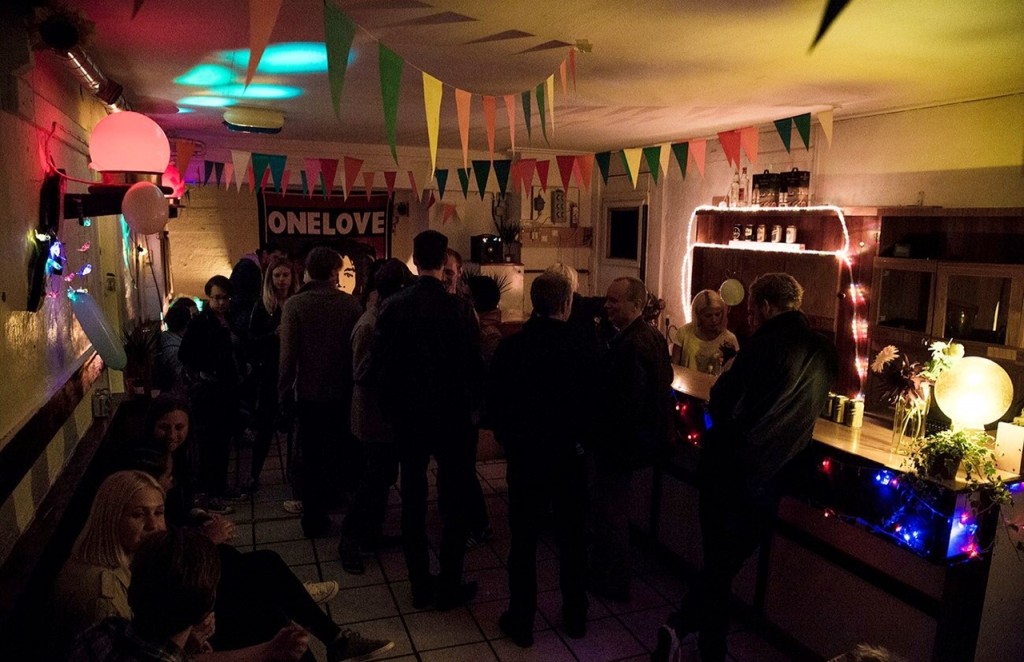 9. What are some goals for the collective in the bigger picture? We only have one goal, and that is to inspire people to start their own collectives. Because we grow organically, if people want us to grow we will grow. We have received such amazing feedback already and I would consider myself to be happy if I die tomorrow. I think creating something that makes the most people happy is a beautiful thing to accomplish and I've never been given so many flattering words of admiration as when discussing Volkhemmet with friends and strangers. I just believe that people have so much more power than they are aware of, and Pontus and I harnessed the resources needed to start the first one. Now everyone is free and able to join. Let's call it open-source living.
10. What types of artists inspire you as creatives?
Russell Brand due to his intellect and humor coming together into something beautifully inspiring. He's created a very defined niche of people, which both Pontus and I adore and would consider us to be a part of. He and his fan base are absolutely wonderful. He dares to be controversial and he's got a lot of self-distance and insight.
Pleasurekraft is my absolute favourite when it comes to music and has inspired me into DJ'ing and producing music. Their beats and tunes are from another planet, I can't start to describe how amazingly stimulating they are to listen to. So unique! My dream would be them playing at Decadancia. I'd spend my life savings for that most certainly.
For more information about Decadancia, Sweden's first club to accept bit coin, visit www.decadancia.se
Words: Dorothy Pranolo
Photos: Luca Bogo
www.fadwebsite.com
Categories
Tags