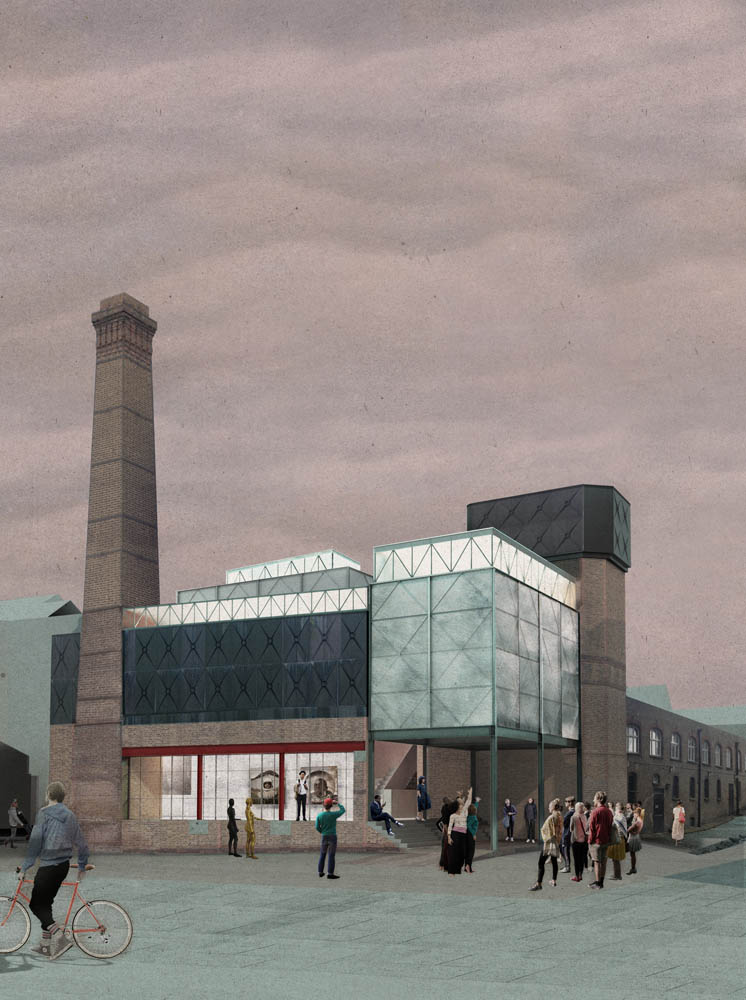 Ambitious plans for a new art gallery at Goldsmiths, University of London, were unveiled today (Monday 28 July 2014).
Turner Prize-winning artist Sir Antony Gormley and world-renowned architect Sir David Chipperfield were among the panel which considered a shortlist of six competitive designs, and today officially announced the chosen design for the new gallery which is due to open to the public in autumn 2016.
The gallery will run a programme of exhibitions, projects and residencies by leading artists and curators from the UK and abroad. It will also provide opportunities for staff and students of the University to realise exhibitions and research projects that have international recognition and significance.
Over the last 25 years Goldsmiths graduates have been instrumental in turning contemporary art into one of the most dynamic art forms in British culture, with seven Turner Prize winners and 24 shortlisted Turner Prize artists coming from Goldsmiths.
The new gallery will cost £1.8m to build and will be entirely funded by external donations, a significant part of this by an auction of artwork donated by Goldsmiths' illustrious alumni to take place at Christie's in February 2015.
The new gallery design by Assemble – a London-based architecture collective – will incorporate the black steel water tanks originally used for the Laurie Grove baths, directly opposite the Ben Pimlott Building on Goldsmiths' campus.
The design will expose the hidden character of the Laurie Grove bath tanks and create a unique opportunity to welcome the public to Goldsmiths, enabling them to experience both the tanks and existing building in new and exciting ways.
Assemble's design capitalised on the 'raw and robust' construction of the existing baths and includes plans to build two additional steel frame 'lanterns' which allow for a varied range of gallery space.
In May 2014 Goldsmiths tendered a call for 'expressions of interest' from architectural firms to design the new gallery and the response was overwhelming.
More than 80 firms from around the world submitted detailed expressions of interest and, after shortlisting the entries to six firms, the design by Assemble was chosen by the panel chaired by Sir David Chipperfield.
Sir Antony Gormley commented: "Goldsmiths remains one of the liveliest, most challenging and ambitious of Britain's universities – its art department is blessed by being part of a university campus with many allied disciplines, engaged in research that has direct relevance for the evolution of the visual culture of our time.
"The arrival of a gallery is an important moment in the development of Goldsmiths. This will become a resource for the university and for London: a place where students and the wider public can experience and test-drive new forms of art as well as see relevant examples of art from the past, ancient and modern.
"It will be a place where curators can exercise their skills, artists both international and from the College can make, exhibit and discuss their work and where all the ways in which Goldsmiths extends our understanding of the culture of our time can be shared with a curious public."
Paloma Strelitz and Adam Willis, from Assemble, commented: "'We are very excited that Assemble has been chosen to design a public gallery for Goldsmiths – a project that resonates with our studio's interests and ethos.
"We envisage the gallery becoming a new centre for the arts in South London, and are honoured to contribute to an institution that is further promoting its identity as an inspirational source of creativity for students, practitioners and the public.
"The Victorian bathhouse at Laurie Grove offers a series of extraordinary found spaces. The cast iron water tanks have a powerful materiality which will be preserved and amplified, whilst new top-lit galleries will provide a rich spatial counter-point in an ensemble offering unique opportunities for the display of art."
Richard Noble, Head of the Department of Art at Goldsmiths, commented: "As a University, Goldsmiths has been at the forefront of innovative art and culture in Britain for more than a century, and we plan to remain there for centuries to come.
"Assemble's innovative design proposal has helped us to see how we can develop a strong identity for the gallery that reflects the ethos of experimentation and intellectual engagement that defines Goldsmiths. We hope the gallery will bring the London and international art public to Goldsmiths, while at the same time providing an important impetus to Lewisham's burgeoning community of galleries, artist-run spaces, architecture practices and design."
Find out more about the Department of Art – www.gold.ac.uk/art/
Categories
Tags