WEEK: 15th July – 20th July
There are loads of art events such as private views, artists talks, and screenings happening around London, and often it is impossible to choose where to go and what to see. To help you with the choice Jenny Judova from Art Map London will be advising on what events seem worth attending during the week.
Wednesday 16 July
Floating Cinema, 7-8:30pm film The Universal Language of Hope 
Towpath, Granary Square, Off Good's Way, King's Cross, N1C 4AA
Esperanto is a global common language first introduced in 1887 with the utopian ideal of eradicating language barriers and fostering world peace.
Learn why Esperanto continues to this day to enchant speakers the world over, and join our informal workshop to learn and try out a few of your own Esperanto phrases. The workshop is followed by a screening of Sam Green's short documentary 'The Universal Language' tracing the history of Esperanto.
BOOKING DETAILS Tickets £5.00, concessions £3.00
floatingcinema.info
www.eventbrite.co.uk
Thursday 17 July
Howard Griffin Gallery, 6:30pm private view John Dolan solo show
189 Shoreditch High Street London, E1 6HU
Following his sell-out debut exhibition at Howard Griffin Gallery in 2013, notorious Shoreditch artist John Dolan returns to the gallery with a landmark exhibition entitled John and George. The exhibition centres around the unique relationship between the artist and his dog George, moving on from his street works to a more intimate focus on their lives together. George is Dolan's most loyal companion, ultimately enabling Dolan to change his life. With George at his side, Dolan managed to escape a twenty year cycle of homelessness and prison, establishing himself as one of London's most recognisable artists.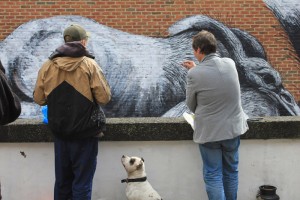 Lisson Gallery, 6-8pm private view 'Where were you'
52-54 Bell St, London NW1 5DA
Artists: Allora & Calzadilla, Cory Arcangel, N. Dash, Robert Janitz, Paulo Monteiro, David Ostrowski, Michael Rey, Julia Rommel, Dan Shaw-Town
Taking its title from a 1978 song of the same name by British punk band The Mekons, Where Were You? is a group show of paintings, prints, relief objects and works on canvas that seem to require minimal intervention on the artists' behalf, but actually belie the often complex ideas or extended periods of time spent contemplating, reworking and refining these processes. Although Minimalism has been presented in many of its guises at Lisson Gallery over the decades, through exhibitions of Peter Joseph, Robert Mangold, Robert Ryman, Donald Judd and Sol LeWitt among others, Where Were You? focuses on the work of nine artists, five of which have not shown in the UK before. Each of them articulates a minimalist aesthetic through abstraction, repetition or interruptions in surface and structure, foregrounding the intention, scale and execution of their gestures as both subjects for their work and as performative records of transient actions or incomplete thoughts.
www.lissongallery.com 
Saturday 19 July
FLESH, 5:30pm performance by Lewis Burton and Victor Ivanov
Trafalgar Square, Westminster, London, WC2N 5DN
FLESH is a multi-dimensional art project by artists Victor Ivanov and Lewis G Burton.
FLESH is focused on a chicken skin body suit that Ivanov has sewn around Burton's body from head to toe.
FLESH is an experiment that examines the relationship between identity and its commodification through social medias; by creating an entity from chicken skin, a commodified object in itself, the artists are then introducing it into the social sphere, both online and offline.
ivanovvictor.wordpress.com
http://lewisgburton.tumblr.com/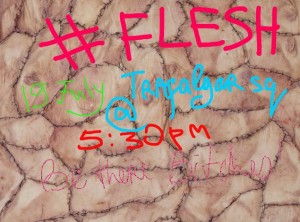 Sunday 20 July
AreByte Gallery, all day Spontaneous Combustion Festival
Unit 4, 49 White Post Lane, Queens Yard, E9 5EN
On the 19 and 20 of July, performances will take audiences on a journey from arebyte gallery to explore the surrounding area of Hackney Wick. The festival offers artists working across contemporary dance, theatre and performance art an opportunity to relocate current or recent work in unusualspaces including private courtyards, car park and street corners.
http://www.spontfestival.com/festival/4584267234 
Categories
Tags