WEEK: 7th July – 13th July
There are loads of art events such as private views, artists talks, and screenings happening around London, and often it is impossible to choose where to go and what to see. To help you with the choice Jenny Judova from Art Map London will be advising on what events seem worth attending during the week.
Tuesday 8 July
Richard Saltoun, 6-8pm private view 'The Visual revolution: Russian Avant-Garde Photography'
111 Great Titchfield St London W1W 6RY
Artists: Max Alpert, Simon Fridland, Naum S Granovski, Yevgeni Khaldei, Gustav Klutsis, Alexander Rodchenko, Akady Shishkin, Varvara Stepanova and Georgi Zelma.
This comprehensive exhibition is drawn from a single renowned collection, which comprises more than 1,500 vintage photographs. The collection was built in the early part of the 21st century and includes photographs from the Constructivist-Suprematist period (1920s), the Socialist-Realist period (1930s) and World War II photography. There are over 100 photographers represented, with a significant number by Max Alpert, Simon Fridland, Naum S Granovski, Yevgeni Khaldei, Gustav Klutsis, Alexander Rodchenko, Akady Shishkin, Varvara Stepanova and Georgi Zelma.
The Cob Gallery, 6-9pm private view 'The Scars are not just Skin Deep' group show
205 Royal College St London NW1 OSG
Artists: Adeline de Monseignat, Martina Bacigalupo, Juan Fontanive, Hester Finch, Gabriella Boyd, Annabelle Moreau, Kirsten Baskett, Lauren Kelly, Beatrice Bonafini, Splitpin Projects, Mia Pfeifer, Ed Arthur Fox, Laura Adamson.
A Group Show curated by Mia Pfeifer, In Support of Acid Attack Victims. The victims of acid attacks are overwhelmingly women. The majority of acid attacks are aimed at the face provoking lifelong bodily disfigurement, physical pain, psychological trauma as well as social isolation. 'The severity of the damage depends on the concentration of the acid and the period of time before the acid is thoroughly washed off with water or neutralized with a neutralizing agent. The acid can rapidly eat away skin, the layer of fat beneath the skin, and in some cases even the underlying bone. Eyelids and lips may be completely destroyed, the nose and ears severely damaged.' Acid violence is a worldwide phenomenon that is not restricted to a particular race, religion, economical background or geographical location.
Thursday 10 July
 Drawing Room, 6:30-9:30pm fundraising event 'Gin and Sausages'
12 Rich Estate, Crimscott Street London SE1 5TE
Join us and take part in Peter Liversidge's infamous 'Gin Proposal', supported by Sipsmiths. This performance event lasts the duration of the gin supply; once the bottles and glasses are empty, the performance is over!
From his makeshift gin stand the artist will be mixing Sipsmiths G & T's in limited edition hand etched 'GIN' glasses. Soak up the liquor with sausages made to Hubert Liversidge's (Peter's grandfather) recipe and select music tracks from Peter's 'drinking songs' jukebox.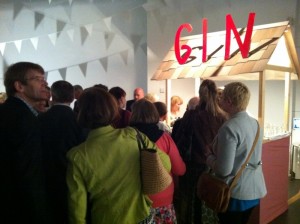 Friday 11 July
Whitechapel Gallery, 7pm talk Martha Rosler 'Big Ideas'
77-82 Whitechapel High St London E1 7QX
The renowned American artist discusses her varied and highly influential practice, using pivotal conceptual text and image work from the mid-1970s as a starting point for the conversation. She is joined by art historian Steve Edwards.
This talk is held in connection with Afterall and the One Work publication Martha Rosler: The Bowery in two inadequate descriptive systems by Steve Edwards. Booking essential. £8.50/£6.50 concession (£4.25 Whitechapel Gallery Members). *Proof of concessions and membership to be shown on the door.
Raven Row, 7pm talk Yvonne Rainer and Catherine Wood
56 Artillery La London E1 7LS
To mark the opening of her show at Raven Row, Yvonne Rainer will be in conversation with Catherine Wood, curator of Contemporary Art & Performance at Tate Modern and Martin Hargreaves, Programme Leader, MA The Body in Performance at the Trinity Laban Conservatoire of Music and Dance.
This event is free but booking is essential. Please note we anticipate there will be a high demand for tickets for this event. For this reason, ticket allocation is limited to one per person.
Saturday 12 July
Kingston Sculture Park & Site Specific, 6-9pm private view Site Specific
Memorial Gardens Kingston upon Thames
Artists: Edward Collinson, Serge Constantinesco, Jacob Daley, Lanu Elena, Laura Elias, Paul Freeman, Amanda Henriques, Kosha Hussain, Melody Vaughan, Jessica Melling.
From 12th July, Memorial Gardens will host a range of sculptural artworks for a two week open-air exhibition. Following an open-call for artists, sitespecific have commissioned an exciting group of emerging artists to make work in response to the site. From large-scale sculptures, to minimal interventions and sonic installations, the park will gain new life and invite the public to view it through new perspectives.
Gallery SO, 3-6pm book launch Bernhard Schobinger 'The Rings of Saturn'
92 Brick La London E16RL
Through his departure from traditional jewellery, Bernhard Schobinger denies jewellery its function as a status symbol and makes it into a vehicle for expressing a universal critical voice. The ring is a significant cultural reference in our society: it bears a coveted diamond or is a symbol of togetherness. This is not the case with Bernhard Schobinger! His objects created over the last 45 years reflect artistic and social developments. The ring as the witness of an era: concrete art, the aesthetics of punk, postmodernism and so on.
Sunday 13 July
Parasol Unit, 2:30-4pm Storytelling Family Workshop: Forensic Fables
14 Wharf Rd London N1 7RW
The workshop is about 'finding a story'. The workshop will begin by giving each family a magnify glass and notebook and a set route through the gallery and outside space of the Parasol Unit. The families will be asked to act like investigators, noting observations through their journey, describing colours, objects, materials and actions, through text, photographs and drawings. The group will gather together to turn these observations into poetic fictitious stories, which will be presented through creating beautiful handmade books, full of colours, textures and text.
£5 | Family. Suitable for ages 5 – 15 yrs.
Categories
Tags