Graduate shows are a chance to spot talented artists early on but they're usually difficult to get to, largely because they are all over the country and most only last a few days over a weekend. That's what makes Free Range so useful, it combines a lot of degree shows in a spacious venue just off Brick Lane.
Photography is split over two adjacent weekends and there are hundreds of works to see. This year is the strongest crop of graduates that I've seen with plenty of great works to choose from. What also struck me was how well curated it was this year, compared to last. The whole event had a much more professional layout to it, thus making for a more enjoyable experience and presenting these works in a better light.
Usually I only find a few artists I like, but this year was much more fruitful and here are my top picks in no particular order:
Nicoline Vormedal Sandwith
Many creatures including pigeons, seagulls and squirrels are seen as pests and Sandwith turns this concept on its head by glamorising these animals with pastel colour backdrops to their 'head shots'.
Amiee Lupin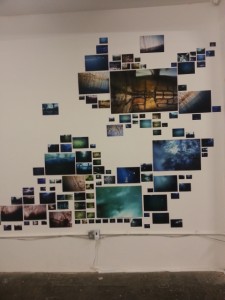 This is a great exploration of water, with the focus on the essence of water rather than on pure photographic composition. It's a similar concept that Rinko Kawauchi has explored with light and she was a finalist of the Deutsche prize in 2012. A similar approach with light was also photographed by Kerry Prescott at Free Range. The scattergun layout (above) enhances this sense of exploration and really sells the portfolio.
Jack Hirons
This work titled silver loop was hard to miss as a projectors reel runs through a series of floor to ceiling pulleys. The video being projected is of items being lifted and this injects a great sense of humour into the installation. This year's exhibition did lack a sense of humour in the works and therefore this work stands out even more.
Paul Hardy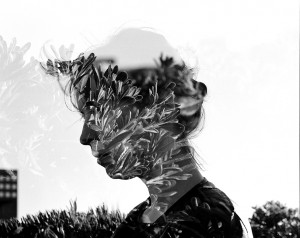 We've all done it, tried to take a picture of some great scenery out of a window or of a framed image and caught our reflection in the photograph. This is usually a sign of failing but Hardy has transformed it into something magical as people and plants and trees merge into one entity.
Rusty Fox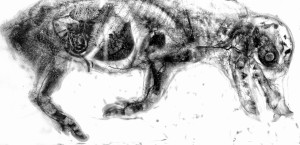 Not sure about the artist's name but love this spectral and macabre take on animal photography. The artist's website shows a talent for capturing the creepy and ghostly.
Beata Stencel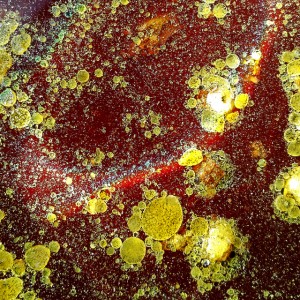 Everybody hates fat, in their food, bodies and there have been repeated calls for a fat tax. Beata Stencel captures this outcast and shows that it can appear beautiful. In a similar ilk to Daniel Beltra's photographs of the Deepwater Horizon oil spill.
Chris Lowe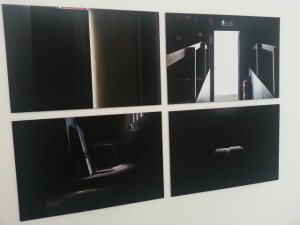 Think churches and the mind drifts to the splendour of St. Paul's, Basilica di San Marco or Cathedrale Notre Dame. But in truth, local churches are nothing like this and Lowe has captured the emptiness and gloominess of  his own in these atmospheric photographs.
There were also others who I didn't catch a snap of and wasn't able to source photographs for. These ranged from Octavia Moules' snapshots of urban decay and Billy Amey's night time photography.
Overall a promising year for photography and looking forward to the fine art graduates coming up.
Free Range Photography was on at Old Truman Brewery between 12-16 June and 19-23 June.
Categories
Tags