London is full of art fairs but Pinta stands out for being solely dedicated to modern and contemporary Latin American art. This is its fifth year,  and though I've only been to the previous two editions, I was impressed both times – but what did I make of Pinta 2014?
Galleries and Artists
There are plenty of great artworks and galleries on display but here are some of my top picks:
Halcyon Gallery definitely made their presence know with a Lorenzo Quinn sculpture outside Earl's Court exhibition centre (below), last seen on Park Lane near the Dorchester.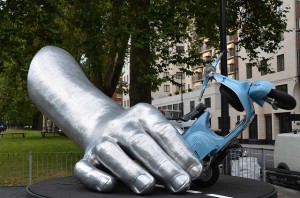 Inside a more subtler sculpture by another Halcyon gallery artist, Santiago Montoya, caught our eye with his scaffold tied together with money – particularly fitting for Latin America considering the recent protests in Brazil.
Political statements abound as you would expect given the current climate in Latin America, and Alfredo Jaar's piece brought a wry smile to my face. It's simply an envelope containing a photo of Karl Marx's grave with strict instructions to be opened and looked at annually on the anniversary of the day Lehman Brothers declared bankruptcy.
La New Gallery and Twin Gallery from Madrid had a shared and impressive stand featuring Cristina de Middel's  Deutshce photography prize nominated documentation of Africa's doomed space programme and Rosalia Banet's muscled view of the world – we all work hard and we're all the same underneath.
I was also impressed by the hope filled photograph by Carlos Motta looking through a fort's arrow slit upon the calm blue ocean and the Gustavo Diaz Sosa's paintings – like a nightmarish Lowry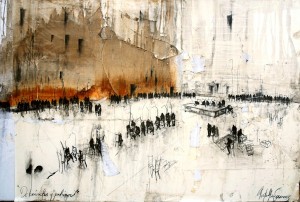 These are just some of my highlights but what struck me was the variety and consistency in high quality across the fair. Most fairs tend to get drawn heavily towards a contemporary pop art vibe but Pinta stands fast to treating all genres equally. It also gives viewers access to galleries and artists that normally wouldn't be seen in the UK.
The Curation
One great addition this year is Pinta Photo curated by Sue Steward. Photography is a little under-represented by the galleries but this stand showed me that there's a lot of talented Latin American photographers, from shots of disuse in Mexico City to Dafna Talmor's foreboding landscapes (below). It's a shame that it only had a small booth – and here's to hoping it gets a much larger space next year.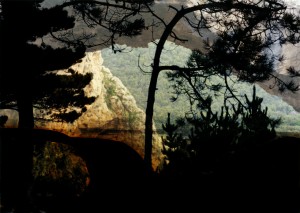 The layout this year once again excelled with all the stands spaced out with works given room to breathe, and the fair is small enough that visitors aren't overwhelmed. The only other art fair to do this well was Art 13 and then they dropped the ball by opening the floodgates to everyone for Art 14. Frieze also tried a more open plan last year, and though it was an improvement, it's a far cry from Pinta's spacious layout.
By letting galleries accumulate organically rather than forcing a massive expansion, Pinta is showing other fairs how to mature without sacrificing it's original appeal.
Verdict
As far as visitors are concerned, the layout and the consistency in quality means this is arguably the best art fair in London – and yes that does mean it trumps both Frieze and Frieze Masters.
So I sincerely hope that it's equally successful commercially, and that it continues to be part of the London art circuit for many years to come.
Categories
Tags