WEEK: 26th May – 1st June
There are loads of art events such as private views, artists talks, and screenings happening around London, and often it is impossible to choose where to go and what to see. To help you with the choice Jenny Judova from Art Map London will be advising on what events seem worth attending during the week.
WEDNESDAY 28 MAY
Ancient & Modern, 6-8pm private view Jan Pleitner and Lee Lozano: 'doowylloh'
ANCIENT & MODERN presents "doowylloh", the first exhibition in London by Dusseldorf-based painter Jan Pleitner, alongside drawings from the 1960's by the late Lee Lozano (1930-99).
http://www.ancientandmodern.org/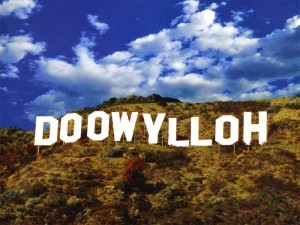 Work Gallery, 6-8pm private view The Architectural Review: A Cover Story
WORK and Artifice Books on Architecture are pleased to present The Architectural Review: A Cover Story, an exhibition tracing The Architectural Review's graphic and scholarly evolution under the direction of Hubert de Cronin Hastings, whose theory of Townscape greatly influenced the magazine's ethos and aesthetic during the 1940s and 1950s.
http://workgallery.co.uk/WORK_2012-06-12/WORK_10A_Acton_Street_London.html
THURSDAY 29 MAY
Art Map London, 7-9pm Panel Discussion 'Art Projects on Kickstarter' + Art Map Kickstarter launch!
Art Map London will host the first panel discussion that concentrates solely on the need of Art projects on Kickstarter. After the event Art Map will launch a crowd funding kickstarter campaign, to put together a £1000 for a new website. The coolest London artists have kindly agreed to donate their works to the campaign and they will be offered as awards for pledges. (FREE but Ziferblat is a pay per time spent there)
Part 1: 7-9pm panel discussion 'Art Projects on Kickstarter' at Ziferblat + Art Map London kickstarter launch
Panelists: Lucy Sparrow (The Cornershop), Miriam Elia (We Go to the Gallery), Annabelle (Save Ziferblat)
Part 2: 9pm-late After party and private view 'Monster'
www.facebook.com/events/302814603200182/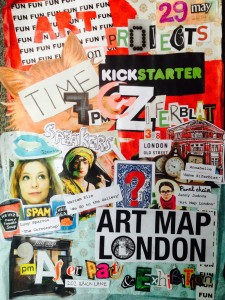 FRIDAY 30 MAY
Arebyte, 7-11pm GLTI.CH Karaoke and Launch of Washing Machine Magazine
On Friday May 3oth come to Arebyte Gallery, Hackney Wick, for an evening of GLTI.CH Karaoke! Sing with people present and telepresent, near and far in a raucous party at the edge of London.
We will also host the Launch of a new New Media art Magazine 'Washing Machine'.
The magazine will feature projects on sound and visual by artists that explore new technologies and use digital art as a media to build and present their works.
Washing Machine Magazine will include content about Sound design, Sound technology, Motion graphic design, Visual art, Cymatics, Multimedia installation and more, from experts such as Bruno Zamborlin, Kian-Peng Ong and Scual.
https://www.facebook.com/events/1435460280039749
http://www.arebyte.com/gltich-karaoke-arebyte/4584549559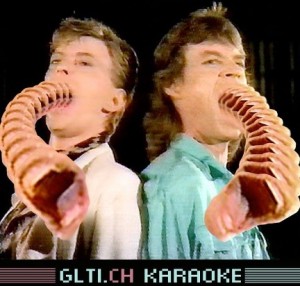 Categories
Tags