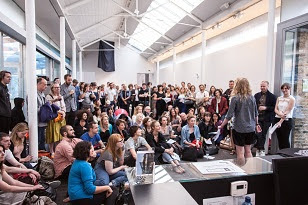 The Everything and Nothing Problem, Jerwood Visual Arts and Ceri Hand Gallery, 2013. Photograph © Hydar Dewachi (www.dewachi.com)
www.jerwoodvisualarts.org/gallery-manager
Gallery Manager (one year Maternity Cover)
Jerwood Space seeks an imaginative and highly organised individual with a clear passion for working with outstanding early career artists. This position is responsible for managing exhibitions, supporting artists and engaging audiences in the gallery at Jerwood Space through the Jerwood Charitable Foundation's programme Jerwood Visual Arts. The programme is a collaboration between and a major initiative of the two organisations.
This pivotal role leads a small, ambitious and caring team. You will be an independent, well-networked individual with experience of supporting emerging artists through the processes of making and exhibiting newly commissioned work, ideally in a gallery setting. You will be a diplomat who takes pride in the detail of what you do and, with the gallery team, will seek to provide the best possible experience for artists, audiences and project partners engaging with the programme.
Jerwood Visual Arts is a contemporary gallery programme hosted at Jerwood Space and on tour nationally. It aims to find, nurture and promote exceptional emerging artists, makers, designers and curators, often working in partnership to commission and exhibit their work. Last year it presented six main exhibitions with works by 125 artists, including 17 new commissions.
C. £30,000 per annum subject to skills and experience.
Deadline for applications: 5pm, 16 June 2014
For further information and to apply visit: www.jerwoodvisualarts.org/gallery-manager
Categories
Tags