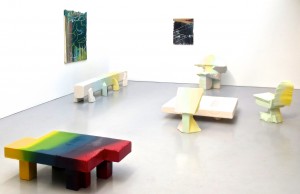 While looking at Max Lamb's furniture in his current exhibition with painter Luke Gottelier at Kate MacGarry in London (1 May – 31 May 2014), I questioned how knowledge of non-visual and non-aesthetic properties affected my visual appreciation of the objects. Particularly with contemporary art, contextual understanding is often what allows the work to be tangible to the viewer. Max Lamb's furniture is made from offcuts of expanded polystyrene accumulated from eight years of using the material in his studio. The surface is hardened with liquid rubber which is sprayed on and the colour scheme is pastel rainbow. The pieces are aesthetically pleasing, but the more I understood about these objects, the more I liked the look of them. Here are my favourite three non-aesthetic properties of Max Lamb's furniture.
Illusion
Our material world is built from preconceived knowledge, yet without having a tactile relationship with a material, how can you really understand its properties? Max Lamb's furniture looks like it could be made of concrete. The press release states that it is made of expanded polystyrene, yet on touching the object, it doesn't take on the properties of expanded polystyrene at all. A coating of rubber creates the hard, waterproofed surface which allows the material to be durable in a domestic environment. This material was outside of my visual vocabulary and consequently an illusion before knowledge stated otherwise. Max Lamb utilized and combined the properties of two materials beyond my understanding of their potential.
Repurpose
The furniture in the exhibition is created from offcuts in an attempt to use the full yield of the amount of expanded polystyrene which the artist had accumulated. Lamb prevented these polystyrene chunks from being discarded and wasted through the process of creating something useful and beautiful. This is where contemporary art and design make a functional blend towards a place which is not so distant from the land of the Readymade. Marcel Duchamp conceptually repurposed an object, yet Lamb manages to do this physically as well. Song Dong's installation Waste Not, first exhibited in 2005, is an extreme homage to the potential of repurposing and reusing objects through art and otherwise. A collection of obsessively collected objects by his mother, proved not to go to waste, but formed an example of and a tribute of respect to a generation of people living in poverty in China in the 1950s and 60s. A newfound respect for Max Lamb's furniture was formed on consideration of the offcut, and what else is the role of the artist and the designer but to consider the future of this earth.
Lightweight
Retaining the useful properties of the expanded polystyrene, for all its solid mass, the furniture is extremely lightweight. Max Lamb's series of abstract and irregular vases (Scrap Poly Vase 1 – 3), allow the viewer to pick up, and weigh up, the objects. The feeling of lightness, denotes impermanence and freedom which is satisfying to the contemporary being. Due to cheap flights, rising house prices, fickle preferences and changing trends, contemporary life has never been so fluid. Ease of transportation is a non-aesthetic factor of design, yet it is very dependent on the choice of material and consequently the aesthetic appearance. Max Lamb balances these properties to reflect contemporary art trends and also practical realities of contemporary life. On looking at Max Lamb's furniture, the potential of these objects to be moved, removed and replaced brings about a lightweight satisfaction.
Words: Harriet Thorpe
Categories
Tags