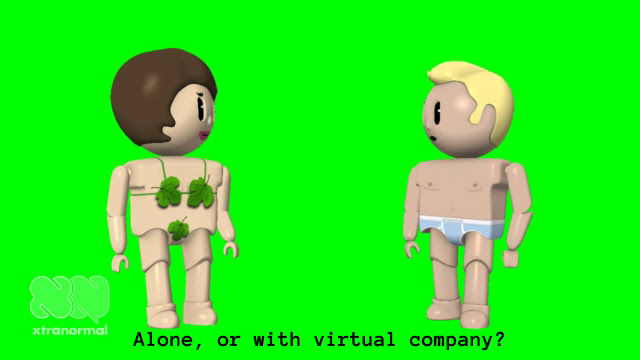 21st May – 13th July 2014 Hayward Gallery Project Space www.southbankcentre.co.uk
Southbank Centre, Belvedere Road, London, SE1 8XX
Hayward Gallery Project Space presents a solo exhibition by American artist and writer Frances Stark. Look, read along with me … focuses on Stark's interest in exploring the ways in which the Internet and today's interactive technologies have transformed personal relationships and interpersonal communication. The exhibition presents two of Stark's best-known works: My Best Thing (2011), her first feature-length piece which premiered at the 54th Venice Biennale, and Osservate, leggete con me (2012), a work that borrows its name and soundtrack from Mozart's brilliant tragic-comic opera, Don Giovanni.
In both these video works, Stark explores relationships and the use of language in the digital age. Both works present different conversations that the artist initiated with strangers in online forums. Often developing into virtual sexual encounters, these emotive, curious and humorous conversation transcripts provide an insight into how the interaction between humans is ever-changing in a networked and dynamic society.
My Best Thing (2011) chronicles an online relationship between Stark and two strangers. Their stories are told in turn by two Playmobil-like avatar characters (one male and one female), which the artist created by using free software readily available on the Internet. It simplifies the characters to the most basic forms; they are naked apart from pixilated fig leaves, with voices that are entirely computer-generated. These digital characters' lack of identity seems to reflect the anonymity of the Internet, even when strangers reveal their true selves entirely (and very intimately) online. The characters discuss a variety of topics including love, philosophy and life as well as offering a surprisingly accurate account of the artist and her creative process. Imbued with the flirtatiousness typical of online chat-rooms these two encounters start off with introductions ending in honest, thought-provoking musings about writing, art-making, film history and politics.
In the main room of the exhibition the viewer encounters three adjacent projections with intermittent white text.This is Osservate, leggete con me (2012) a later work by the artist, which also explores online encounters and relationships. Here, Stark has transcribed and edited her conversations with nine different online partners in a popular online video chat facility – Chatroulette. The soundtrack to the work is the 'Catalogue Aria' from Mozart's Don Giovanni, which lists the eponymous antihero's sexual conquests. The catalogue of Don Giovanni's seductions mirrors the fact that most of Stark's online conversations take place after the artist willingly partakes in 'camsex' with nine strangers. Interested in the voyeuristic aspect of this online facility, Stark presents snippets from each encounter, tempting us to imagine the short stories and amorous digital exchanges that may have gone on beyond these deconstructed conversations. Through these works Stark continues to remind us of the complexity of human encounters while asking the visitor to ponder on conventional ideas of performance, role-playing, intimacy and anonymity.
en.wikipedia.org/wiki/Frances_Stark
This exhibition is part of Southbank Centre's Festival of Love (28th June – 31st August 2014)
Categories
Tags