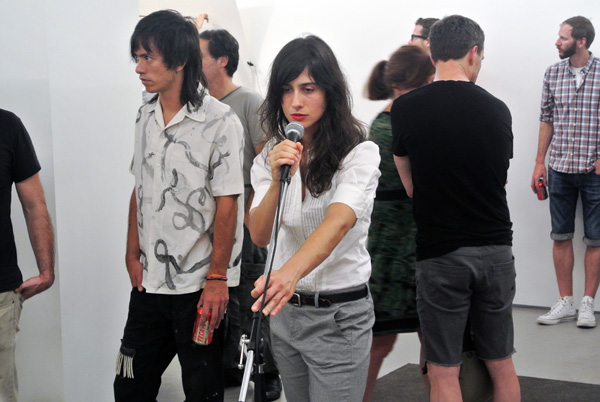 A four day music festival to coincide with Frieze Art Fair? Yes, please! This year's Frieze projects, a non-profit program of artists' commissions realized annually for Frieze NYC, will feature 7 artists from around the globe. Curated by Cecilia Alemani, it is the Israeli born and New York based visual and performing artist Naama Tsabar and her project, WITHOUT which FAD is super pumped to catch! Tsabar's artistic practice is two-fold. Fascinated with the seemingly impalpable electric currents which flow through the soulful veins of musical instruments, she is simultaneously captivated by how these streams affect and are affected by the space in which they are heard and felt. With aims to uncover a deeper understanding of how these instruments function and how we as humans respond to their intended mechanisms, she reacts to her curiosities by stripping away all context. By transforming all elements of a space where music would normally be received, her work seeks to construct, deconstructed multi-sensory driven, site specific installations, sculptures and performances which tap into these rhythmically charged zones.
For her allocated real estate, or booth, @ Frieze, Tsabar will literally remove the floor, and then transport a fragment of the fair's architecture outside – leaving one massive hole in the tent and exposing the grass underneath. Once outdoors, this same floor will shift it's function and will serve as the stage for a music festival.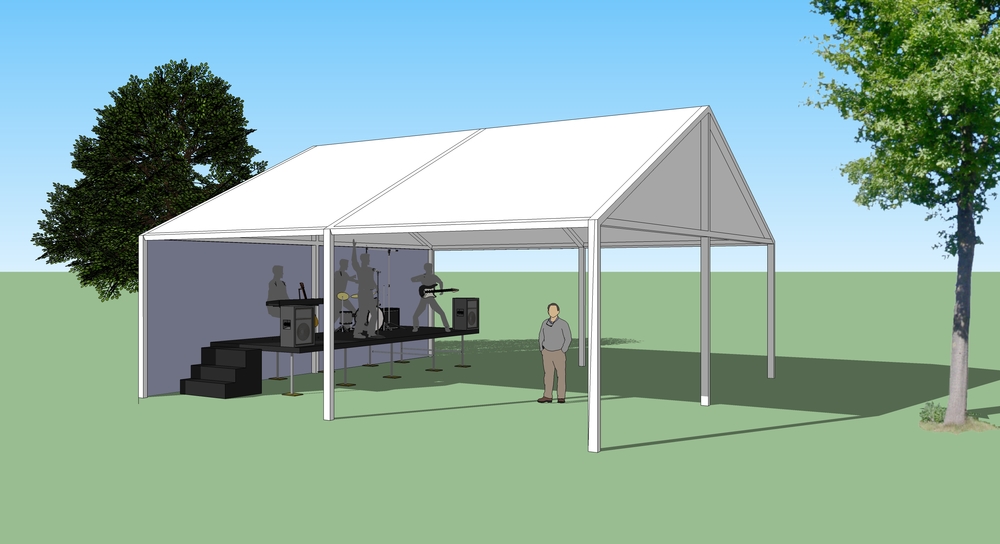 In order to bring the entire idea to fruition, like a lead singer partnering up with their band, Tsabar has teamed up with the female powerhouse Mindy Abovitz: Editor In Chief of  Tom Tom Magazine, the only magazine in the world dedicated to female drummers. It is through this collaboration that Tsabar has successfully taken her passions of music and art to the next hypnotic level. With Abovitz on board, the project has soared to an alternative harmonic height, where Brooklyn's finest brigade of bands (whom all contain one common thread: having a female drummer or beat maker as the pulse of their rock triangles) will march in to rock the show!
"Yes, I am taking this really expensive form of real estate and putting it outside, and then showcasing another kind of art- but not only that, the bands which have been chosen to play on the stage are also predominately female and inside the tent I am sure it is going to be 70% men artists. So, for me it is a political agenda and in a sense, an institutional critique. It is a comment on the art world and how it is structured around men. Although here on Randall's Island, because Mindy has conjured a team of Brooklyn based female bands, it may seem that many of the scene of female drummers in Brooklyn is predominately female, but if you research the actual music scene in Brooklyn, or go and catch a show in Brooklyn, you would come to find that the scene is predominately male. Context inevitably changes everything."- Tsabar.
Initially meeting at one of Tsabar's shows at MOMAPS1 years ago, the two work organically with one another, and for Abovitz, deciding which bands would stay in tune with this uniquely deconstructed venue was an honorable challenge.
"It wasn't difficult at all in choosing which bands to feature, as I wanted to showcase as wide of a range of musicians as possible in this festival -and that was the challenge. I also thought of Naama and the art world when coming up with the individual bands that make up the fest. This line-up is intended to create community, stir ideas, generate interest, introduce great music,showcase talent and push boundaries."- Abovitz
Together these two Brooklyn art and music queens have fused a killer line up of seventeen bands to play hourly during all four days of the fair, allowing for fair participants to enjoy a breath of fresh air and a change of symphonic scenery from the indoor venue.
Vcool…
Click on the links to find out more about the featured bands:
Program for WITHOUT May 8 – 11 2014
Thursday May 8
2 pm – Balancer
6 pm – Tigue
Friday May 9
4 pm – Bells Roar
5 pm – Clinical Trials
6 pm – Honey Ear Trio
Saturday May 10
1 pm – Bodega Bay
2 pm – Harsh Crowd
3 pm – Christy & Emily
4 pm – Larry and the Babes
5 pm – FIELDED
6 pm – Noveller
Sunday May 11
1 pm – FLOWN
2 pm – Suzi Analogue
3 pm – Doble Pletina
4 pm – The Suzan
5 pm – Laila
6pm – Beverly
So come out, take a break from the city within the city and listen to some fantastic talent in a unique way. From jazz and hip hop to rock, pop and experimental, this will be a show NOT to miss!
"I hope people stop to hear the music and think about the stage and it's re-purpose. I hope they think about music and art and how to two overlap and live on their own. I hope they taste the energy. I hope they feel the presence of the women musicians and make a subconscious note of how our festival feels versus others they have been to. I hope they walk away feeling like they witnessed and were a part of something special." -Abovitz
The music festival is free and open to the public. The art fair requires admission fees.
Project supported by: ARTIS
To find out more visit: friezeprojectsny.org
To know more about Naama Tsabar and her other projects visit: www.naamatsabar.com
To know more about Tom Tom Magazine visit: tomtommag.com
Categories
Tags