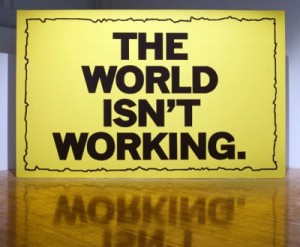 2nd Apr – 4th May 2014
In celebration of the 30th anniversary of the opening of Cafe Gallery and the 15th anniversary of the opening Dilston Grove, CGP London has, for the very first time, commissioned a single artist to present works across it's two venues.
Mark Titchner's practise spans a number of media including digital print, wall drawing, video, sculpture and installation.
His practise explores systems of belief, both secular and spiritual, often focusing on the marginalized, discredited or forgotten ideologies and objects we place our faith in. Using the impersonal language of the public realm, ranging from the quasi-mysticism of corporate mission statements to the maxims of revolutionary socialism, his work exhorts us to believe in it. Motifs taken from advertising, religious iconography, club flyers, trade union banners, prog rock and political propaganda all vie for our attention. The common denominator of this quest for idealism is a quest for enlightenment; a desire for some form of transcendence; and yet, abstracted from its original context, the message appears drained of meaning. We know that we are being asked to respond but the purpose is unclear, leaving us only with the formal means of exhortation and our own desire for meaning.
Titchner will present a new series of wall drawings specifically conceived for Cafe Gallery. On leaving Central St Martins School of Art in 1995, Titchner's earliest projects were focused on wall drawing and these were included in exhibitions at City Racing, the ICA and the Royal College of Art. Originally based on Op Art wallpaper designs from the artists childhood home, the works moved through an exploration of diagrammatic and modernist design motifs to the artist's first works with text. In 2001, the artist abandoned these works to concentrate on the new possibilities offered by large-scale digital print. However, a new wall drawing commissioned for the reopening of the South London Gallery in 2010 led Titchner to reappraise this element of his practise. Since then he has continued to produce new wall drawings culminating in the installation 'D.O.S' at the Art Gallery of Ontario.
In contrast to the hard edge, graphic works at Cafe Gallery, in Dilston Grove Titchner will present a hallucinatory new collaboration with acclaimed musicians Daniel O'Sullivan and Alexander Tucker. Focused on the of use text and the voice and combining multi-channel video with surround sound, this new work has been specifically developed in response to the building's vast raw environment which will be filled with overlapping and seemingly ever ascending, evolving mantras.
About the Artist
Mark Titchner was born in Luton (1973). Live and works in London. Solo exhibitions include: Please believe these days will pass, Art Gallery of Ontario, Toronto, 2012; Ends Thou, Focal Point Gallery (offsite project), Southend, 2012; Be true to your oblivion, New Art Gallery, Walsall, 2011; The Age of Happiness, Hellenic American Union, Athens, 2009; Plateau Aurora Borealis, Peres Projects, Berlin, 2008; Run, Black River, Run, BALTIC, Gateshead, 2008; The Eye Don't See Itself, Vilma Gold, London, 2007; IT IS YOU, Arnolfini, Bristol, 2006. He has exhibited in numerous national and international group exhibitions including 52nd Venice Biennale in 2007 and the British Art Show in 2006. He was nominated for the Turner Prize in 2006 and was Artist in Residence at the Art Gallery of Ontario, Toronto in 2012.
Categories
Tags