About a year ago the term 'digital influencer' started to build momentum, it featured in mainstream newspaper editorials and was casually referred to in conversations. Like the description 'IT' a decade earlier this vernacular appeared esoteric, however when unpicked to its most skeletol form it started to combat confusion and shift from impenetrable to decipherable.  Online journalist, stylist and fashion editor of Disneyrollergirl, one of the most radiant fashion blogs circulating the global blogosphere, Navaz Batliwalla elucidates, "a digital influencer is an individual whose medium of communication is digital, especially on those big microblog platforms such as YouTube, Facebook, Twitter, Instagram and Weibo in China [where Twitter and Facebook are prohibited]. Being a digital influencer ties in with how most young people communicate which is on their mobiles or tablets, it's not about desktops or laptops anymore, it's very much about short attention span and immediate gratification and that is what digital gives you. Microbloggers are communicating their views and ideas and people really engage with that, so that is what makes digital influencers, it really is a medium, compared to print, that has infinite legs over geographies, over periods of time and it just keeps going, going, going, there is no end to it, it's a very millennial mindset. I guess you know that you are a digital influencer because people refer to you as one," Batliwalla discloses modestly.
It was in 2011 when Batliwalla first heard this new terminology being expressed, it also coincided with networking platforms converging and Twitter cementing a position as an important marker of dissemination. Seemingly overnight blogs were adorned with pictograms and graphic symbols that represented the main social network contenders of Facebook, Twitter, Instagram and YouTube, thus propelling and increasing a blog's reach. "Brands connect with you because they know that you have this reach and they have started to realise it's so much about having a post on your blog which you then retweet, put on Facebook and Instagram etc. I have friends who have blogs but they spend their time now on Instagram because it is so much more immediately resonant with their followers that they don't really blog as much. So now brands engage with those that have a big Instagram following rather than a big blog following. Instagram is the fashionable thing at the moment and it's quite tangible, you can see how many followers the account has and the likes and comments, so you can see how it has value, but Instagram is much more ephemeral not much comes up on Google unlike blogs."
Batliwalla's digital trajectory began in 2007 when blogging was at its nascence, as she says, "I didn't set out to become a blogger or a digital influencer, I was just doing my work on a magazine and doing the blog as another form of communication." Over the years Disneyrollergirl's reputation grew steadily bolstering Batliwalla's place on fashion's digital crossover frontline and being part of that frontline is encountering technological developments during their first wave of deployment.
The relative newcomers to the social media orbit are the aforementioned Instagram and also Google+, both on which Batliwalla has accrued large followings. "What I've found particularly over the last two years is Instagram especially has become so important in fashion, people like photographers and designers as well as brands and individuals that haven't really engaged with Twitter have really taken to it. Those who didn't really understand the value of social media do understand Instagram, probably because it's so visual. Whereas a few years before your blog was your main platform of influence you now have people who have a blog but their main influence is something like Instagram, or in some cases they don't have a blog but they have a huge amount of Instagram followers." Batliwalla continues thoughtfully, "I'm not sure why there is a need for people to follow other people, in my day your influencers would just be your friends really and maybe your favourite celebrity or pop star, but now it seems to be random people and people do seem to be very influenced by who everyone else is influenced by. You get spoon fed, like there are lists of the top ten Instagramers to follow, it's so quick that you don't have time to think for yourself, or even stop and consider the fact that you don't think for yourself, it's just done for you…"
Batliwalla's blog centres solely on her personal take on fashion, "I talk about my point of view and my ideas, I don't really talk about anything really personal on there, so Disneyrollergirl is a persona. When Twitter came along it was doing more of the same but in a micro format. I tend to have more conversations on Twitter but it's still about the extension of the Disneyrollergirl point of view as opposed to anything about me personally. Twitter seems to be more engaging with the public, blogs don't really get comments any more, if I tweet a blog post people tend to comment on Twitter rather than on the blog."
Batliwalla's role as a digital influencer pivots around sharing her perspectives on fashion alongside her distinctive aesthetic style and admittedly promoting the Disneyrollergirl brand, "it's all about this self-branding moment we're in, where everyone's point of view is seemingly of the utmost importance, but especially with Twitter as more and more people have joined it. Young people especially don't seem to have any editing buttons, they basically just think aloud and it's become very noisy and very saturated with opinion, so my role is just to filter that and share what is succinct and relevant as much as possible because I think people are starting to get tired of a constant deluge of information."
The notion of how to format this proliferating information has been tackled by Google with its 2011 launch of Google+ a social networking site that is second to Facebook in terms of amount of user accounts, yet these accounts are automatically set up when individuals sign up to a Gmail or YouTube account, both owned by Google. Subsequently all Google products are consolidated on Google+.
Being an early adopter, a concept that consigns Batliwalla at the forefront of emerging trends, sees Batliwalla invited to Google's press previews. "Google launch a lot of products and they don't always work that well, so with Google+ they really put a lot of work into it. Google is so powerful, it's more powerful than Facebook, and within Google+ you can search for anything, you can get more meaningful results than just searching on Google itself but it's not that user friendly because it's so complex as it encompasses many elements. Google just wants to control the world basically, that's why it makes it impossible to have a YouTube account without having a Google+ account. If you have a Gmail account you automatically have a Google+ account but people don't realise it, so your Gmail account ends up on your Google+ page as does your YouTube account, you can't have any privacy on it but in the same token brands really like Google+.
You can have Skype-like group conversations and carry out public broadcasts which end up on YouTube, there are lots of elements to it that are useful and because you want to use the useful elements you end up losing your privacy. For me personally, I thought well it's new and I need to investigate this and then I carried on using it because it works for me."
Google+'s all-important followers are addressed as circles, the idea being that the user categorises friends and contacts into groups and status updates can be selected as to which circles receive them. Batliwalla's explanation gives clarity to Google+'s opaque model but as she admits, "it's not an easy concept to explain to people and the problem is that a lot of people have a profile on Google+ but they don't really understand it, it's not immediate as to how it works, and since people have such a short attention span that if you don't have a fan base straight away you pretty much just give up."

Another recent Google+ development is its social media platform, Google Hangouts. Launched in 2013 their novelty is in their video chat and instant messaging capacity. Batliwalla has been involved in several. Although technical issues, usually sound or connection problems, have arisen during her Google Hangouts, as Batliwalla says, "personally I don't really mind because when you are an early adopter of anything there are going to be these problems and you're the guinea pig so you're trying these things out. The public ones are called Hangouts On Air. It's a discussion to the public, anyone in the word can watch it and when it's finished it sits on YouTube so you can embed it wherever you want on any number of websites. Basically you've made a video and I think that is brilliant, I find them really useful and are a clever and interesting way of doing things," enthuses Batliwalla.
Batliwalla's portfolio of Google Hangouts have naturally all been fashion-related and include discussions as part of the Tate Gallery's debate on the relationship between fashion and art, as well as one organised by WGSN around the topic of the role of fashion bloggers at fashion week, how fashion week is changing and how it is being communicated to the public. Batliwalla's favourite was in conjunction with Max Factor's launch of their new foundation during London's fashion week, September 2013. The foundation was being tested at Felder Felder's catwalk show and as their backstage correspondent Batliwalla reported on the behind the scenes activity at the same time as instagramming, tweeting and posting images on Google+ throughout. "Straight after the show I went with the chief make up artist to a studio and we discussed the concept of the show, while another makeup artist did a live demonstration of the show's makeup on a model and explained how to use the foundation and how it worked with the trends. So it showed how you get the catwalk look literally an hour after the show, I think that kind of broadcast is brilliant."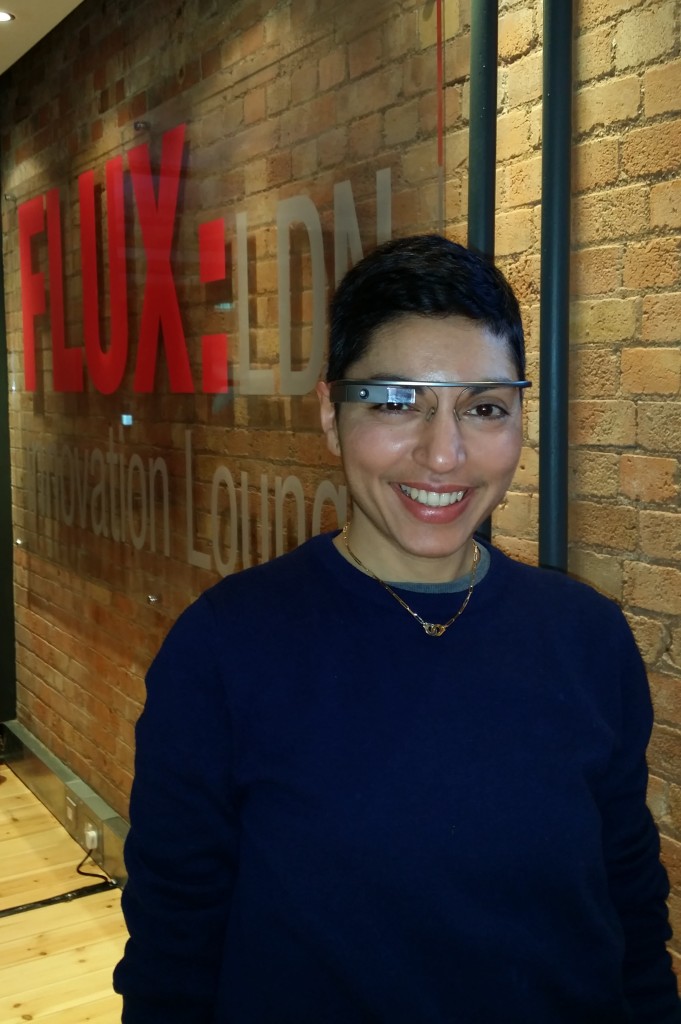 Another digital thread to Google's inexhaustible empire is its entry into the sartorial market with its optic head-mounted, wearable computer, Google Glass (or more affectionately known as Google Glasses). Introduced in 2013 Batliwalla was among the first legion of press who had the opportunity to test them. Although Batliwalla's trial run of the Google Glasses lasted a matter of seconds, it was sufficient for her to get an overall impression. "The main way Google are pitching the glasses are that they can do anything that a smartphone can but they are physically on you at all time, so you don't have to get your phone out or hold something which personally I don't mind. It's like having your computer embedded in your glasses, you have controls in the arm of the glasses and it sees whatever you're seeing, and using voice commands it undertakes certain tasks, it can take pictures, it can record sound and vision, it can multitask. It's the early stages of this technology, we only understand what Google wants us to understand in terms of its capabilities, but I wonder how is it useful to the consumer, what is it that's going to make people think I want this other than it's new and it's cool because it's new. Because they are costly there's that limited edition mentality attached to them. Personally something has to be useful, how does it add value to me because if it is gimmicky I'm not interested."
Unsurprisingly and naturally the aesthetic is a factor for Batliwalla, "crucially I think they need to sort out the look of them, because at the moment the glasses have been around for at least a year and we are still having the same conversation about how they look really clonky and what do they actually do, there's a lot of confusion about it, the challenge for them is to make them cool and not so geeky."
Wearable tech is yet another technological initiative that is at its infancy and that looks set to be a part of dominant culture once the experimental samples are tested, finessed and improved, "it's like a lot of things really until you try it yourself you can't understand it, but as I said it's early days. These technology giants want to be the first to have done something, so they push out that product to be the first and then they start working on the next version and make them more efficient…"
Batliwalla's impressive roll call of collaborations include project work for H&M, eBay, Pinterest and Gap, she was also featured in a recent campaign for Burberry, "a friend of a friend was casting it and asked if I'd be interested, so I turned up to the shoot with my Burberry trench. The photos appeared on their digital billboards, Burberry was very clever because by asking digital influencers I think they knew the images would be distributed digitally on all their platforms." Conclusively, the coverage was colossal and confirmed Batliwalla as fashion's digital doyenne.
WORDS: STEPHANIE TALBOT
Categories
Tags