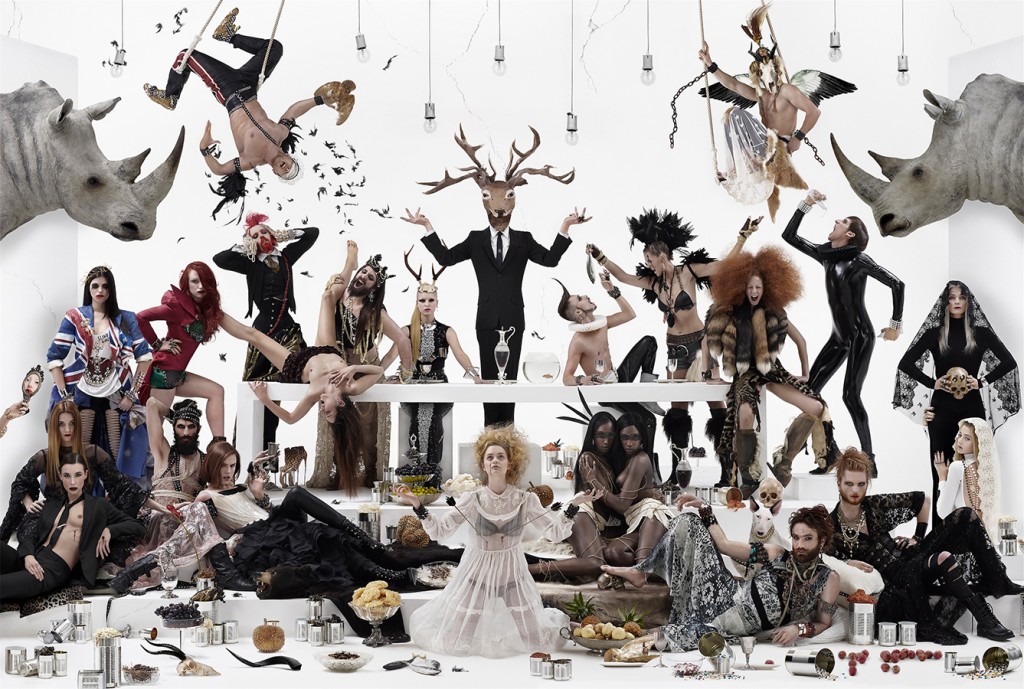 Festin des barbares, 2013 GÉRARD RANCINAN Argentic print monted on plexiglass.
We caught up with Gerard Rancinan at his new exhibition at Opera gallery .
The exhibition is split into two upstairs is a mini retrospective of his: 'Trilogy of the modern' which he has been working on for the last 7 years.
And downstairs is a taste of his new work which will be unveiled in full at a major exhibition in Brussels.(details below)
Hi Gerard why the new direction with the work? + What are you trying to investigate with it?
For an artist it is terrible to think/imagine that the work you will produce will always be the same. I don't want people to say this is a Gerard Rancinan picture , I'm afraid of being stereotyped.
So I got together with my collabartor Caroline Gaudriault who I have worked with for 15 years. I wanted us to think together , something simple, Pure , shoot pictures , but this wasn't enough.. Why are we here? What is the point of life?
I wanted to create pure work with minimal colour.
The Invariable geometry of the world – nothing changes but man.
It wasn't easy – It was totally different – A NEW Series – I was deep in the ocean and I needed to come up for Fresh Air .
So downstairs is just a taste of this new work – It is Brand New, Completely Different, but follows the same thought
A small Man in a big world.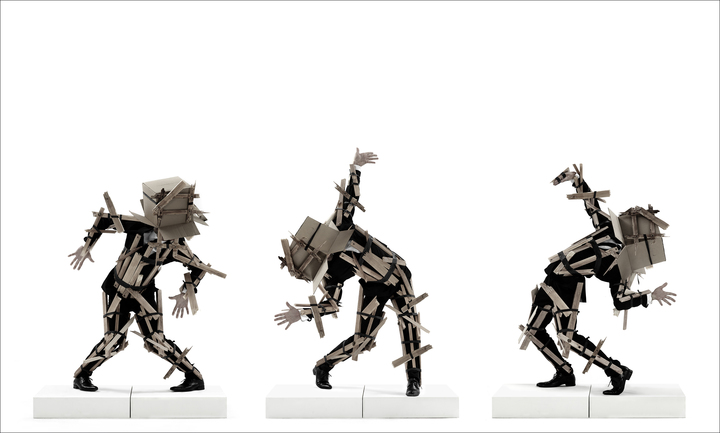 GÉRARD RANCINAN Repaired Man A small Man in a big world
Upstairs Is a mini retrospective of Trilogy of The Modern.
The work is a mirror of our society of our modernity.
I'm just a witness
I'm a photographer before Artist
I'm a witness the work is a part of us this is why it makes such a successful Museum show.
How did you make the change from photographer to Artist?
Artist Is Nothing
Anyone can say they are an Artist
What Is it to be an Artist?
But being a photographer Is more important to me than anything else
Being a photographer – I love this job
But It's a BIG responsibility – to be in competition with GOD
Of course we work a lot 3 months for each image 80 people a lot of work.
This is the role of the photographer to be a witness – to stop time – a big responsibility
I shoot a picture – you leave, you change – my picture stays exactly the same for eternity.
A small part of reality
No artist can do this only the photographer that is why it is great to use this medium today.
BUT not 20 years ago then no one thought photography was art, the museums didn't see what I did as art , I had to focus and persevere.
Photography Its Not Art? Of Course It Is Art!
To be an artist I don't know what this means
I'm a Photographer!
But In the new series there is a video – A guy trying to lift the Earth – A small video – Its Fantastic – In the next Exhibition.
How did you choose the pictures to exhibit upstairs?
The Triology of the Modern is in three parts each series had a big picture (hence the title "Rancinan XXL") – and it is very lucky that we where between two museum shows this October In Paris and Shanghai to come and I realized we had the opportunity to show some of the really big images from the triology – this is probably the last time this will happen before they are sent to different parts of the world.
It's a unique opportunity to see all these pictures in one place
Opera Gallery London – It was a big challenge and very expensive to transport and install the work – But Its great –
A great opportunity.
"Rancinan XXL" GÉRARD RANCINAN Opera Gallery London 134 New Bond St, London W1S 2TF www.operagallery.com March 19th to April 3rd 2014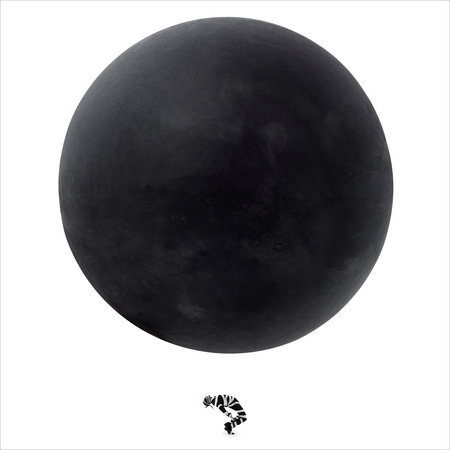 Black Earth and the fool GÉRARD RANCINAN A small Man in a big world

Sisyphe GÉRARD RANCINAN A small Man in a big world
A small Man in a big world 24th April to 22nd June 2014
Solo show. VERNISSAGE 24th April Galerie Valérie Bach rue faider 6 1060 Brussels Belgium www.galerievaleriebach.com
Words: Mark Westall
Categories
Tags