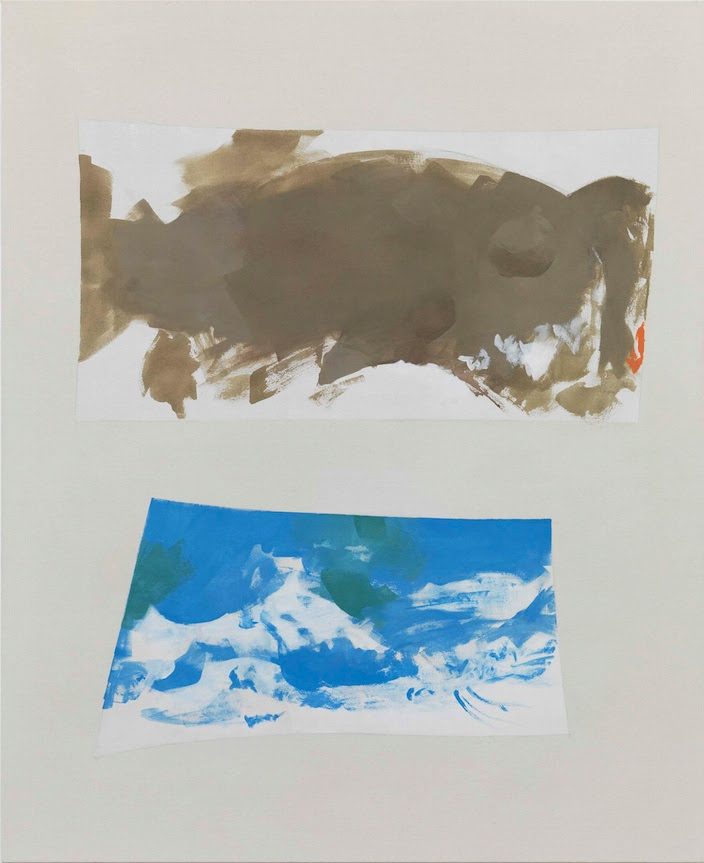 Peter Joseph Dark Ochre with Blue, 2013 Acrylic on cotton duck 137.2 x 111.8 cm © The Artist; Courtesy Lisson Gallery, London
Peter Joseph: The New Painting 26th March – 10th May 52-54 Bell Street www.lissongallery.com
An abstract painter who came to prominence in the mid-sixties with environmental works and paintings of simple shapes in near primary colours, Peter Joseph has recently completed a series of freer and more openly lyrical works. This new vocabulary, or The New Painting as he calls it, finally breaks away from the formal restraint of over thirty years, featuring angular and biomorphic shapes floating over a neutral ground, which occasionally disintegrate or collapse into semi-translucent ethereal washes. Joseph's consistent conceptual discipline is still evident in his practice of first collaging together small swatches of painted canvas, before transferring and flattening these small, collaged works in order to re-enact or re-create them as large-scale paintings.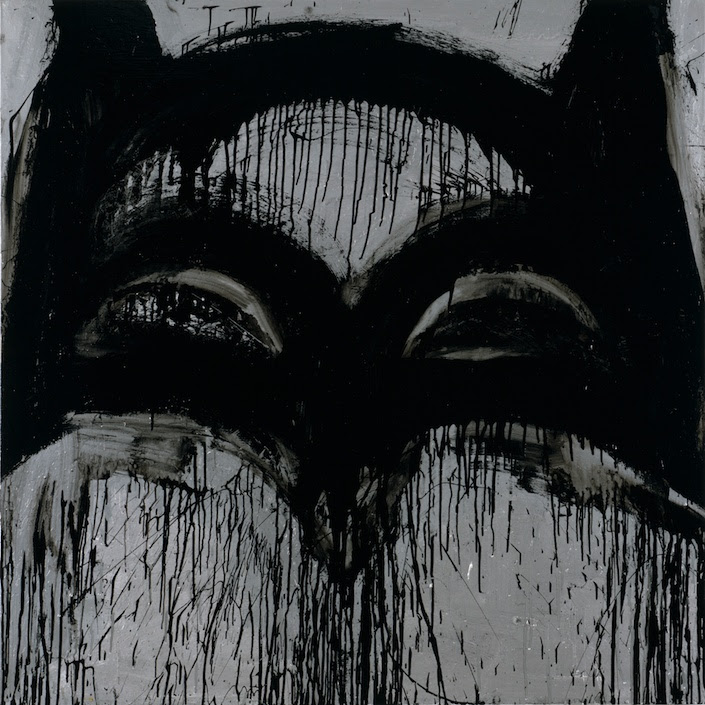 Joyce Pensato Batman I, 2011 Enamel and metallic paint on linen 121.9 x 101.6 cm © The Artist; Courtesy Lisson Gallery, London
Joyce Pensato: Joyceland 26th March – 10th May 27 Bell Street www.lissongallery.com
Joyce Pensato paints exuberant, explosive likenesses of cartoon characters and comic-book heroes. For her debut exhibition at Lisson Gallery, she will present new paintings featuring Batman, Donald Duck and various characters from The Simpsons. Included among them is a darkened visage of Homer Simpson crossed with Groucho Marx and Marge from Hell, Pensato's giant pastel and charcoal drawing. Working in the gallery for a month prior to opening, Pensato has also created a large-scale mural on to the gallery's back wall, a practice she has recently returned to for her major museum presentations in Europe and America.
Special Event
'Joyceland – New York State of Mind' First Weekend, Saturday 5th April Brunch 10.30am – 12.30pm; Talk 11.30am
Joyce Pensato will be in conversation with Sir Norman Rosenthal and Lisson Gallery's Ossian Ward.
RSVP to gair@picklespr.com to reserve a place.
Categories
Tags