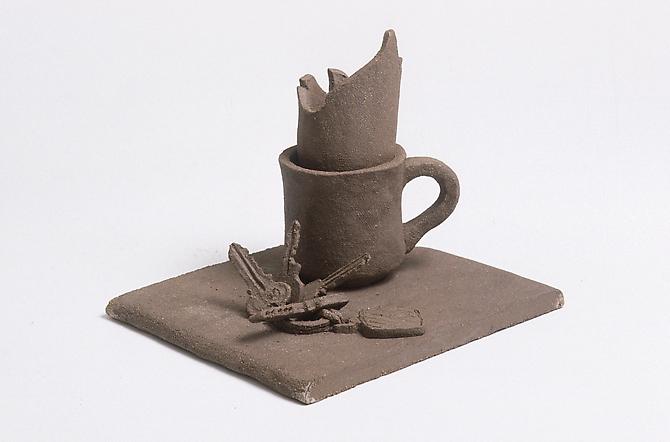 Gail Goldsmith, No. 7 , 1990,  Clay, 11 x 9 x 8
Richard Barnet, Untitled No. 1, 1996 , Watercolor on Paper , 22 x 30
From now until March 14th, 2014 William Holman gallery is concurrently showing two exhibitions: the first titled, 'Everyday Weapons' which features the sculptural works of the artist Gail Goldsmith and the second, 'Times and Places'; the watercolor drawings and bronze sculptures of Richard Barnet. At first glance, their choice in material and content might seem disparate, but upon further inspection one will find that Holman and his team have successfully curated an intrinsic and comprehensively complex narrative. Upon entrance, inconspicuous, yet melancholic whispers are chillingly heard, and felt, through the clay monochromatic sculptures created by Gail Goldsmith just one and a half years after the suicidal death of her husband over 25 years ago. These eight relatively small sculptures,which have never before been seen to the public are cleverly displayed around calculated corners of the inviting Holman space. Where each take on a distinct life of their own, prompting viewers to closely examine the brevity of life, while taking into deep consideration the direct impact quotidian objects inherently have on our day to day existence and if they can in fact be considered- everyday weapons?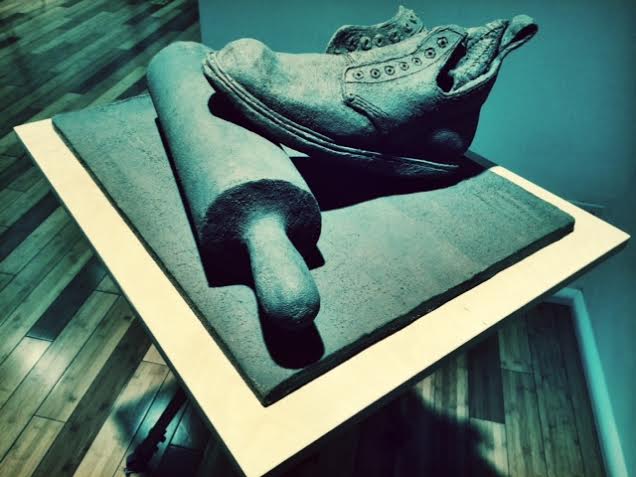 Gail Goldsmtih, No. 6, 1990 , Clay , 23 x 18 x 9 Photo courtesy of: VC
Goldman's meticulously rendered subjects such as: a hammer for hammering nails, a chef's slicing blade, rows of shattered mugs or even a corkscrew aligned with a single fragmented glove, and a pair of dated pumps, offer a refuge for contemplation and opens a dialogue which until recently for Goldman, has been challenging to publicly reveal. While meditatively observing, William Holman describes the show to me as "an exhibition which is often misunderstood and is sometimes difficult for one to comprehend. As he handed me a catalog, he continued with a narrative taken from one of his encounters with Goldsmith, "I remember going to her studio not too long ago, and began reaching into the depths of a corner where these sculptures were once carefully stowed.  I then rhetorically asked her: "Is it time to finally show these yet?"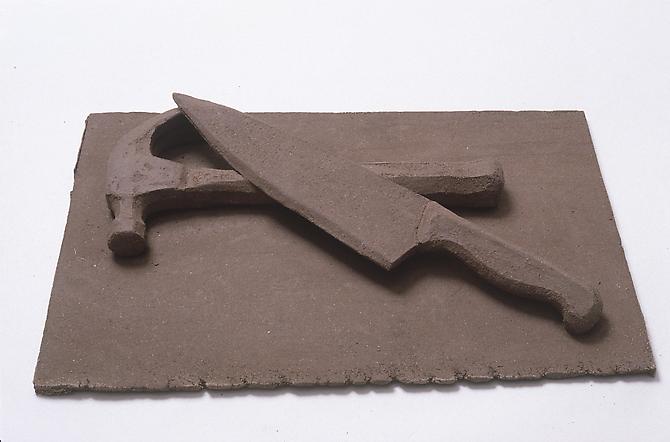 Gail Goldsmith, No. 1, 1989  , Clay,  22 x 14.75 x 2.5″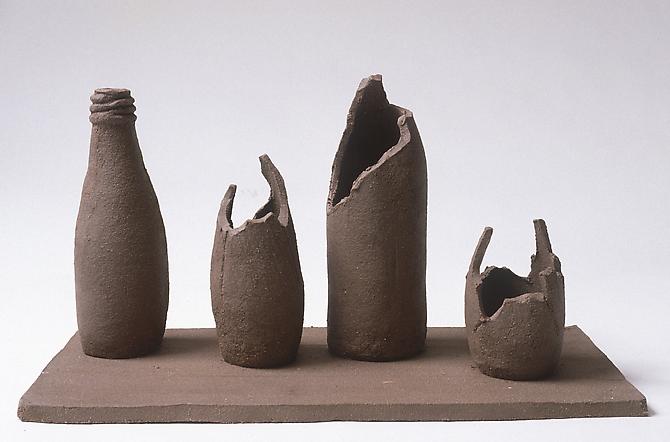 Gail Goldsmith, No. 2 , 1989 , Clay , 24 x 12 x 12.5″
With the support of Holman Gallery, Goldman finally feels comfortable enough to complete the emotional and transformative process that goes hand in hand with coping with death, and the mourning of loss love. It is through the public display of these sculptures, where she once used the material of clay as a vehicle to unearth tormenting angers and pains, that she has now come to view these sculptures as theatrical- where each work is an archetype, both personal and universal.
She explains:
The static objects belie the emotions which inspired them…The monochrome color and the dry texture of the clay remind me of the desert and objects buried, then excavated. Because clay is an ancient material, this work could have come from a remote past. Because these pieces originated in my experience, the work represents the archaeology of my past. Because clay has this quality of timelessness, the represented actions of violence and rage can be imagined now or in the future.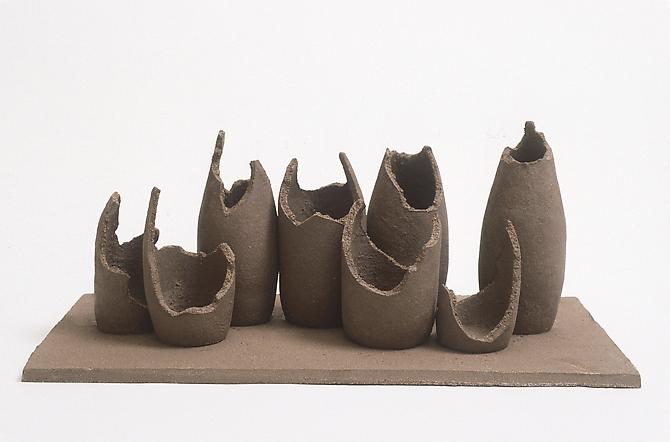 Gail Goldsmith, No. 3 , 1989 , Clay , 24 x 12 x 12.5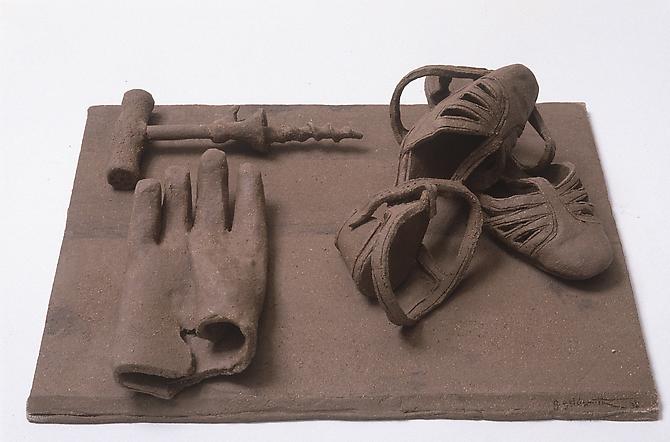 Gail Goldsmith, No. 5, 1989 , Clay, 20 x 15 x 5.5
Static yet stimulating, Goldsmith's sculptures successfully reawaken ideas of death while highlighting the value and importance of life.  Then Looking back towards the back of the gallery, BOOM!; an alternate portal interjects where pops of color, assortments of twisted and dynamic shapes of various sizes and characters flirt with notions of imagined space, tunnels of time, while simultaneously singing joyful rhymes of song without reason.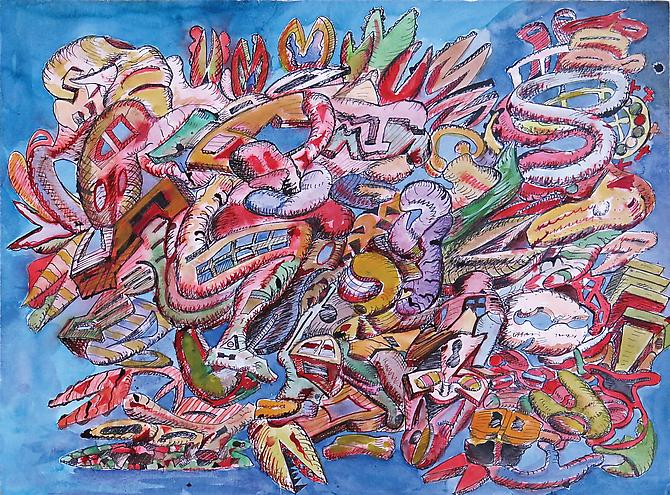 Richard Barnet, Untitled No. 3, 1996,  Watercolor on Paper,  20 x 30″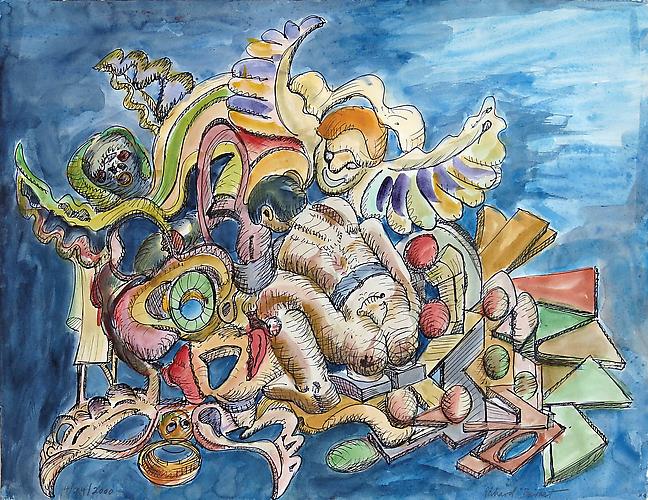 Richard Barnet, Untitled No. 2, 1996 | Watercolor on Paper,  17.6 x 24
Yes, these watercolors appear to be playful, and even give off the impression that they may be preliminary sketches for a sculpted installation, but during the time of their production, Richard Barnet was suffering from prostate cancer and grappling with his ineffable nature in coping with the overwhelming stress he endured while teaching art students at such prestigious establishments such as: The College of Mount Saint Vincent, New York University, SUNY Purchase and the Pennsylvania Academy of Fine Arts. Similar to Goldsmith's work- both of their creative expressions exude the compelling creative nature of the best grade: the kind of perplexing work which keeps giving! Questions are raised while sometimes answered or left to ponder. And alas, similar to life, we must embrace these hidden complexities while giving thanks for challenges overcome. Though Barnet considers himself primarily a sculptor, he is vehemently  inspired and attracted by and towards the laws of symmetry. And the playfulness which his seemingly harmless drawings evoke.
"These drawings are… a kind of play, make-believe. They say, 'Let's make something up.' As I draw, the idea emerges. This can be called improvisation."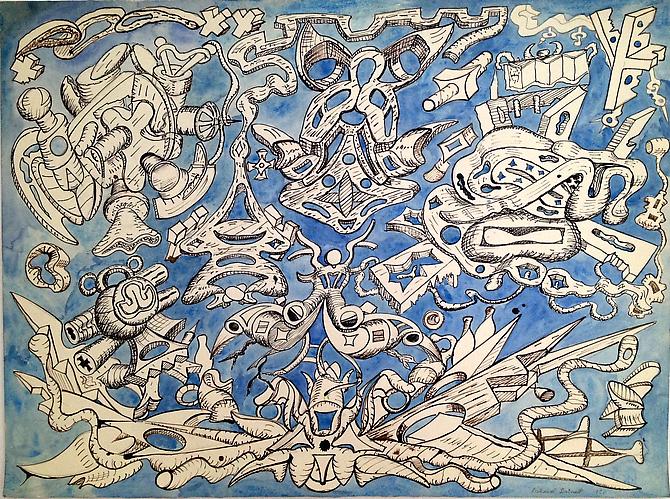 Richard Barnet, Somewhat Symmetry, 1997,  Watercolor , 22 x 30″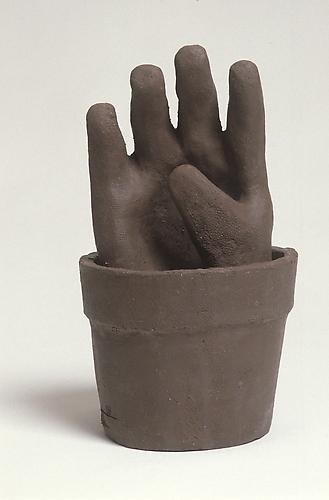 Gail Goldsmith, Apparition, 1989, Clay, 12.75 x 7 x 7″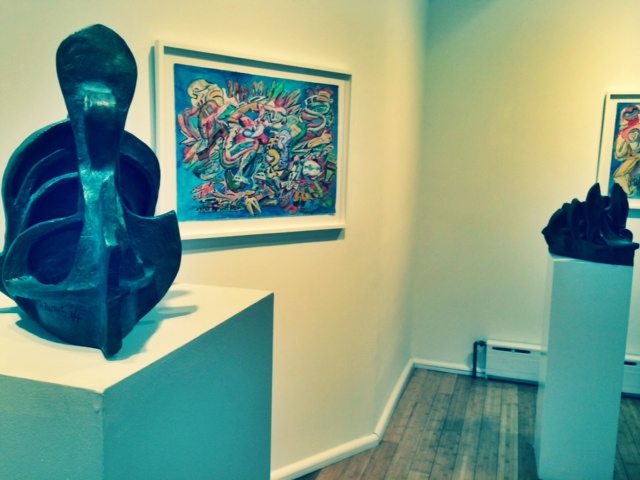 Installation of Richard Barnet.
It is most compelling when two different artists dealing with similar themes and challenges,  manage to express themselves in two alternate yet complimentary methods. A two part exhibition, cleverly curated and executed, where stimulation, contemplation and commemoration seamlessly fold into each other like threads in a blanket.
To read the full press release go: HERE
To know more about William Holman Gallery and to view upcoming shows visit: www.wholmangallery.com
To know more about  Gail Goldsmith visit: www.gailgoldsmith.com
To know more about Richard Barnet visit: www.richardbarnetartist.com
All images courtesy of: William Holman Gallery (unless otherwise noted)
Words: VC
About VC Maurer