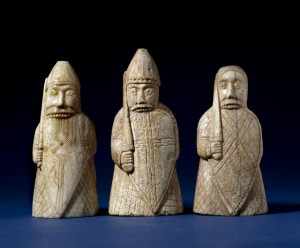 The Vikings are coming! The British Museum hasn't provided as much hype to an exhibition since the sensational Pompeii & Herculaneum. But does this latest blockbuster live up to the hype?
The exhibition starts off with Viking artefacts and therein lies the first problem. The Vikings were not masters of preservation so not much exists of their world and many of those that do are looted or traded items from other civilisations – whether it be from nearby Scotland or from the distant Arabian peninsula.
There are a few artefacts that do impress including a massive gold necklace and some ostentatous brooches both worn by men, but they are in the minority. The Vikings weren't good record keepers either and only heroic poems remain, hence why most of what we know about them comes from Arabic writings on observations about their interactions with the Vikings.
The British Museum is excellent at dispelling myths and in this exhibition we learn that Vikings didn't wear horned helmets and lost as many battles as they won. Even the armoury is disappointing with most axe heads and swords rusted and withered, and nothing that inspires the fear of a Viking berserker – another unproven legend.
The centrepiece of this exhibition is the Roskilde 6 – a 36 metre replica of a Viking longship where 20% of the wooden beams still remain intact. It's an impressive find but the metal shell used to form the rest of the ship's shape feels sterile and fails to capture the power of a Viking raid.
There is no doubting the British Museum has done an excellent job in laying out the facts and this is a massive exhibition that will take a good 90 minutes to walk around. However, by dispelling the myth of the Vikings being a powerful warrior race, there is no narrative to fill this void. The artefacts aren't sufficiently eye-catching and all we're left with is the Vikings as a barbaric people who travelled much but their contributions were minor until they settled down and converted to Christianity.
This exhibition is packed full of information but it doesn't have a compelling story to tell and it lacks the 'wow factor' we've come to expect from British Museum blockbusters.
Vikings: Life & Legend is on at British Museum until 22 June. Tickets are £16.50 for adults.
Also still on at the British Museum is the glittering El Dorado and the George Baselitz dominated Germany Divided.
Categories
Tags