The prolific career of Richard Hamilton, Britain's pioneer of 'pop', is currently on show, being celebrated in style, as both the ICA and Tate Modern host exhibitions dedicated to the life, triumphs and innovations of one of the best of British art. The two collaborating exhibits coincide to form a poignant reflection of Hamilton himself; as both an experimental young artist working alongside the ICA and The Independent Group in the 1950's, towards his journey and recognition as a canonical figure-head of the London Art World. All aspects of Hamilton's exciting and extensive career have been covered. These shows are wholly worth a visit, with each space offering different insight and relevance that is interestingly consistent to Hamilton himself and his interaction with London institutions.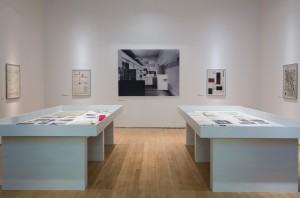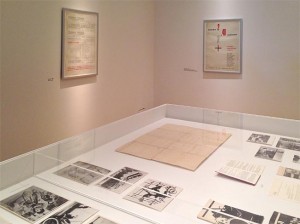 Installation Shot, 'Man, Machine and Motion', Richard Hamilton ICA, London : Installation Shot, "An Exhibit" archives, ICA, London : Installation Shot, "An Exhibit" archives, ICA, London. (c) ICA
The Hamilton journey begins at the ICA where, presented across both the upper and lower galleries, original exhibitions from the 1950's are brought to life, beautifully re-staged autonomously, permitting insight into Hamilton's collaboration and artistic process by means of the archive materials. Set downstairs 'Man, Motion and Machine" comprises of thirty modular, open steel frames in which photographic images are clipped in four themes – aquatic, terrestrial, ariel and interplanetary. Hamilton's eye for futuristic industrialism and innovation is found within his chosen imagery but also seconded by his forward-thinking curatorial vision. The grid-like frames create a miscellaneous environment that is presented as a breach between sculpture and architecture, as visitors can move through, under and around the images. This all-encompassing curation was revolutionary at the time, and demonstrates even today Hamilton's influence on the art world. Upstairs a further re-staging of 'An Exhibit', conceived in close collaboration with writer Lawrence Alloway and artist Victor Pasmore, both members of the infamous, ICA-born Independent Group, demonstrates Hamilton's ingenious artistic vision. Again organised around a modular hanging system, 'An Exhibit' features immersive sheets of coloured and clear pexi-glass. The visitor is again invited to explore the space, to move around the hanging blocks of colour, in order to generate an individual experience and composition through movement. The maze of shapes also instigates a discussion of real and artificial planes of space and the illusionism of light and lines. Accompanied by the original exhibition poster, the viewer is asked to play along, to follow the rules of the space and move around in order to establish a personalised experience of the works.
Within the second room upstairs, countless archival materials, such as catalogues, posters, letters, designs and propositions provide a fascinating insight into the extraordinary breath of Hamilton's curatorial and conceptual interests. The ICA have certainly achieved alot within little space with Hamilton. This tiny retrospective may seem underwhelming at first, belittling of a great talent even, but in their authentic recreations of Hamilton's early exhibitions they have delivered an honest understanding of a British artist that came from nothing to achieve greatness.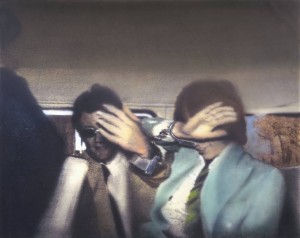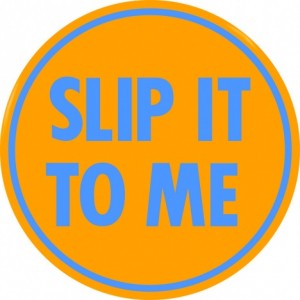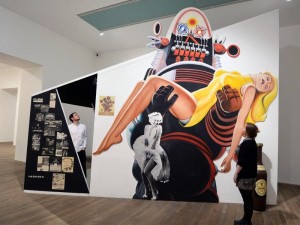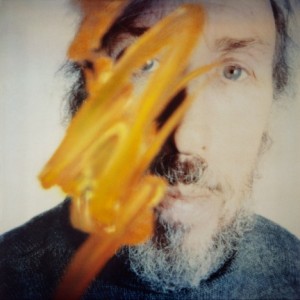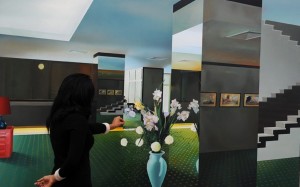 ["Swingeing London 67", Richard Hamilton, 1968-9 : "Epiphany", Richard Hamilton, 1964 : "This is Tomorrow" installation shot, Richard Hamilton, Tate Modern London : "Self-portrait 05.3.81 a 1990″, Richard Hamilton, "Lobby" installation shot, Richard Hamilton, Tate Modern London, (c) The Estate of Richard Hamilton ]
Moving over the river to the Tate Modern's extensive retrospective, the first to encompass the full scope of Hamilton's work, the atmosphere changes to that of prestige and rightful recognition. A journey through the 18 Hamilton galleries at the Tate is a journey through art history; a exploration of the development of British art and culture through the eyes of a pioneer. Demonstrating Hamilton's eccentric and rich artistic career, each room offers new aesthetics, philosophies and experiences, from his earliest natural experiments in Growth and Form through to his political paintings of 2011.
Highlights include the fun-house room, originally exhibited as part of the 'This is Tomorrow' exhibition at the Whitechapel Gallery in 1956; an exciting space that prefigures British pop. Featuring images from cinema, science-fiction and popular culture, alongside immersive spaces to explore, touch, smell and hear, the funhouse exemplifies Hamilton's vision in curation and culture.
Similarly, Hamilton's slightly later influence of Americanism, popular culture and mass advertising is figured in a journey through his colourful plastic works, such as 'Epiphany', to the photographic works featuring celebrities and crowds of people, as well as his championing of Marcel Duchamp. Whole rooms of the retrospective have been transformed into physical realisations of Hamilton's ideas, including  Treatment Room and Lobby, in which the notion of spatial complexities, illusionism and perplexing vision are performed. Within Lobby Hamilton's perspectively challenging painting is hung within an installation that doubles the depicted space, complete with the stairs, mirrored column and dotted carpet, to create a fascinating multiple illusion.
Contrastingly the penultimate room titled Polaroids and Portraits displays one of Hamilton's photographic projects. Between 1968 and 2001 he asked his friends and colleagues to photograph him, acknowledging that each individual's personality and sensibility is distinctly marked in the image they create. The numerous tiny polaroids are chronologically lined up across an entire wall of the gallery, forming not only a biographical photo-series of Hamilton himself but also an intriguing arrangement into the psyche, style and subjective will of each photographer included. Polaroids and Portraits, especially the image taken by Francis Bacon, went on to influence Hamilton hugely, and his subsequent works are hung alongside the series. The polaroids are compelling, attracting crowds of viewers who study the intricacies and development of Hamilton's image as well as the celebrity line-up of photographers.
Every aspect of Hamilton's career is wonderfully described here; the visitor is invited to experience a history of the work of a great British icon.
Whilst the Tate's retrospective is obviously expansive and exhaustive, and is definitely worthy of recommendation, there is also doubtless recognition to be found at the ICA. Both offer a different insight into Hamilton, but to understand him and his journey completely, from beginnings as a young Independent group member, an outsider sponsored by the ICA, to a hero of British art, an afternoon should be kept aside to enjoy and relish in both.
RICHARD HAMILTON @ ICA – 12th February 2014 – 6th April 2014
Entrance with Day Membership – £1
RICHARD HAMILTON @ TATE MODERN – 13th February 2014- 26th May 2014
Adult £14.50 (without donation £13.10)
Concession £12.50 (without donation £11.30)
– words by Kimberley Brown
Categories
Tags